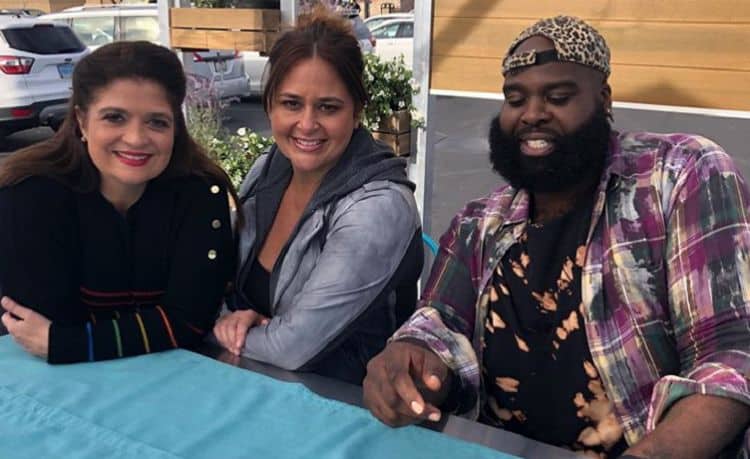 You know Alex Guarnaschelli as one of the most famous celebrity chefs on the Food Network, but you probably don't know much else about her. She cooks, she judges, she hosts, she's famous, and she seems to have great taste. What's really fascinating about her, however, is that she's a woman who has been involved in the food industry nearly her entire life. There has never been a time when food has not been a big deal in her household and in her family, and it's all because of her parents and the jobs that they had. There is a lot you don't know about this cool chef, and we think it's time to change that.
1. She's Always Been Involved with Food
Her mother, Maria, was an editor. But, not just any editor. She was a cookbook editor when Alex was growing up. This meant that the young child had plenty of access to recipes, and she got to watch her mother trying them out as she edited cookbooks around the house. It was a cool experience for her, and we think it's definitely what helped shaped her into the pro she is today.
2. She's Been Around
Alex G. has been around the restaurant block. She's been the chef in many important restaurants in many major cities across the world, including cities like New York and France. She's learned to work with and around some of the best in the business, and she uses what she learns everywhere she goes, and she makes it her own.
3. She's Got a Guilty Pleasure
It's easy to assume that someone with such a wonderful ability in the kitchen would love to eat things that are creative and wonderfully cooked, but that is just not always the case. In fact, her favorite guilty pleasure is definitely an In-N-Out Burger, and we could not agree more except that we prefer a Chick-Fil-A sandwich.
4. She's Got a Backup Career Option
If being a world famous chef and television personality did not work out so well for her, she would have gone a different route. Like, an entirely different route. She would have gone to school to learn to become a marine biologist. We love that, because there was also a time when we might have considered the same career option (but fair skin and lots of sunburns made that just a dream).
5. She's An Involved Mom
Not only does she have a daughter who is embarking on her teenage years, this is one mom who is not letting time pass her by. If you want to know who she enjoys cooking with the most, she's not going to tell you another famous chef or celebrity chef. She's going to tell you it's her daughter. We only hope she is going to follow in her family's footsteps and give us that much more to look forward to one day.
6. She's Got a Favorite to Cook For
As a celebrity chef, she's gotten the chance to cook for some seriously cool people throughout the course of her career. Of course, none compare to being able to cook for Prince more than once. She did that, she loved that, and she feels that it might be her coolest experience as a chef to be able to cook for him more than one time and have him enjoy her food immensely. We agree with her on that one. That seems like a very cool thing to get to say you did in life.
7. She's Got Great Advice
Not everyone is a chef so talented, and she's got endless advice for those who want to learn. She's got one piece that we feel is our favorite — cook what you like and enjoy it. We get that. We know that it makes sense to cook what you like because you will never learn to cook well if you don't like what you're making. So, if you're learning to cook, don't assume you need to go out and buy ingredients for recipes you don't really want to try because someone told you to try them. Buy what you want, make what you like, and try out new twists on old favorites. Start with the classics and tweak them. That's always a fun way to learn something new.
8. Her Curiosity is Endless
As anyone good at what they do will tell you, you don't become great by assuming you know it all and you're the best. You let your curiosity take you further each day. You try new things. You educate yourself, you learn from others, you let others learn from you. It's a constant ebb and flow of information and education. My 101-year-old grandmother always tells me the same thing. She's always learning. She's always enrolled in a new college course, working on her farm, raising her animals. She's a big believer in continuing to learn because you can't know all things, and you won't become wiser, better, or more interesting if you're not learning every single day. So, it must be true.
9. Her Greatest Accomplishment
Her daughter. That is all. Of course, we are not surprised by this answer. As a mom, I know this. You can do anything, achieve anything, go anywhere, and meet every goal and dream you've ever made for yourself and still not feel nearly as accomplished as you do when you look your kids in the eyes and see what cool people they've become. You created that.
10. She's Actually Good
Sometimes, you find recipes that look good and seem like they would be good. You try them, and they're just not. They're too complicated, and they don't work well. But, I'll be honest. When I try her recipes, they work. They mesh well together. They blend well. They are always simple to follow even when they seem intimidating from merely reading. There are many chefs like this, and she's one of the best at what she does. We love that.
Tell us what's wrong with this post? How could we improve it? :)
Let us improve this post!