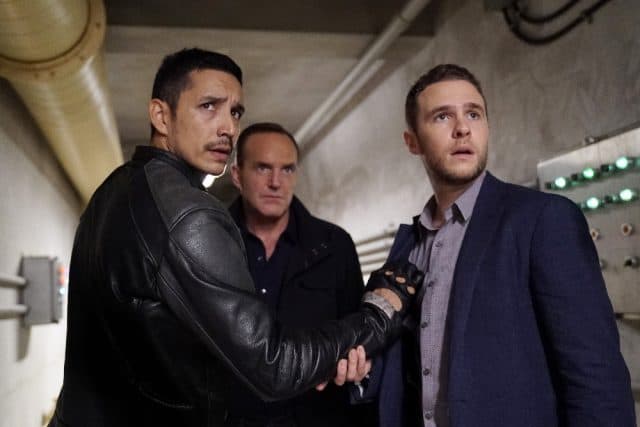 It seems like it's been a lot longer since Agents of SHIELD last aired a new episode. But no matter, because now they are back with a (Ghost Rider: Spirit of) vengeance (womp womp). After the release of Marvel's new film, Doctor Strange, SHIELD explored the television dimension with a look at a slightly different realm. This was a different tie-in that most of the other Marvel film/TV connections, but it was a cool one.
This week on Agents of SHIELD: After the explosion at the lab, Coulson, Fitz, and Robbie are trapped in a slightly different dimension and unable to be seen or heard by their friends. May, Mack, Daisy, and Dr. Radcliffe work to find their friends and rescue them from the realm. The director sends Simmons on a special mission, which turns out to be to a Terrigen mist cocoon.
On purpose, I saw Doctor Strange for the first time yesterday. Well, I actually didn't intend to wait that long, but having a small child at home sometimes delays your movie going experiences. In any case, the film was fresh in my mind when I watched tonight's episode. Nothing could be directly connected to the fate of SHIELD like the Captain America films, but the use of alternate dimensions was, for lack of a better term, really, really cool. Especially the bit with Ada when she saves the day.
Exploring the other dimensions allowed them to explore a new story structure, which I appreciated. Rather than a linear story, it told part o the story, and then went back and included Coulson, Fitz, and Robbie as they explored the Upside Down…I mean…the neighboring dimension. It offered a unique perspective on several plots and relationships, particularly on both Coulson and May's relationship, and Fitz's concern over the director's use of Simmons. Fitz showed his true feelings briefly after he returned from this place by making a beeline for the new director, which was a beautiful scene.
Here are a few additional thoughts:
I'm glad that SHIELD is back, but being off for three weeks just to come back for two feels like the wrong approach.
Prepare your angry internet comments, fangirls, but there is absolutely 100% chance that Philinda (Phil and Melinda, for you ship challenged folks) is going to happen. You read it here first.
Standout performer of this episode: Mallory Jansen. All of her work is compelling and interesting, and even after you watch it with the extra scrutiny you'd give an android.
SHIELD had one of its most subtle-yet-compelling post film release episodes to date this week. Though it would've done better to be closer to the film's release and not going away again immediately, exploring of alternate dimensions and travel between them was compelling for the series. Albeit brief, I'm glad that the show is back.
What did you guys think? Did you enjoy the episode? How well do you think it tied into Doctor Strange? Let us know!
Agents of SHIELD airs its Winter Finale Tuesday, December 6th at 10/9c on ABC
Agents of SHIELD Season 4 Episode 7 Review:
Summary
Coulson, Fitz, and Robbie work to get back to their world with some help from the other side on this week's compelling Agents of SHIELD