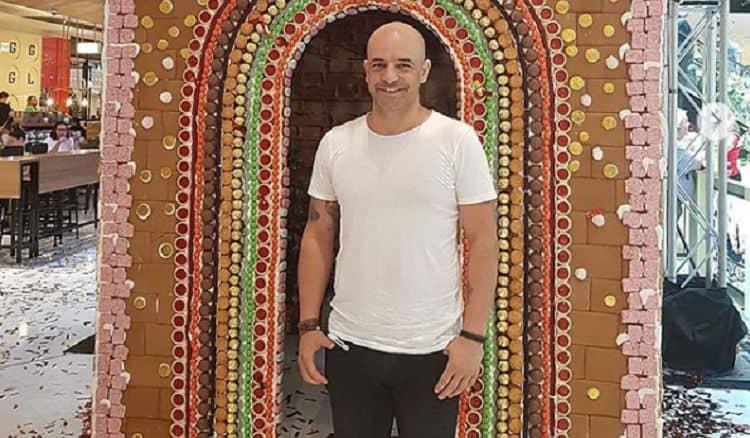 Born to Italian parents, Adriano Zumbo was born in the year of 1981, and grew up in Coonamble, New South Wales, Australia. Zumbo is a famous pastry chef who, with his hard work, dedication, creativity and training, helped propel his own way to fame. Zumbo trained under a couple of well-known has been on a number of cooking television shows that helped to launch his career, and put him on the path to pastry stardom, especially with a few of his most notable pastry deserts. This famous pastry chef may be a familiar face, especially if you are a fan of the show, MasterChef, but here are 10 things you didn't know about Adriano Zumbo.
1. A cooking show took him straight to stardom
MasterChef Australia is the television show that took Zumbo from a great pastry chef, to a famous pastry chef. Zumbo not only appeared on the show once, but on every season it aired. Season one marked the croquembouche challenge, and later, during the fifth season of the show, the challenge he presented to the contestants was to re-create his "tower-of-tower" made of raspberry-beetroot and black olive macarons. His challenge for the contestants turned into a real life challenge for himself. Zumbo recalled how the show increased the number of macarons he sold at his Balmain shop within just three days of the episode airing, which was a staggering 5,000; four-times the normal amount.
2. Was the owner of his own patisserie in 2007
By 2007, Zumbo was a name to remember in the pastry industry. He was known on television and felt it was time to open his own patissier, which he did, in Balmain. One patissier lead to another and by 2017, Zumbo owned multiple patissiers in multiple cities in Australia, including, Pyrmont, Chatswood, Waverley, Melbourne, Rozelle, and one in the Queen Victoria Building located in Sydney's CBD.
3. He wears a tribute to Gene Wilder on his arm
At Dailymail, you can see a picture of the sweet tribute Zumbo made to Gene Wilder, who always be synonymous for his role as the Candyman in Willy Wonka. After the passing of Gene Wilder, Zumbo had a picture of the famed actor tattooed on his forearm and posted a tribute to him on his social media, saying, 'RIP #GeneWilder, a huge inspiration to myself and many others. You created what Dreams are made of'.'
4. His television appearances started on Australian television network
Aside MasterChef, Zumbo has made a number of television appearances, including a documentary series that followed his whole routine in his Balmain kitchen. It was a six-part series that aired in 2011 on SBS One, an Australian Network, and just five years later, Zumbo had his own show, Zumbo's Just Desserts. The show aired in 2016 on the Australian Network, Seven Network, however, it was just a short time later that Netflix began co-producing the tasty dessert show.
5. His Masterchef deserts that got him famous
According to Famous Birthdays, it was MasterChef that put Zumbo's name in lights, but it was his famous, extravagant creations that took him to the top of the pastry game. Zumbo has become renowned for a specific few desserts, like his 'fairytale house,' the 'croquembouche tower,' and his infamous 'V8 cake.' These elaborate desserts have been aired on the MasterChef Australia, so maybe you have an idea what they look like if you've ever seen an episode or two.
6. Before fame, he sold pastries to local bistros
Before you get to the top, you have to start somewhere, and Zumbo started by baking his own pastries and selling them to some of the local bistros in Sydney. Some of the favorites he'd bake and sell included things like banana bread, biscuits, brownies and tarts. He was honing in on his baking skills and already making a name for himself in his local area without realizing how big he would eventually make it in the business in the years ahead.
7. He has a few nicknames for himself
When you're as good as Zumbo is at what you do, why not give yourself a couple of 'Bad—' nicknames? Zumbo has given himself a few and has a couple catchphrases too. He's dubbed himself, "Patissier of Pain," "The Dark Lord of the Pastry Kitchen," " Lord Voldecake," and "Sweet Assassin." You might also catch him saying something like, "If Bruce Willis Was An Australian Bake."
8. Not all the reports on his patisserie are good
According to Decider, not everything has been all cherries on top for Zumbo when it comes to running his multiple pattissiers. Zumba had been scrutinized for how he was paying his employees, with complaints being made that he was way underpaying them. Zumbo was interviewed with Current Affair in 2017, and when questioned regarding the allegations regarding payroll shortages, Zumbo responded that he had fixed the problem with the error and was now paying his staff their back pay.
9. His parents own a grocery store
Zumbo got his interest in food, and especially his love of sweets, from his parents' business. His mother, Nancy, and father, Frank owned and ran a local grocery store, the IGA Supermarket. Growing up around this business not only introduced him to his love of baked goods, but it helped him learn the ins and outs of business.
10. Who is he dating?
Yes, Zumbo is in a relationship and it came out in 2017. Zumbo ad Nelly Riggio have been together since 2016. She is a former contestant on the show, My Kitchen Rules.