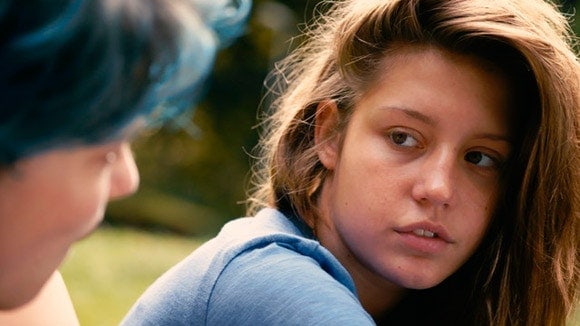 Adele Exarchopoulos took the world by storm in 2013 when she appeared in the film Blue is the Warmest Colour. Although she was just a teenager at the time, it was clear that she was immensely talented. In the years since, Adele has lived up to the expectations many people had for her. She has continued to work on important projects and her ability to play complex characters continues to leave viewers impressed. In 2020, she made her TV debut in the series La Flamme and she's established one and for all that she has what it takes to light up the big screen and the small screen. Continue reading to learn 10 things you didn't know about Adele Exarchopoulos.
1. She Was Born In France
Adele was born and raised in Paris. Her mother is French while her father has Greek roots. She is very proud of her heritage and the cultures that have come together to make her the woman she is. Adele continues to live in France and hasn't expressed any interest in relocating.
2. She's A Very Shy Person
Shyness is probably one of the last qualities most people would associated with an actor. However, like many other people in the entertainment industry, Adele is very shy. In fact, shyness during childhood is one of the things that made her mother sign her up for acting classes.
3. She's A Mother
Adele is in a relationship with Morgan Fremont who raps under the stage name Doums. The couple welcome their first and only child together in 2017. Adele hasn't shared any photos of her child on the internet and as far as we know she doesn't have any plans to.
4. She's Careful About The Roles She Takes
Since work can be hard for an actor to come by, it goes without saying that there are countless actors who take any role that comes their way. That isn't Adele, however. She told L'Officiel, "I believe I grow with every part I play. A solid career is often built on refusals. And, when I have too many doubts, I know the part is not for me."
5. She Doesn't Have Plans To Get Behind The Scenes
There are lots of actors who also enjoy telling stories from the other side of the camera, but Adele doesn't have any plans to do that. While she believes she's able to catch on to things quickly, she doesn't think directing would be her thing and she'd rather stick to acting.
6. She Loves Boxing
Adele likes to stay active and looking and feeling her best is very important to her. Many people may be surprised to learn, however, that for Adele staying in shape includes regular boxing workouts. Hopefully one day she'll even get the chance to play the role of a boxer.
7. She Likes Her Privacy
Adele has been in the spotlight for nearly a decade at this point, but she's never been the type to relish in attention from the world. She is actually a very private person that desire for privacy extends to her loved ones as well. During an interview with Rain Magazine she said, " I would never expose my family on social media. I'm not judging people who do, but to me at least, this is incredibly intimate. And to be honest, I don't see the point of it. I want to protect what is most precious to me, and never suggest that strangers' gazes on Instagram matter in any way. We are all aware of the level of trolling, violence, and the hypocrisy online. It might sound childish but I really couldn't stand reading horrible comments about my family."
8. She Loves Fashion
Aside from acting, fashion is something else that Adele has always loved. That being said, she didn't start getting more aware of what fashion had to offer until she became an actress. Now that she has access to the best designers in the world, she has gotten the chance to work with Louis Vuitton.
9. She's A Breaking Bad Fan
From 2008 to 2013 Breaking Bad was one of the most popular shows on TV and Adele was a big fan. While talking to Yahoo she said, "I love "Breaking Bad." The best ever. No one can do better than this for me. It's like you know when you have a good meal, it's the perfect dessert."
10. She Doesn't Want People To Focus On Her Looks
There's no denying the fact that Adele is a beautiful woman, but that isn't what she wants people to remember or acknowledge about her. During her interview with Rain Magazine she said, "I honestly hope people will judge me for my performance and not my appearance."