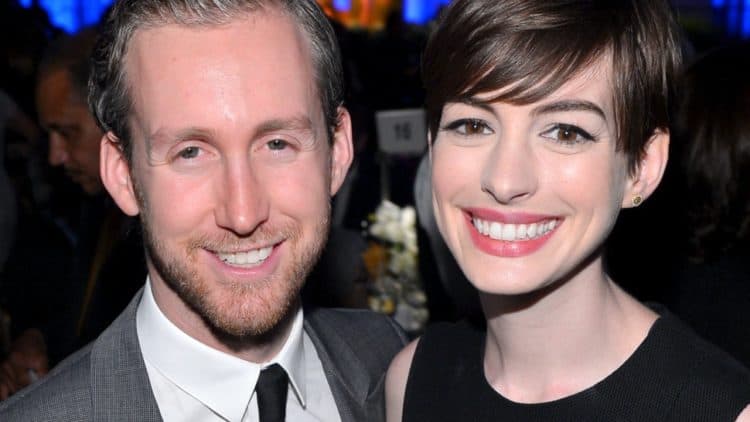 Adam Shulman was barely known until he started dating Anne Hathaway. The only son to Mark Shulman and Jacqueline Banks was born on April 2, 1981, in Brooklyn, New York. He is not only an actor and a film producer but a father too after the couple welcomed their son Jonathan in March 2016. They are expecting their second child, and Anne confessed it was not easy since they had to deal with infertility issues. As he awaits to be a second-time father, let's share the facts we know about him.
1. It took a while before he began dating Anne Hathaway
Not many believe in love at first sight, but in the case of Adam and Anne, it was. Adam had been crushing on Anne for long, and when they met in 2008, Anne could not help but whisper to a mutual friend that Adam would be her husband. However, none of them took any initiative to act on their feelings because they both thought the other was in a relationship. Anne took the first step and invited the man she thought was the love of her life on a trip to New Orleans, and after four years of dating, they got married in 2012.
2. He is resourceful
Most people know that Adam is a jewelry designer, but they probably are not aware that the pieces are primarily made from recycled materials. The jewels do not come cheap since they are handmade, but they are worth every dime. Most of the materials used in the inlays and jump rings are cuttings and fillings from previous pieces. Also, instead of buying new materials to create unique pieces, the jewelry shop, James Banks Design, uses what they already have in the studio. They aim to be as resourceful as possible.
3. He is charitable
Adam is what every woman would want in a partner, especially with his kind heart. In 2013, he and his business partner designed handcrafted jewelry pieces, and all the proceeds from the sale were donated to the World of Children Award. The Limited Edition Key necklace featured the organization's logo, and Adam and Heidi took two months to complete the pieces.
4. He and his wife have produced films together
When Anne said that she felt supported both on and off-screen when filming "Song One," she most likely was referring to her husband's effect on her. Since the couple produced the film together, Anne must have felt his support even before the filming started. They must have had a good time working together because then they produced "The Shower," a sci-fi comedy in which Anne also starred. However, that does not mean that Adam cannot work on his own. He produced the movie "Ricki and the Flash," in which Meryl Streep starred with her daughter, Mamie Gummer, without Anne's collaboration.
5. He does not mind riding a scooter
Celebrities have an image to maintain, and that means you will barely see them doing something the ordinary American would do. However, some like Adam and Anne are down to earth and love keeping it real. When she arrived for her interview with Harpers Bazaar, the actress arrived in a scooter. Noticing that it seemed quite strange for her to be riding one, she explained. Anne and Adam bought them to have a more efficient means of transport when the system was down.
6. He makes his wife too happy
Having come from a nightmarish relationship, Anne feels like the most blessed woman to have Adam. She, therefore, cannot help but light up whenever Adam walks into a room. No wonder she inspired Adam's design of the Lightkeepers because whenever Adam is away, she feels her light has been taken away from her. The effect he has on her is so much that when filming "Les Miserables," Anne hade to banish Adam from the set. He was making her too happy, yet the movie demanded her to be sad.
7. He helped his wife regain trust in people
In 2004, Anne Hathaway fell madly in love with an Italian businessman, Raffaello Follieri, but by 2008, the relationship had taken a turn for the worst. Raffaello was imprisoned for fraud after channeling money from charities to maintain a lavish lifestyle. Anne, by then, enjoyed trips to exotic places and expensive jewelry as gifts. When she met Adam in 2008, her trust in people was already broken. However, Anne opened up to Bazaar, that she took out her trust on a ridiculous joyride with him. Anne, therefore, told him she would trust that he was a good person; she was right to give him the chance because Adam has never hurt her. The more Anne got to know Adam, the more she found that she could trust people again.
8. He was determined to have a career in theater
It is not clear what sparked Adam's interest in filmmaking, but he aggressively pursued it. He joined Brown University, where he graduated with a degree in theater. Being a proactive person, he wanted to learn the loops of the acting industry. He, therefore, in 2000, became an apprentice at Williamstown Theater Festival. Still, feeling that he was yet to be at the top of his game, Adam took several programs at New York University in the summer of 2001. During the rest of the year, he went to Eugene O'Neil National Theater Institute.
9. His acting career
After gathering all there is to know about acting, Adam finally had a chance to portray his skills on television. The opportunity came in 2005 when he starred as Paul O'Bannon in five episodes of "American Dreams," a show that aired from 2002 to 2005. He later appeared as a young voter in the political drama "The West Wing." The movie "The Dukes of Hazzard" served as his big break, and since then, he has been cast in different films.
10. He had a Jewish wedding
Adam was raised in a family that upheld Jewish beliefs. Unlike his wife Anne, who has strayed from her Catholic upbringing, Adam remains a staunch Jew, as evidenced by his wedding. As published on People, Anne was under the chuppah, a Jewish wedding canopy, when they exchanged vows. The ceremony had both a rabbi and priest officiate it while the event planner, Yifat Oren, is also Jewish. Yifat has been hired by various celebrities such as Britney Spears and Cameron Diaz to help plan their Jewish weddings.