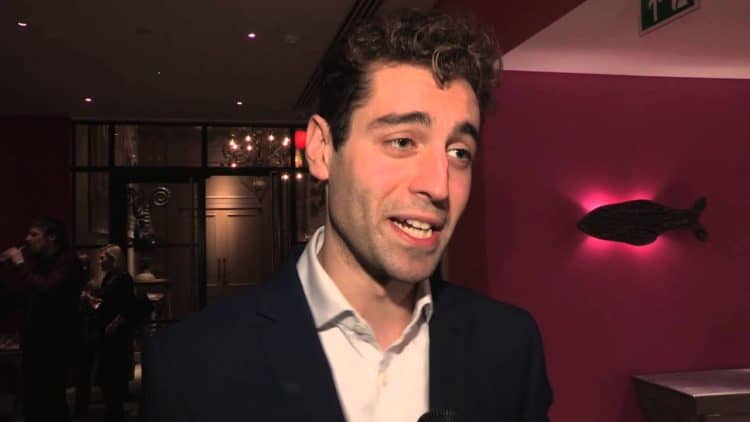 Adam El Hagar is a British actor who is best known for his role in the FX series "Tyrant," and in the BBC series "Peaky Blinders." He has not had a lot of press, so there's not much information out there for fans to access. We were surprised that the young actor who is already a veteran of 19 years in the business doesn't have more press, given his presence on television, but we believe that is about to change. We're going to kick it off with 10 things you didn't know about Adam El Hagar.
1. He started his professional acting career in 2000
Adam El Hagar made his acting debut in a small part in the 2000 film "Room to Rent." He was cast in the role of Ali's brother. He was just breaking into the film industry as a professional actor. The film was a comedy about an Egyptian student, the main character Ali, who is an aspiring screenwriter, who gets kicked out of his rooming house. He doesn't have much cash. He encounters a sightless woman who believes he is her reincarnated soul mate.
2. Adam's father is a famous director and screenwriter
Adam El Hagar is the son of director Khaled El Hagar. His father directed him as Ali's brother in the 2000 film "Room to Rent." The entertainment business is a family affair. His father also wrote the screenplay for the film.
3. He took a series of minor roles
Breaking into the acting business as a professional actor is tough to do, even if your father is a screenwriter and film director. After appearing in "Room to Rent," it was three years before he was cast in any other roles. He landed a gig in the 2003 TV short "Red Sky at Night." The following year, he was cast as young Mike in the film short "The Secret of Year Six." It wasn't until 2012 that he landed a job as the voice narrator of the 2012 film short "Emmaline." this was followed by a minor role as a ticket clerk in the 2013 film short "L'Assenza."
4. Adam finally landed recurring roles in 2 TV series
One of the first real breaks that Adam El Hagar got was in 2014 when he was cast in the role of Ollie in the BBC television series "Peaky Blinders." He appeared in the role for five episodes, which gave him more exposure than he had previously been able to attain, and it was on a more consistent basis. This opened up yet more doors for Adam professionally. He was cast in the role of Siddiq in the television series "Tyrant" from 2015 through 2016 in a recurrent role that ran for 14 episodes.
5. El Hagar has broken through
Adam is finally getting more steady work as an actor. It looks like 2019 is going to be the year that launches a new reality for the young actor. He was cast in the part of Roach in the 2019 film "Amaryllis," and he appeared in 2 episodes of the television series "Catherine the Great" playing the part of Valerian Zubov. He's just completed filming of "Cold Blow Lane" in the role of Mr. X, and he plays the part of an NYPD coop in the 2020 film "Morbius" which is in the post-production stage of development.
6. He's the voice for 2 video games
In a similar vein, Adam has been getting a few more job offers in the entertainment business. He's the Voice Talent for the 2017 "Assassin's Creed: Origins" video game. His voice is also heard on the 2019 "Blood & Truth" video game.
7. He's also a writer
Adam El Hagar is an actor and a writer. Many fans are not aware of the fact that he co0wrote a musical play that is loosely based on the American rap group The Beastie Boys. The play is titled "Licensed to Ill." The west end production received critical acclaim and won awards. During the times when Adam was not appearing in film or television, he's been busy enough developing other skills related to the entertainment industry.
8. He's British
Adam was born in 1990 in the United Kingdom. Although he was born in England and holds British citizenship, his father is Egyptian. Khaled El Hagar was a law student at Cairo University and became a film director in 1985. He finished his degree in film at the National Film and Television School and went on to win multiple awards. His mother Janice Rider is a Costume Designer
9. You can keep up with Adam on Facebook
Adam El Hagar maintains a Facebook page. There are already 1,200 followers on his page who get regular updates when he makes a new post or comment. When we visited this social media site he set up we were able to watch a really cool video of him singing along with one of his favorite singers. The video has also been uploaded to YouTube. Adam's doing a good job of keeping fans posted on what's going on in his life on the page.
10. Adam could use a fandom
Fans of Adam El Hagar have yet to establish an official fandom site for him. Part of the problem is that he has not yet received a lot of press. Although his experience so far is limited to 13 credits as an actor, he's an up and coming star who is on his way. His acting gigs are starting to pick up in frequency, but he does a lot of work behind the scenes. If you're a fan of Adam El Hagar, it's time to start posting about the amazing accomplishments he's made in his career, following in his father's footsteps as a new young screenwriter as well as acting.
Tell us what's wrong with this post? How could we improve it? :)
Let us improve this post!