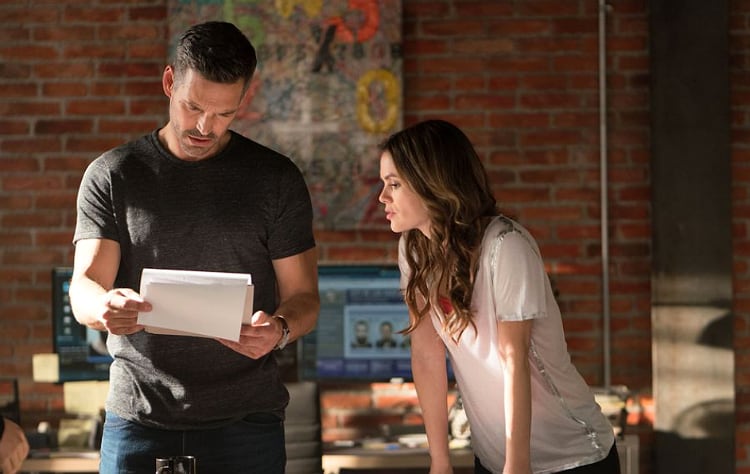 Viewing ABC's Take Two premiere made me smile.  It looks like the network may have another hit on their hands.  How can I say that?  Because most people thought that Castle, the first show created by Take Two creators Andrew Marlowe and Terri Edda Miller was doomed to fail.  The premiere of Castle has 52 percent score on Metacritic.  It ran for eight seasons.
More importantly, the very things that Castle got slammed for are what its viewers found enduring.  Here's the best-written one that got it wrong.  It's from the Washington Post
Wildly famous mystery novelist Richard Castle (Nathan Fillion) is bored with his own success," says ABC publicity for the new crime series "Castle." Bored with his success? Poor bay-beee. As it happens, he won't be the only one. Viewers who stumble into this misbegotten "Moonlighting" imitation will likely be bored, too, but not because of too much success.
The author, like many other reviewers at the time, bemoaned what was seen as an attempt to copy shows like Moonlighting or Remington Steele.   This particular article also wishes it was more like Mad Men.
Maybe the show is trying to be fashionably "retro" while seeming merely old hat, the little trick that "Mad Men" gets away with on cable.
First of all,  Mad Men was a show that was really about the women.  By definition, the protagonist is the one that fundamentally changes by the end.  Only the women really change in Mad Men.  It was never simply going for fashionably "retro."   The reason this is important?  Mad Men was subversive, smart drama.  It was not going for light entertainment.
How Come So Many Critics Love the Classics, yet Hate Modern Versions?
I don't have an answer for the above question.  It's just an observation of the major critics takes on TV shows.  Somehow, because we have things like Game of Thrones and The Handmaid's Tale, boilerplate shows are seen as unworthy of existing, nevermind being enjoyed.
Take jazz.  Once upon a time, it had no conventions and everything was an innovation.  Now, we have jazz standards.  The same goes for rock-n-roll.  No one faults a singer for sounding like Janis Joplin or playing like Jimi Hendrix.  Only with procedural television do we get the complaints about a lack of originality.
ABC's Take Two Premiere: The Good and the "Needs Improvement"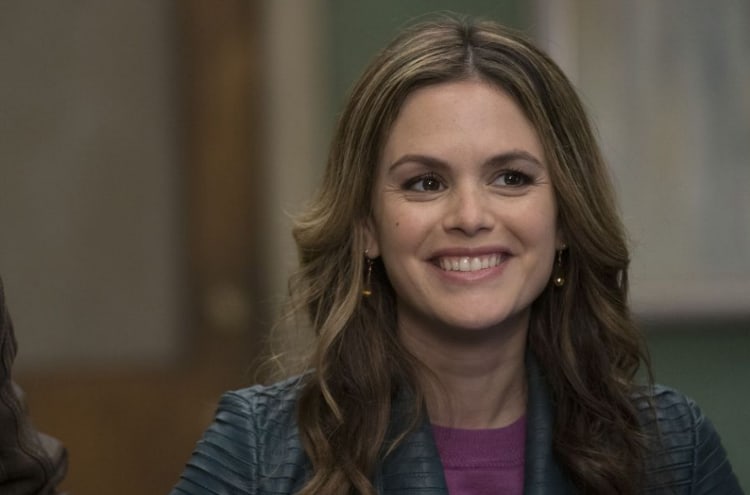 Take Two – The Good
Rachel Bilson is delightful as Samantha "Sam" Swift.  The character was the star of an 8-year TV cop show ended up in rehab after a series of unfortunate events that included her fiance dumping her on the red carpet.  Bilson has great comic timing.   Also, seeing her in that crazy "cougar" outfit was hilarious! (If Sam's gonna have an outrageous disguise every week, we're talking amusing spoofs of Alias.) Bilson's also got the ability to convey an underlying sweetness and vulnerability no matter how shallow her character's actions, or how cliche a line she says.  It's only the premiere, and I'm already rooting for Sam.
So, yes, there's no denying there are some uber cliche moments.  However, if you miss the tongue-in-cheek vibe going on this show, then you're not paying attention.  For instance, Marlowe and Miller have a tendency to play with names.  The characters in Take Two sound like they belong in a Richard Castle novel.
"Sam Swift"? That's right up there with "Nikki Heat."  The name is both ironic for the character and a play on "Sam Spade" – the P.I. from the noir classic film The Maltese Falcon.  Eddie Cibrian plays the cynical P.I. Eddie Valetik (Va-le-tea.) This name rhymes, and also reminds me of Evil Kenevil – which is just funny.  The best one though is the medical examiner "Mick English" – (Jordan Gavaris from Orphan Black) – which really should be self-explanatory.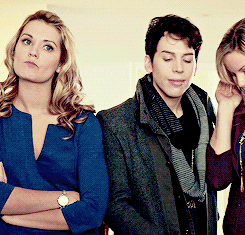 Hopefully, we'll be seeing a lot more of Mick – just because!
The reveal about who the bad guy was – the "dad" who was actually a corrupt judge – worked well.  It's also obvious that we'll be hearing more about "The Decon."  There's no way that judge was the top of the food chain.  What's good is that "The Deacon" will have a grudge against both Eddie and Sam.  It will be their problem…even if The Deacon had something to do with that case of Eddie's three years ago…
What really worked was the show's overall feel.  It's got that neoclassical TV style down.  This is not easy to do.  Viewers expect places in fictional worlds to be true to life and for dialogue to always sound realistic.  Dramedy though, it borrows from the sitcom in how it's done.  There's a certain generic quality about locations in sitcoms, and a rhythm in the dialogue that's more theatrical, as in, like a play (as opposed to meaning "over the top.")
Take Two – What "Needs Improvement"
There's one scene that felt off.  It's when Eddie pretends that he's been paying for escorts and Sam falls for it.  Isn't she supposed to be the actor whose thing is being able to read people?  His lying was hugely telegraphed.  It was set up that way for a laugh, but the break in building Sam's character made it fall flat.
Take Two is also going to need to do more with Eddie's office/computer guy, Roberto 'Berto' Vasquez (Xavier de Guzman).  Right now, he's got no personality.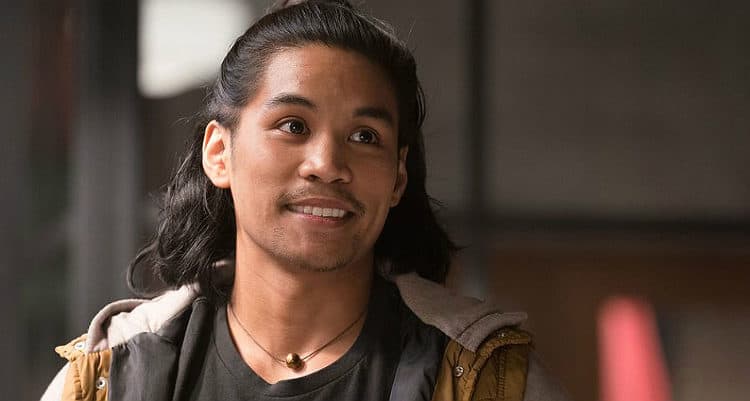 However, the biggest issue in the Take Two premiere is that Eddie and Sam feel more like they should be siblings.  She seems entirely too young for him. The actors real life age difference is 9 years: 30s vs 40s.  However, Bilson's character – and the actress herself – skews to 30. Cibrian's silver fox look pushes him towards 50.  Then again, Sam did say she "hadn't needed a babysitter" since she was ten.  Maybe she has daddy issues?
One could argue that in the Take Two premiere Sam's woman-child is the swap for Richard Castle's man-child and that the point is to watch her mature emotionally.  Somehow though, that particular gender swap doesn't work as well for a believable romance the way it did in Castle.  Until Sam grows up – a lot – any hanky-panky is gonna feel weird.
That last point isn't exactly bad.  It just depends on expectations.  Take Two isn't a Castle clone – it's Castle-esque.  In Castle, the match between the leads there felt obviously sexual.  Right now, what's going on in Take Two doesn't have that.
In the meantime though, if Eddie's the big brother, maybe Detective Christine Rollins (Aliyah O'Brien) will be big sis? (That actually could be cool!).  Sam's already got a mommy – her agent, Sydney (Heather Doerksen),
ABC's Take Two Premiere: The Wrap Up
Did I see anything original in ABC's Take Two premiere? No.  Heck, that ending with all the clients in Eddie's office comes straight from Remington Steele.
Was ABC's Take Two premiere fun to watch?  Yes! Will I be watching next week? Absolutely.  The world is topsy-turvy right now (to say the least.) Sometimes, you need an hour to just relax and enjoy something.    White chocolate raspberry cheesecake is amazing, but its richness can sometimes be hard to digest.  Apple pie is easier.  Sure, it's least exotic, but it can be just as delicious.
ABC's Take Two Premiere: What's Old is New Again
ABC's Take Two Premiere: What's Old is New Again
Summary
Did I see anything original in ABC's Take Two premiere? No. Was ABC's Take Two premiere fun to watch?  Yes!