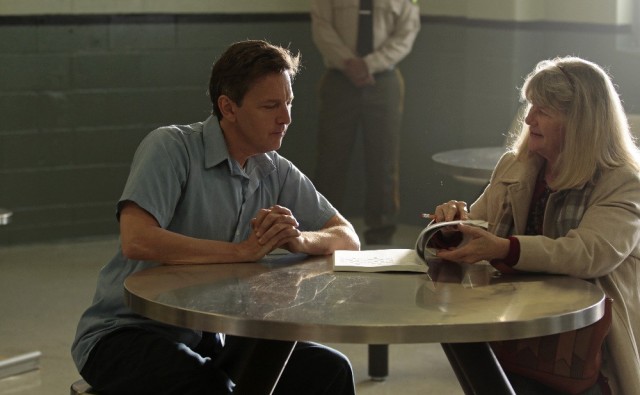 The Family season 1 episode 7 is promising to be one emotional upheaval after another! The aftermath of learning what happened to ten-year-old Adam Warren doesn't look like it's going to be bringing much peace to anyone – especially not to Claire Warren (Joan Allen) or her daughter Willa (Alison Pill). Here's the press release synopsis:
In dramatic flashbacks we find out about Adam's return to Red Pines, which plays out against the emotional backdrop of Willa's long-held secrets and lies. We get a glimpse of what Adam went through in captivity and Hank's desperate state of mind while incarcerated. John drops a major bombshell on Claire, and she ultimately struggles with an agonizing decision about the future of her family.
Last week Claire learned that "Adam" is really Ben – and that Willa orchestrated the entire thing. (If you missed it, catch up with this review: The Family Goes Deeper into the Dark Side) It begs the question of how she could do it. These two sneak peeks are big spoilers for The Family season 1 episode 7 – which airs on April 10th – because they explain both emotionally and factually how and why she did. The first one picks up exactly where we left off last week!
[youtube https://www.youtube.com/watch?v=G_GP2py_S4w]
Oh man, is Joan Allen is amazing! I'll definitely be talking more about this scene and Claire's response when I review the episode! What is clear in that scene is the same theme from last week is continuing: Willa may look like an adult, but she still thinks like the 13-year-old girl she was when Adam was taken.
As for how Willa found Ben (Liam James)…well, Ben found her….
[youtube https://www.youtube.com/watch?v=trNTgfVqODA]
So, the real Adam Warren is dead…unless Ben is lying….
In other spoiler news, after all she's gone through Willa's father John (Rupert Graves) is telling her that her parents would have split up even if Adam hadn't been taken – because they're such different people. So Willa is learning that all that she's done in terms of trying to fixing her family was a total waste and only managed to devastate her mother more. Let's hope Willa doesn't end up throwing herself off a bridge after this – and I do mean that literally.
As for the bit in the press release about Hank Asher (Andrew McCarthy) and his time in jail…let me just say that we're really going to understand just how huge a loss it was for him to learn about his mother's death.
The Family season 1 episode 7 airs Sunday April 10th at 9pm ET on ABC. I can't wait to see what happens next!
Tell us what's wrong with this post? How could we improve it? :)
Let us improve this post!