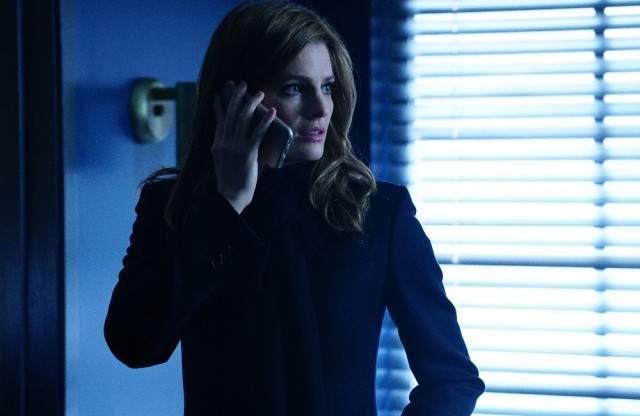 (Scroll down for Updates)
For Castle season 8 the only episode that may have had more fan anticipation than Castle, "Fidelis Ad Mortem" is, "The Last Seduction," which marked the beginning of the end in terms of Captain Kate Beckett (Stana Katic) and writer Richard Castle (Nathan Fillion) being estranged. This season has played havoc with the character of Beckett in the name trying to graft the LokSat and Castle P.I. storylines to the series. Because of this, many viewers have been looking forward to Castle, "Fidelis Ad Mortem". Why? Previous spoilers about it have sounded like it would be a return to the Beckett they've come to love over the past seven seasons – even if it is just for the single episode. From the looks of things, it seems that assessment is absolutely correct!
We first heard that Castle season 8 episode 15 would be a strong Beckett-focused episode late last fall, but now we have the whole synopsis, plus a promo and one awesome sneak peek!
The Official ABC synopsis for Castle, "Fidelis Ad Mortem":
When a recruit officer at the NYPD Academy is killed, Beckett and the team go back to their old training ground to investigate. Meanwhile, Castle must reckon with a decision with profound consequences for him and Beckett.
Let's ignore the infamous reference to LokSat that anyone who saw the previous episode knows Castle's big decision refers to. Instead, just focus on Beckett's part of the story. Castle, "Fidelis Ad Mortem" is directed by Rob Bowman which is always a good sign in terms of the portrayal of Kate Beckett and Caskett scenes. Plus, The last Castle episode with a Latin title was the critically acclaimed "Veritas", which is also one of highest rated episodes on IMDB.
"Veritas," which means, "truth" featured a lot of "bad*ss Beckett" in the final push for closing the Johanna Beckett murder case and bringing the person responsible to justice. (I know the LokSat story that's been thrown in this season has weirdly extended the case, but we're ignoring LokSat right now.) "Fidelis Ad Mortem" means "faithful unto death." Don't panic – it's the official motto of the NYPD. Beckett seeking justice for one of her brothers in blue is right in line with the Beckett who honors the badge and does her job better than anyone. On top of that, all people in law enforcement take the killing of one of their own very seriously. The Castle, "Fidelis Ad Mortem" promo gives us a glimpse of how well this episode will convey that.
The Castle, "Fidelis Ad Mortem" Promo:
[youtube https://www.youtube.com/watch?v=tvsCJCWeI2U?rel=0&showinfo=0]
Whether Castle decides to tell Beckett the news he learned in the last episode remains to be seen. That could be dicey. However, it looks like Beckett's tired of pretending to be split up from Castle. Viewers have been tired of it a lot longer, so this is good news. There may even be some sexy Caskett out of that conversation. (Now, if you're up on spoilers – you know that SPOILER ALERT! – Beckett officially moves back into the loft in Castle 8 x 16, and…. Nevermind, we're focusing on enjoying this week. If you want the scoop on that, check out these earlier Castle spoilers.)
However, this first sneak peek (If others are released, I'll update them here, so check back over the weekend.) is all about Beckett teaching this young cadet (Ellen Woglom) some of her bad*ss moves!
Castle, "Fidelis Ad Mortem" – Sneak Peek # 1
[youtube https://www.youtube.com/watch?v=dZYAtnDjChQ?rel=0&showinfo=0]
See, this, is an example of a good mentoring relationship! Alexis Castle (Molly Quinn) has been seriously missing out!
Update – Sneak Peek #2
As promised, I'm updating here as more sneak peeks come in!
[youtube https://www.youtube.com/watch?v=lFeTB51BdFY?rel=0&showinfo=0&w=560&h=315]
Martha, Martha, Martha…. That dedication is something else! It's also so typically Martha, you can't help but smile – even as you feel badly for Rick! I bet her book becomes a bestseller. If it does, she's never let Castle forget it!
As for the whole Beckett sneaking out of the loft bit, well, nothing will beat the original –
[youtube https://www.youtube.com/watch?v=WlwvexOuzpE?rel=0&showinfo=0&w=560&h=315]
but it's still a cute scene. (Again, just ignore the LokSat conversation.) Is it me or do the expressions on Beckett's face before Martha knocks look like Beckett's missed Castle a heck of a lot? It felt like she'd be fine skipping that conversation right then, even though she scolds Rick when he suggests the conversation can wait. Also, who's betting that Martha already knows about Beckett and Castle sneaking around? (Logic says LokSat does too, but we're not talking about that.)
Are you looking forward to Castle, "Fidelis Ad Mortem" this Monday? Let me know in the comments whether or not you're planning on tuning in for this one!