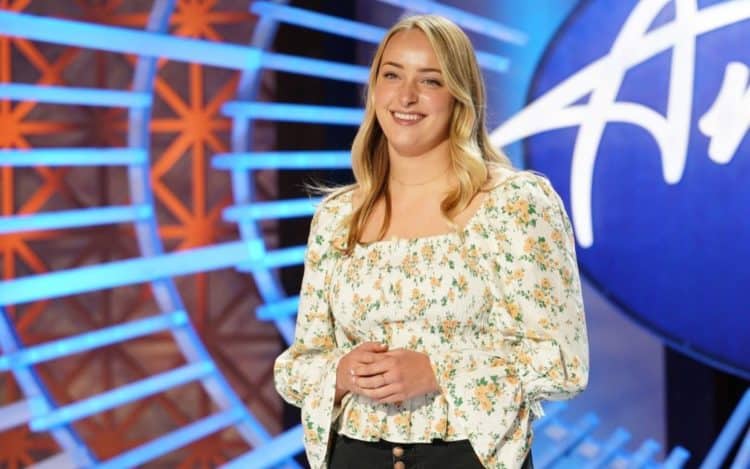 It seems that the theme this year on "American Idol," is "I don't have a lot of confidence, yet here I am," and it seems to work for the young people trying to become the next star born in America. We already saw it with Caleb Kennedy – the exceptionally talented 16-year-old boy who feels his friends and family believe in him more than he believes in himself. Now it's Abby LeBaron and her shock that she auditioned. She is more surprised that she did this than anyone else, and that says something about her. It's time to get to know the talented young woman who shocked herself.
1. She's 19
She, much like some of the other people to make it through on the show this season, is very young. She's only 19. She's still not sure who she is or what she's doing on the show, but she's just happy she made it.
2. Goals are Good for Abby
Abby is a goal-getter. She loves to make goals. She likes to make a plan, and she likes to get things in writing and make them a reality. She has a bucket list of her own that allows her to set goals, smash them, and ross them off. She's got some fun things on it, including trying out for "The Voice," yet here she is on Idol. Same thing, right?
3. She Doesn't Leave the Past in the Past
Some might argue that this is a nasty habit, but we actually agree with her method. She likes to remember how she felt at certain moments in her life, and we don't think that's a bad thing at all. While dwelling on the past is never a good idea, remembering how you felt at certain points in your life is a great reminder if you need to get back on track or if you need to remind yourself quickly how far you've come since that time.
4. She's Afraid to Fail
Abby…welcome to life. No one wants to fail, but we all learn over time that failure is not necessarily a bad thing. It's always a learning curve. The only time you fail is if you don't learn a lesson from a situation. Otherwise, you didn't fail; you learned something, you get to do better, and you get to make a bigger mark the next time. Failure is very good when you get to take something from it.
5. She Was Musical Growing Up
Throughout her youth, she did do some performances. She spent time in the Utah Valley Children's Choir where she had a solo to perform in front of everyone. She also participated in her own high school's jazz band. Both are admirable endeavors.
6. She Thought Her Dream Was Unrealistic
The dream of growing up to be a famous singer didn't seem very realistic to her when she was growing up. It was a goal, but it was one that she always sort of kept on the backburner because she didn't feel it was a realistic one.
7. She's Never Watched the Show
What we love about Abby LeBaron is her honesty. She's never seen a full season of Idol, yet here she is trying out for it and allowing herself a chance to be out there like this. She'd also never thought of auditioning for the show (reference her goal list of being on "The Voice,"). She just decided to go for it, and we have a feeling it was a good thing for her.
8. She Believes the Pandemic is Good for Idol
Interestingly enough, she feels that Idol is actually more realistic than ever thanks to the pandemic. Auditions reached the entire country for the first time ever. Singers were able to audition via Zoom, so everyone had a chance. No one had to stand in a long line or travel far or do things like that. They all had a chance, and she feels this is a great thing.
9. She's Working on Marketing Herself
She took some much needed advice from Katy Perry in California during her in-person audition. The famous singer was surprised that the young woman works in marketing but has no idea she can market herself. LeBaron is taking her advice and doing what she can to change that and make herself more confident.
10. She Gave Luke Bryan Chills
When she auditioned for him, he had chills everywhere. She's really put herself out there, and she's getting the feedback she needs. She's gaining confidence, and she's changing her own life. It's a beautiful thing.