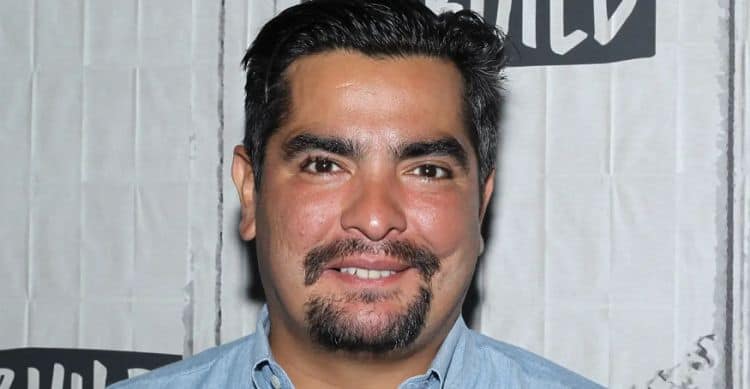 For Aaron Sanchez, cooking is more than just a necessity, it's a form of art and self expression. The talented celebrity chef has made a career over putting together delicious dishes, and he's gotten the chance to share his gift with the world. Over the course of his career, Aaron has appeared on several shows including Chopped, MasterChef and Iron Chef America. Although he is widely regarded for his Mexican food, Aaron Sanchez has proven that he can make just about anything. Keep reading for 10 things you didn't know about Aaron Sanchez.
1. He's A Big Music Fan
In addition to food, Aaron also loves music. In fact, music is one of the things that gets his creative juices flowing. When he is in the kitchen, he loves to listen to music while he cooks. Some of his favorite artists include The Cure, Lenny Kravitz, and Amos Lee.
2. He's Really Into Tattoos
You may have noticed that Aaron is a proud member of team tatted. In an interview with the Huffington Post, Aaron said, "began as a form of rebellion for me, but now it's a way for me to give honor to and recognize my faith, culture and family." However, his love for tattoos goes deeper than his personal ink. He is a partner in the New York based tattoo shop, Daredevil Tattoo.
3. He Doesn't Like Working With Fermented Cheeses
Every chef has certain ingredients they simply don't enjoy working with. For Aaron Sanchez, fermented cheese is the ingredient he doesn't like to cook with. He says the taste of old cheese can dominate a person's pallet and overwhelm the entire dish.
4. He Doesn't Like Green Bell Peppers
Chefs don't tend to be picky eaters, but like everyone else, there are some things they'd prefer not to eat. Green bell peppers are at the top of Aaron Sanchez' list. Although he likes red and yellow bell peppers, he doesn't like the green ones because they don't really taste like anything.
5. His Father Passed Away When Aaron Was 13
When Aaron was just 13-years-old, he suffered a tragic loss when his father suddenly passed away. His father's death forced Aaron to grow up very quickly. When describing his father, Aaron said, "My father was a man of very few words. He was from a town of 200 people. A real tough guy. He didn't show a lot of emotion. I try to tell my son the importance of hard work and not complaining."
6. His Mother Is Also Well-Known In The Culinary Industry
A love for cooking is something that runs in the family. He is a third generation cookbook author who learned how to love culinary arts from his mother and grandmother. Aaron's mother, Zarela Martinez is a well-known restauranteur who was instrumental in introducing Mexican cuisine to the United States.
7. He Loves Living In New Orleans
Aaron's cooking career began in New Orleans and he eventually returned to the city to live and work. In an interview with Insider Hook, Aaron said, "I just love the fact that it's [New Orleans] a hub for chefs and a melting pot of cuisines. It really speaks to me. I love the people and my friends and business colleagues. It's just a beautiful place. It's exactly where I want to be."
8. He's Cooked For The Obamas
Aaron has had lots of great experiences throughout his career, but one of the most memorable was getting the chance to cook for the Obamas as The White House. Ironically, Aaron's mother also got the chance to cook for a president in The White House during the Reagan administration.
9. He's A Gordon Ramsay Fan
Gordon Ramsay has a reputation for being on the intimidating side. If you've ever seen him on TV, lots of yelling was probably involved. However, Ramsay is someone that Aaron looks up to in and outside of the kitchen. Aaron described Ramsay as "lovely" and "sweet" and admires his work ethic and the fact that he's a family man.
10. He Loves Asian Food
Mexican food is often considered Aaron's 'thing', but he loves to explore and cook food from other cultures as well. Asian cuisine is one of his favorites. He shared, "I love Southeast Asian flavors and cooking techniques. Cooking in a wok has always mesmerized me and I really like the way everything is so evenly cooked and seasoned."