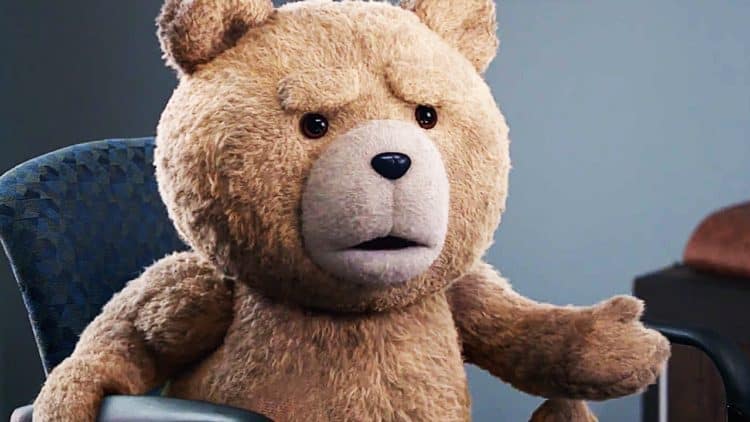 One of the most eye-popping surprises of 2012 was the comedy movie called Ted. If you haven't checked it out yet, I'll just say that it starred Mark Wahlberg and Mila Kunis. Oh, and it was written and directed by Seth MacFarlane, who also played the titular character. And that titular character is, you guessed it, a talking teddy bear voiced by Seth MacFarlane himself. He chose the name Ted for the character, because, you know, he's a teddy bear. Get it? Of course you do, but that's probably only if you're a fan of Seth MacFarlane's work.
Now if you're not a fan of Seth MacFarlane, first of all, why not? He is a man of many talents. He can act, write, sing, and dance like Frank Sinatra. Just listen to him when he hosted the Oscars back in 2013 and you'll understand. But in all honesty, you have to have some pretty thick skin if you want to listen to Seth MacFarlane's humor. To put it lightly, he can be a bit offensive at times. Personally, I dig that kind of humor, which is why I loved the first Ted movie so much. Just imagine a talking teddy bear that curses, makes jokes about sensitive subjects, and smokes weed with Mark Wahlberg on the couch.
Oh yeah, it's about as silly as it sounds, but again, if you know Seth MacFarlane, you won't think twice about it. Long before he made both Ted movies, Seth MacFarlane launched one of the greatest adult cartoons ever back in 1999. Yes, I am certainly talking about Family Guy and for the record, I like it more than The Simpsons. Unpopular opinion, I know, but when I first watched Family Guy, I just fell in love with it instantly. The humor was super dark for a cartoon and the over-the-top silly nature of the Griffin family blew me away. I mean, they had a talking baby and a talking dog. How can you top that? Well, maybe with a talking fish with a German accent and a talking alien. Honestly, where does Seth MacFarlane come up with these ideas?
All I know is that the man won me over with his work on Family Guy and I keep watching it to this day. So when it was announced that he was making a movie about Mark Wahlberg having fun with a talking teddy bear, I just thought to myself, "Oh, okay." I was curious going into Ted, since it marked his directorial debut for a live-action feature. Plus, I just wasn't used to seeing Mark Wahlberg in comedies. Well, I laughed the whole way through Ted and when I walked out, I felt like watching Family Guy for the first time. Seth MacFarlane did it again. And honestly, that's one of my favorite performances by Mark Wahlberg.
Two years later, we got a sequel to Ted. It wasn't as good as the first, but it did its job in making me laugh. I'm excited to see a third Ted movie, but it seems like Seth MacFarlane has other plans. The foul-mouthed teddy bear will be returning for a live-action series for the NBCUniversal streaming service Peacock. However, the series won't be a continuation of Ted 2, but serve as a prequel series. Seth MacFarlane will serve as the writer of the series, as well as the executive producer. And no, no one else can voice Ted. There is no Ted without Seth MacFarlane, just like Peter, Brian, Stewie, and Quagmire.
So first of all, how come we're not just getting Ted 3? It would be very exciting to see Ted and his wife Tammy settle down and try to raise their adopted kid together. How would a foul-mouthed teddy bear even do as a father? Okay, probably not that well, but he has surprised us before. That's why I wanted to see that third movie, but it looks like Seth MacFarlane wants to go backwards.
Does Ted strike you as one of those movies that really needs a prequel? Not exactly, but in the first movie, we got to see how he got started. Of course, it all began with the young John Bennett's wish. We then got to see how John grew up to become Mark Wahlberg and Ted was with him every step of the way. Now this didn't exactly do him any favors for becoming a more mature adult, but they did have a lot of fun together. Thunder buddies for life, right?
If I had to guess, I'd say this prequel series will dive into the rise of Ted's fame. We got to see brief moments of him going on talk shows, being on TV, and even being arrested for pot. Oh, and he even slept with a famous singer. This is a talking teddy bear who went from being a lonely child's best friend, to becoming a vulgar celebrity. Now that I think about it, I have a good feeling that this prequel series can actually work.
Will Mark Wahlberg or Mila Kunis be in it? They haven't been confirmed yet, but I can imagine Mark Wahlberg at least popping up at one point. If this series is going to deliver, I think it should give us some more of that heart I felt from watching the first movie. The second movie focused more on throwing some jokes at us and making us laugh. It did its job, but the first movie was focused on the friendship between Ted and John. If John isn't in the series, it will lose that element, but I think they can still find a way to make it work. Despite becoming a growing celebrity, Ted never forgot about his friendship with John and always put him first. That's the kind of heart the prequel series can thrive on, even if John is absent.
But of course, we can't forget that this series has to make us laugh. And just like in the first movie, it can make us feel like Ted can exist in the real world. It needs to treat him like a celebrity gets treated in the real world and when he gets in trouble, that's when the comedy can come in. After all, this teddy bear can be seriously abrasive.