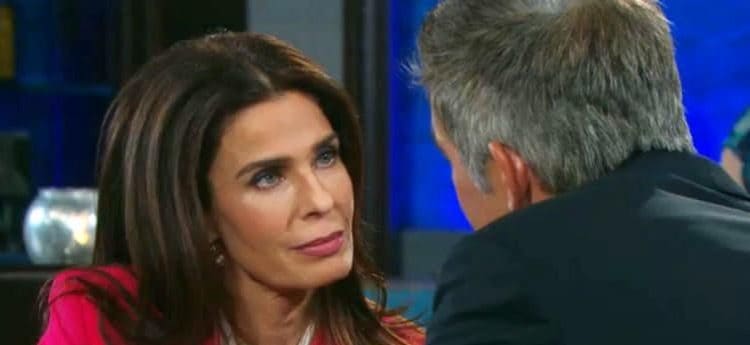 Days of Our Lives fans know the past week has been something spectacular. Gabi's plan to end Chad and Abigail's marriage worked, and she's managed to get him to move in with her, she's changed their lives, and she's gotten her old friend to lose it all. Now Abigail thinks she's carrying the baby of an evil man who is out to destroy her family, and her husband is off living with and definitely having an affair with Gabi, and she's lost it all. She has no idea that Gabi did all of this to her, and she had no control over what her alter ego did when she was in control. She also doesn't know that her baby really is Chad's, and that things could be perfect in her life at this point in time. But, we think that she will figure out that things are what they should be before much longer.
The problem is that by then, it might be too late for her. Her husband might not want to believe that Gabi would do that to him at that point. Or, he might decide he just doesn't want to be with either of them. And then there is Kate. Her involvement in all this might be a bigger problem that he imagines. And that will be something that definitely comes out. Hope and Rafe struggled all week with Ciara and Ben. Ben was trying very hard to figure out what happened that night. Leo is dead, and Will and Sonny have learned more about it than they want to know. Eve and Victor are keeping secrets from Brady, and there's a lot going down with Chloe and Lucas, as well. It was a very active week with all of that, and it's only going to get more active as the time comes.
What's Happening on Days of Our Lives
https://twitter.com/nbcdays/status/1027268263636553728?ref_src=twsrc%5Etfw
We heard a rumor that Jordan was back, and it turns out we were not wrong about it. She's back, and she's got some work to do. But we also think that it's amazing that she's still as willing as ever to pop her head back onto the set when they need her or want her to show back up. She's amazing, and we love hearing her come around and make things her own. She's one of our favorites, and she's married to another fellow soap alum (remember Justin Hartley from YTR?). We can't wait to see her back in action. She's one of our longtime favorites.
What's Next on Days of Our Lives
Things are going to take a wild turn this week, and we will share them with you each day. For a quick oversight, we will tell you that things are going to get crazy. For one, we will see that Kate is having dreams of Andre — which means we get to see Andre, so that's nice — and we wonder if her dreams are all because she's lying to Chad and hurting his marriage (again) and she's got some guilt about that. Is there a chance she can give up her lies and stop working with Gabi and realize that what she is doing is just not all that nice and she's not making the best decisions in her life? We don't know if she can do that, but we do know that we would love it.
Meanwhile, we will see that Gabi and Chad will keep up their newfound love for one another while he struggles with all the hurt he's feeling over his wife. And we will see that Hope and Rafe are happier than ever, but they are struggling with Ciara's decision to befriend Ben, who — by the way — we hear she is going to invite to live with her. That will go over really well with Tripp, and we have a feeling these two will not be able to get past this. We think Claire will love ever second of this problem they are having, and we think it will be a long week for the people in Ciara's life as things get more complicated.
Stay tuned for more Days of Our Lives and be sure to check out TVOvermind daily for the latest Days of Our Lives spoilers, news, and updates.