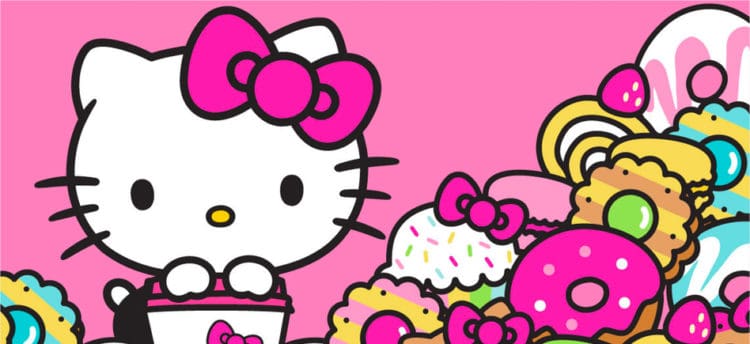 Live-action/CGI hybrid movies are definitely on the rise and it was only a matter of time before Hello Kitty was bound to come along and be given her own movie. It's not too surprising actually since Hello Kitty has been such a big part of pop culture throughout the world for a while now and has been one of the best-sellers as well. She's also had animated appearances that have been geared towards kids over the years, spreading messages of inclusion and acceptance in a very positive way that has been able to reach many people. It's a great idea really to pus that kind of thing to the people since it's not a demand or a call to obey, but simply a reminder that being kind and accepting of another is a far better way to live than to be constantly angry and accusatory for every little possible thing as has happened lately. It's funny to think that anyone might have an issue with Hello Kitty, but it's going to be put to the test once this movie is put out, and it's fair to think that there might be people that simply want to dampen the glee that some people will feel when this small cartoon cat heads to the big screen.
There have been quite a few Hello Kitty references in various movies and TV shows over the years as people have either mocked or paid homage to the cartoon cat, but through everything, she's still been one of the most popular and prominent characters of all-time, which is hard to imagine since quite often Hello Kitty is apparently overshadowed by quite a few other cartoon icons. The animated figure has been there the entire time though, either biding quietly behind the scenes or just doing her own thing as she's continued to be pushed to the public through merchandising and various other avenues that have been successful. This move feels like it might be one that will help cement her in the spotlight once again but it's not bound to be the one that will keep her there for years to come since it's already been proven that Hello Kitty doesn't need around the clock attention since she's such a peripheral hit that the character has been making billions without needing to be rubbing shoulders constantly with other animated icons. That's kind of impressive really since Hello Kitty hasn't exactly been front and center for years but has been there for people to look at and enjoy for a long time now.
The one thing that feels as though it needs to be said with so many movies following a similar track with each other is that there is bound to be fatigue at some point and eventually someone is going to get it on the tail end of the trend and just miss out. That's not really cynical, it's simple realism that needs to be understood since it's happened several times before when a certain type of movie starts getting popular and people jump on the bandwagon to release their movies at the same time in order to gain the attention of the audience in order to earn back the budget of their movie. It's a part of how the business works after all, but it's also something that can come and go in a very short period of time. The one saving grace that Hello Kitty has is that the brand has been around for so long that it's not likely that anyone is going to drop it if the movie fails to impress or inspire them in any way. There's a good chance that won't happen though since people are so smitten with the famous kitten that it's bound to happen that they'll say the movie was great, inspiring, cute, and possibly what the country really needs at this time since the message that Hello Kitty has typically brought has been rather positive. There's no doubt that the country needs more of this at the moment but it's also smart to mention that there are plenty of folks in the country that aren't bound to be as easy to please since a lot of what people thought was fun and inclusive has been under close scrutiny for a while. If someone decides that Hello Kitty is a problem though it might mean that there are more cynics out there than anyone realized.
It does stand to reason that Hello Kitty could do just fine since she's been a part of the pop culture scene for long enough that people aren't bound to turn on her anytime soon, especially since it's actually kind of difficult to think that she might be seen as a negative character in any manner. Just don't be surprised if the cynics decide to strike for one reason or another.
Tell us what's wrong with this post? How could we improve it? :)
Let us improve this post!