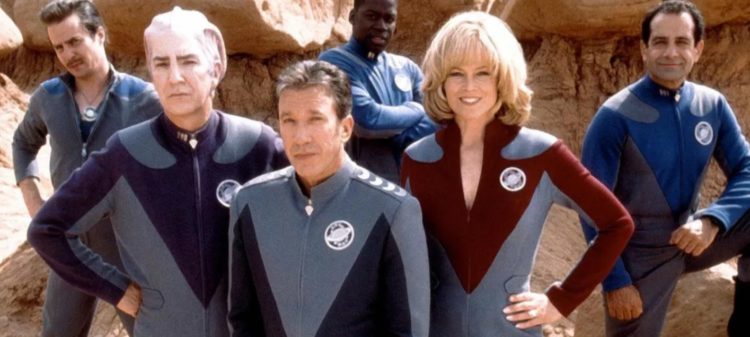 The initial news of Galaxy Quest getting a sequel is either going to make fans groan or cheer since it's bound to happen that people will be divided about this. A big part of it is that the initial movie ended on a pretty good note that saw the crew coming together to continue the show after being canceled for so many years, and with a couple of new individuals on board as well. There are a few issues with this that would have to be ironed out, one of the major ones being that Alan Rickman passed away a while back, and finding someone to take on his position, not his role, would be a bit difficult. Replacing someone like Alan Rickman feels almost blasphemous in a way, but it does feel that putting someone talented and skilled in a similar role would be worthwhile if this really is going to get off the ground, but it feels as though the other characters could be brought back much as a few of the original Star Trek members were brought back in Generations. It might actually be interesting to see a new crew being contacted by the Thermians in order to combat a new and even deadlier threat, which would somehow facilitate the inclusion of the old cast, and perhaps even the fans, such as Justin Long, to round out the cast. This is what Sigourney Weaver had to say about it via MovieWeb:
"It will be the story of the old ancient Galaxy Questers being brought into this series with another young cast. I haven't read them, so I don't know the details, but I think that everyone in Galaxy Quest would love to participate because it was such a wonderful experience for us. How they will find someone to play Alan's part, don't know, but I think that they have a very good idea of who to do it. He's irreplaceable, eternally. I think there may be good news on that front, but I haven't heard about it in these six months, so when it's gonna happen, I'm not sure."
Considering that Sarris was eliminated in the first movie it might have to be one of his subordinates or someone that appears from the power vacuum that Sarris' death might leave behind, but that's just one idea out of many since it's likely that a lot of ideas have already been floated if the announcement is that the sequel is happening. But while it might be a used gag it would still be funny to have a brand new batch of crew members experience what the original crew did when traveling to the Thermians' ship for the first time. The disorientation and fear is kind of a rite of passage, even if the apathy and attitude of 'been there, done that' is bound to be kind of pervasive. One thing that might actually be nice to see would be the acceptance of the technology that the original crew couldn't get used to since a new crew that was born when technology was already taking off in a big way might be something interesting. One has to admit that the advances in technology have given the last generation or two a huge leg up in the world the way it is now, so it could possibly translate to a Galaxy Quest sequel. Personally, I'd still rather see it left alone, like so many other stories, in favor of coming up with something new and a little more expansive, but perhaps this won't be an issue since some folks have been doing what they can to expand universes that are already there in new and exciting ways. Galaxy Quest felt as though it should have been a one-off for the most part, but if there's plenty of universe left to explore and create in this particular story then so be it, let the story continue. But at some point, if it goes beyond a sequel, it might be better to think about a streaming series instead of being made into another movie franchise.
There is the issue of whether the original cast members would want to come back since just because Sigourney Weaver sounds ready to do this, there's no guarantee that the others would follow suit. If they do then so much the better, but if there's another crew member that doesn't want to come back then there's bound to be a need for a rewrite in order to accommodate the loss. Some folks aren't as willing to continue the story as others since they might feel that one and done is a better way to go than to keep filming sequels until the idea is killed off. We'll see what happens, but for now, it does sound as though this movie is a go.
Tell us what's wrong with this post? How could we improve it? :)
Let us improve this post!