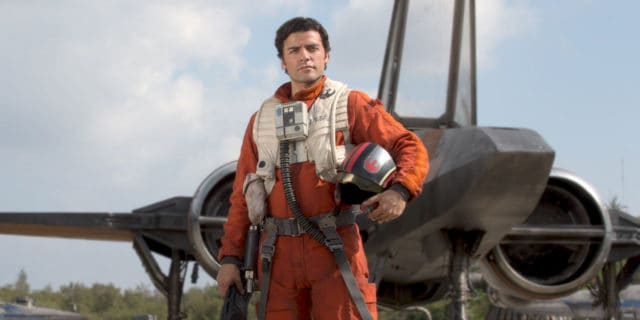 Unless you have been sleeping underneath a rock, you are aware of the fact that Oscar Isaac's internet stock has skyrocketed recently. While it is still not clear how the internet chooses its boyfriends, one thing is certain, Star Wars star Oscar Isaac is the internet's boyfriend, regardless of the selection process. Whether you are surfing Twitter, Instagram or even Facebook, it is difficult to miss the impact that Isaac is having his followers on the internet.
To give you an idea of why people find Oscar Isaac so interesting, we have listed five things that you likely are unaware.
1. Oscar Grew Up In the World of Evangelism
It is not unheard of for people who are reared in one environment to gravitate toward a lifestyle that is diametrically opposed to the world they grew up in. I am not sure if the life that Oscar Isaac is living now is that much of an extreme pull from the evangelical world he grew up in, but it definitely is different. According to Oscar, his father was a religious extremist, so when God said that having TV's in the home was bad, the TV was gone. He also said that living in his home growing up was like one ongoing tent revival.
2. He Played in a Punk Band
Who would have known that this smooth criminal ever played in a punk band. Growing up, he listened to the Beatles and the Cure, and his love for music landed him a position in a ska-punk band called Blinking Underdogs, which led to songs being written about beach trailer parks, as opposed to London ghettos.
3. He Struggled with Issues of Insecurity While Shooting Star Wars
The film star said that J.J. Would say something like, "Get on with it man! Just louder and faster!" He said he thought he was already delivering what was being asked of him. That made him feel as though he was falling short – not being creative enough. He said that this made him nervous and anxious that he was missing an opportunity or he wasn't nailing his moment. Well, I guess they worked that out.
4. He Got Toasted on the Set of Inside Llewyn Davis
For those of you who are unaware of this, Oscar Isaac readily admits that he is not a huge drinker. Well, we all know that people who don't drink a lot generally don't require much alcohol to become inebriated. He said that he drank a few drinks before shooting the scene, and he doesn't remember anything else, but waking up in his bed.
5. He Loves The Fact That Star Wars is Made Up
While a large part of the Star Wars following treats the franchise as if it has the validation and certification of a Biblical certitude, he says that he realizes that the entire idea is made up, and he actually loves it. He says that there is something about have a clean slate in front of you as create a new reality. He said, "… sometimes a blank slate is the most creative canvas of all.
Tell us what's wrong with this post? How could we improve it? :)
Let us improve this post!