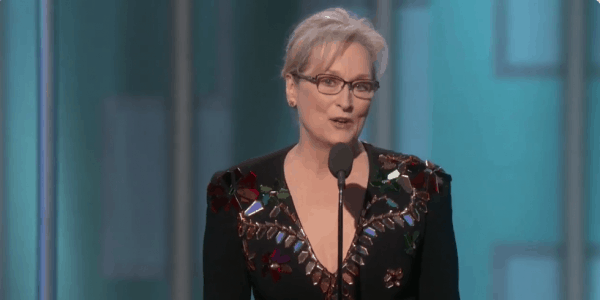 One of the stranger concepts for budding cinephiles to wrap their heads around is that movie awards aren't just about how good a given movie is. While being "good" certainly helps a film's chances by bringing it into the critical conversation, it's often a movie's subject matter — its specific political bent — that dictates whether it will bring home a ceremony's top honor.
Strip the glitz and the glamor away from them and awards bodies are just people: people with their own worldviews that frequently like to honor films that reinforce them. The Oscars, as Hollywood's most notable award ceremony, is particularly outspoken when it comes to the way that they choose to see things.
With Trump's ascension to the White House now secure, the film industry will invariably strike back through their art: what they decide to produce and how they decide to support it. Meryl Streep's impassioned speech calling out the President Elect is only the beginning. And going into the Academy Awards' nomination process, several timely films' chances at taking home a Best Picture statuette have just improved.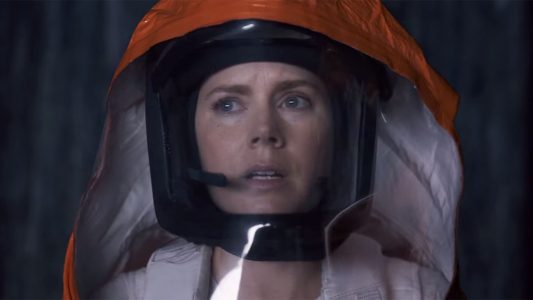 Arrival — When it comes to now-likelier Oscar nominees, they generally all fit the mold of promoting demographics and ideas that the Trump administration has set itself up as diametric to. Subsequently, movies about women, minorities and traditional democratic institutions stand a greater chance than ever of being "Oscar-worthy." And while there are numerous great movie about women taking charge of difficult situations — movies like Miss Sloan and Elle — none packs the same critical punch as Denis Villeneuve's cerebral sci-fi thriller.
The alien-contact movie is an almost painful reminder of the president we almost had: a fiercely intelligent, infinitely capable woman who maintains her composure while the world crumbles around her and saves the day using nothing more complex than basic communication and understanding. Although hardly the film's focus, it additionally warns of the dangerous influence conservative pundits hold over average Americans and how martial escalation with foreign powers (notably China) is a suicidal rush towards Armageddon.
Fences — For the past two years, a notable lack of diverse nominees — despite the critical success of movies like Straight Outta Compton and Creed — has hung around little Oscar's neck like an albatross. In the wake of the #OscarsSoWhite backlash, the Academy made a concerted effort to diversify its membership: retiring inactive members while inducting a new class of non-white ones. That alone was enough to propel Fences to its near-frontrunner status.
And that was before next president of the United States set himself up as the foil to everything the country's first black president stood for. Suddenly a movie about a former Negro League player struggling through the day-to-day hardships of living in a country whose race policies range from a dismissive, "boys will be boys" indifference to active hostility toward its minority citizens seems that much timelier. Its stellar cast, biting screenplay and universal acclaim don't hurt its chances either.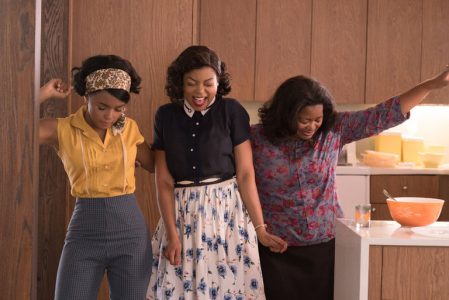 Hidden Figures — Going into awards season, I didn't give Hidden Figures much of a thought. It looked like the same kind of rock-solid, mainstream, race biopic that we've seen — and enjoyed — countless times before. It was this year's The Help, or a better version of Race, but nothing more.
But it appears now to be anything but average. Clocking in at a 93% on Rotten Tomatoes and beating Rogue One at the box office, this triumphant story of black women overcoming both racism and sexism to help land a man on the moon clearly has a lot more going for it than I initially thought. It combines the timely material of both Arrival and Fences into an optimistic, palatable package, assuring movie-goers of how we overcame our differences once before and how we might do so yet again.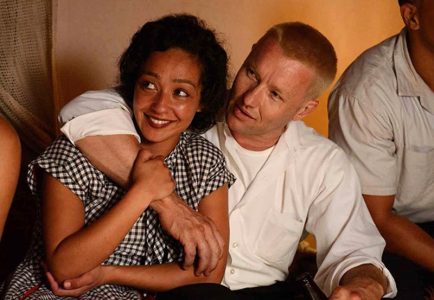 Loving — Following a particularly devastating election cycle — an unremitting two years of increasingly divisive politics and rhetoric — Loving is uniquely situated as a film about coming together and healing the social divide. Focusing on the drama surrounding Loving v. Virginia, the 1967 Civil rights cases that ended anti-miscegenation laws in the United States, the film is about the simple love that unites us as Human beings.
Whereas its race-conscious competitors are singularly focused on "the black experience," Loving is more interested in the wider, Human experience. It is concerned with how we can better ourselves through basic empathy. For Academy voters just wanting to move on from this last train wreck of an election, this is a pleasant alternative to the more cynical films contending for Best Picture.
Moonlight — Essentially in third place in the days leading up to the Oscar nominations, there was never much question as to whether this movie was going to be nominated. Moonlight is one of the best-reviewed movies of 2016 and addressing social issues — both racial and sexual — that have frequently gone over well with the Academy. Its chances at upstaging the established favorites, however, have never been better.
Moonlight is pretty much this year's Boyhood: spanning the breadth of its protagonist's life with the same authenticity and detail. Whereas Boyhood following the same actor for twelve years as he gradually aged into his increasingly older character, Moonlight just casts three actors to portray the same character at three different points of his life. It is both broader and more truncated than Linklater's coming of age epic: covering a wider range of time while focusing on more critical junctures in its protagonist's life.