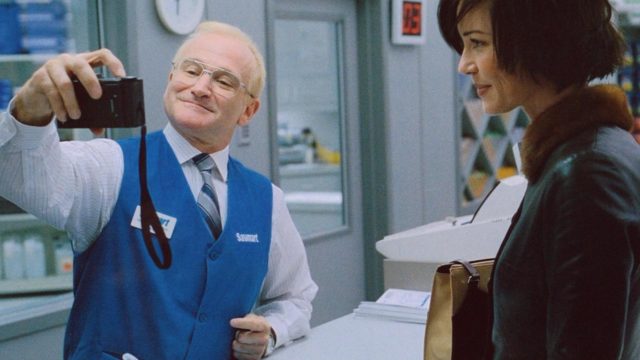 A stalker is a creepy thing to think about. There are no boundaries, no limits to what they'll do, or how they'll go about observing the object of their attention. I won't say affection because this isn't always the case. Stalkers in movies are rarely innocent. Instead they're deranged individuals that don't seem to get the fact that they're causing more harm than good. Sometimes they really want to cause harm and have a long list of ways to justify it. The most creepy thing about a stalker in the movies is that you know one way or another it won't end well.
Here are five of the creepiest stalkers to ever appear in films.
5. Adrienne Forrester – The Crush
Something about older men just turns women on for some reason. Unfortunately Nick didn't exactly put Adrienne down as gently as he should have and did not account for her going as nuts as she did. Adrienne is that special type of crazy that instantly determines that if she can't have something, or someone, then no one is going to have them. That's a girl with a determined mindset, too bad she's not entirely balanced.
4. David McCall – Fear
No guy will ever be good enough in the eyes of a father. But any guy that gives you the creeps this much a father should really try to warn his daughter about. Chances are she'll find out on her own, but in the case of a dangerous stalker it's often a lot better to warn them ahead of time. David seems like the perfect guy, nice, respectful, and devoted to Nicole. But the problem is he's a little too devoted.
3. Seymour Parrish – One Hour Photo
Ever wonder just how much attention the guys at the photo shop pay to the pictures that run through their machine? Keeping in mind this was back in the days when negatives were still used and digital cameras weren't yet a big thing, the power that a photo clerk had over their customers was immense. They knew a person's address, the things they did, and had complete access to…wait, this sounds a lot like Facebook now.
2. Max  Cady – Cape Fear
It is truly amazing how defense lawyers who know their client is guilty can sleep at night. Of course, without giving them the kind of defense they are being paid for, that sentiment can swing either way. Bowden was obligated to defend Cady no matter that he found the man reprehensible. The fact that Cady came back to exact a little revenge is not surprising, but of course threatening a person's family is crossing a dangerous line.
1. Gil Renard – The Fan
There's obsessed and then there's delusional. Which one do you think Gil is? He has a dream of making it to the 'bigs' despite being way past his prime. He's fixated on one player that wouldn't even know he existed if not for his crazy antics. And more than that, this guy actually abandoned his kid at a ball game at one point in the movie. Deranged, disturbed and demented all in one.
Stalkers don't know anything about boundaries unless they're crossing them. Then it's usually too late.
Save