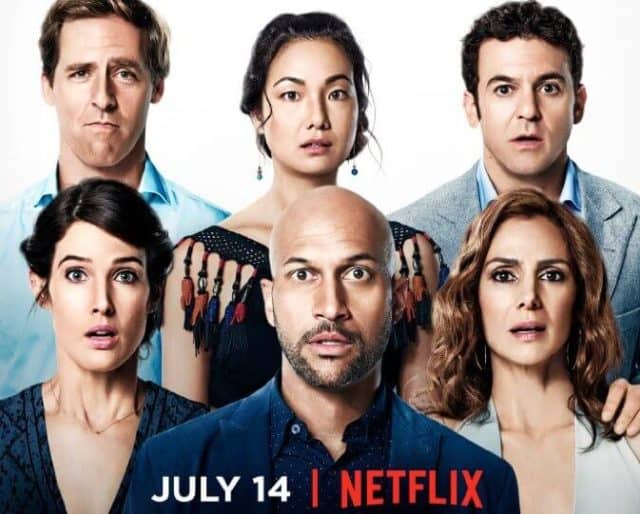 Friends From College is an original Netflix series set in the Big Apple, where a group of Harvard graduates and best friends reunite under their mangled umbrella of past successes and present failures. With the exquisitely talented cast from Keegan-Michael Key (Key and Peele) and Fred Savage (The Grinder), to Billy Eichner (Parks and Recreation) and Kate McKinnon (Saturday Night Live), this group of New Yorkers turn the city from one that never sleeps to a city that never sleeps with their partners.
WARNING! This article contains spoilers.
Plot Breakdown
When Ethan (Key) and Lisa Turner (Cobie Smulders) return to New York from Chicago, they mentally revert back to their adolescent 20-something selves, complete with Monica Lewinsky musicals and sleeping on a friend's couch. Lisa, the successful lawyer, finds a job working for a hedge fund full of bombastic deviants while Ethan works closely with best friend and agent, Max Adler (Savage) on his latest novel, Wolf Trials, a YA work that deviates (quite unsuccessfully) from his original genre of literary fiction.
On top of stressful and unfulfilling careers, Ethan and Lisa are struggling with starting a family, making the eventual decision to try their luck at IVF. While Lisa injects herself with hormones and goes to work with the Delta Psi brothers from The Neighbors crew (aka, her co-workers), Ethan continues a 20-year affair with Harvard sweetheart, Samantha "Sam" Delmonico (Annie Parisse), mother and wife.
Unable to find an apartment right away, Lisa and Ethan stay with one of their Harvard friends, Marianne (Jae Suh Park), actress and free spirit. Despite her best efforts at being the friendly and generous hotel manager, Marianne eventually snapped and she showed her frustration by crashing a party bus into a bridge.
Rather than taking the normal steps toward bonding with their new roommate, Ethan accidentally kills and buries Marianne's bunny and Lisa influencers her long-distance boyfriend to propose, despite Marianne's previously expressed non-belief in marriage.
Marianne, being the only friend aware of the affair between Ethan and Sam since college, attempts to persuade them to end it, though they show obvious inability to do so when they frequently meet for secret sex trysts in the city.
While Ethan struggles to come clean to his wife about his unfaithfulness, Lisa finds herself in a compromised position after her IVF treatment fails to get her pregnant. During her company vacation, longtime friend Nick (Nat Faxon) becomes her sex puppet, comforting her during her emotional distress and resentment toward her marriage.
The series comes to a dramatic conclusion at the birthday party of Sam, where a psychic unravels everyone's untruths and causes a domino effect of honesty where Lisa admits to her cheating and Marianne asks the Turner's to move out. Oh, and a car winds up in the pool.
The Need to Cheat
Cheating becomes a major conflict throughout the series, and the show actually opens with a scene of Sam and Ethan enjoying their affair and briefly discussing ending it before the move. The conflict only continues as the show advances, creating the illusion that monogamy is unattainable and too difficult to maintain.
Every character, from minor to major, shows in some manner a lack of principle toward the evolving notion of monogamy. Ethan and Sam frequently cheat on their partners during their affair; Nick leads a trust-fund bachelor lifestyle, hopping from lover to lover; and Marianne shows little interest in keeping faithful to her long-distance boyfriend.
Even characters like Max, who plays a successful, gay booking agent in a happy relationship, can't help but cheat (in a sense) by ignoring the needs of his partners to focus on the childish friendship he has with his old buddies. This neglect toward his partner eventually leads to Felix (Eichner) leaving him and ending the relationship altogether.
In fact, cheating is not only present in television series or dramatized movies. Cheating happens quite frequently in real relationships, with the latest statistics showing that 25 percent of men and 14 percent of women will cheat in a lifetime. Monogamy no longer holds the importance that it once did.
Non-Monogamy in the Media
Friends From College is far from the only show to tackle characters who struggle with the idea of a single partner. For years, movies and television shows have been experimenting with the taboo, taking chances on topics like infidelity, addiction, murder, and anti-religion, despite the backlash the entertainment industry receives in turn.
Popular shows have featured complex characters in the past that live lives far from the honest. Characters like Fiona Gallagher (Emmy Rossum) struggle so intensely with infidelity that, at one point in Shameless, she becomes pregnant and is unsure who the biological father is. In the show, Insecure, main character Issa (Issa Rae) struggles with monogamy and loses the love of her life to cheating. Don't even get me started on characters like Big from Sex and the City, who treat love like a game with winners and losers.
Non-monogamy is a concept that many are experimenting with, especially millennials. Millennials are openly more sexual than most generations that came before them, sexualizing public profiles on Instagram and enjoying hook-up culture with apps like Tinder. Sex is no longer considered a purely sacred ritual of love and devotion like it once was, and many people believe monogamy is an unfair and unrealistic expectation for modern couples.
Friends From College is an intelligent, joyful, complicated, and often overwhelming adaptation of life's challenges, especially the challenges that come with committed relationships. Though the show centers around the lifelong friendships of six Harvard graduates, it does little to teach the audience about building strong relationships with your friends and does more to teach us how not to act and how to keep boundaries established.
Despite the disappointing nature of the outcomes of the story, Friends From College opens up a much-anticipated dialogue of the realities of marriage and monogamy and how spending your life with one single person is much more of a task than most understand. Dedication and commitment come out of honesty and respect. This group teaches us that neither come free, and each relationship you establish in life requires sacrifice.
Tell us what's wrong with this post? How could we improve it? :)
Let us improve this post!