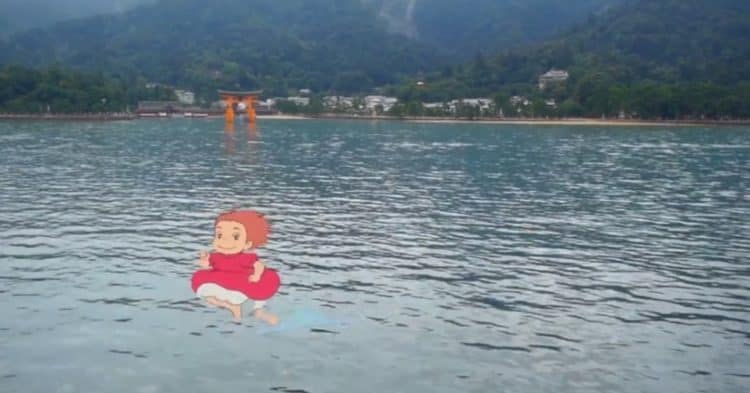 If Studio Ghibli is your thing then this compilation video is definitely something you'd enjoy, since even without being a fan it's extremely cathartic as the relaxing visuals manage to soothe and calm a person without fail. From the less than aggressive coloring to the gentle sounds and sights that are there to be witnessed these clips are something that one can't help but admit are enough to send a person off to a deep slumber if they so desire, or simply still their nerves and allow an individual to find some sense peace for time being. The style of animation and the settings that are so extensively used for these movies tend to bring a feeling of relaxation to the worlds they describe that can be felt by pretty much every person that watches them, no matter if they're into this type of thing or not. That's not a rare thing, to be honest, but it's one that has managed to attract a lot of different viewers and even convert quite a few since many people have found value in the movies over the years and have continued to push them to others in order to share the overall wonder that they bring.
Not being a fan of Studio Ghibli, it's hard to talk as much about the movies since I've only ever seen clips of them, but scenes such as this are hard to criticize since the need to just sit and watch as the movie goes on is overpowering in a way since it doesn't bombard a person with the need to look at multiple points of the screen in order to get the calming effect that it brings. Some might want to say that this isn't the real effect that Studio Ghibli is meant to give, but then again, everyone has their own perspective and it's best to just let things play out as they will considering that different people can get different things from the same presentation. Many would claim that the stories are enriching and filled with culture and they'd be right, but to others it might look like something that's been induced by a nightmare of some sort, thereby making it clear that perception is a big part of what goes into and comes out of this style of animation. Those that can get something positive from these movies, and there are many such people, tend to hold them up as a great example of animation and storytelling, while those that don't understand them might disagree or ignore them entirely. In some cases that's probably the best idea since ignoring them at least gives a person the chance to refrain from saying anything that might not be true about the movies.
Let's face it, everyone has their favorite style of animation, their favorite type of movies, and so on and so forth. Some folks might not even care for the relaxation that Studio Ghibli movies can bring since they might prefer action and adventure and something happening at all times. Those kinds of movies can be a tad bit exhausting but it doesn't make them any less valid since this is what some people are into, constant motion and constant stimulation that Studio Ghibli doesn't always do. The fact that this clip is so slow-moving and filled with calming images might actually put a lot of people to sleep or make them anxious since they're too used to movement, noise, distraction, action, and everything else. There are actually folks that will grow a little too nervous if they aren't being constantly stimulated since this is likely to be their type of calm, which is obviously a contradiction but is still very true since some people tend to relax best when they have a storm of activity going on around them. It's difficult for some folks to understand how people relax in this manner, but there are even people that live in this manner and are completely comfortable. To such people though, what Studio Ghibli has to offer in its more relaxing periods is likely something that they could use as a part of their background, where they wouldn't be confronted with it directly.
Relaxation is a different exercise for everyone and to be certain it's something that will be best observed in the manner that a person is comfortable with given that if it goes against what they feel is natural then it's not going to be relaxing. In other words, trying to force someone to relax with pleasant images and sounds might be anathema to them. It's a matter of perspective and personal taste to be certain, and those that love watching Studio Ghibli no doubt enjoy the quiet moments and transitions, while those that avoid it can at least, hopefully, admit that said scenes are rather peaceful.