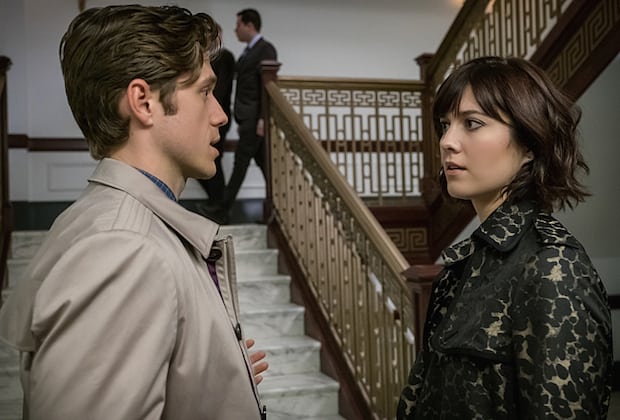 If you are like me, you probably are still mourning the ending of The Good Wife. Lucky for everyone, CBS has treated us to a new guilty pleasure from Robert and Michelle King called BrainDead. The series may not be anything like The Good Wife, but it still has a tone that still helps to fill the void. BrainDead has many familiar faces in its cast including Tony Shalhoub and Dann Pino. Here are four fun facts about the show's stars.
Mary Elizabeth Winstead's First Major TV Role was on Passions
Mary Elizabeth Winstead, who plays Laurel on BrainDead, has been acting for almost 20 years! Her first big break came in 1999 when she was cast on a new soap opera called Passions. She portrayed Jessica Bennett for the first year and later left to pursue other acting roles. "I really had one of the smallest roles on Passions. I was able to leave pretty easily," stated Winstead.
Danny Pino is also a Writer
Danny Pino has been a cast member on many popular television series including Law & Order: SVU, The Shield, and now BraidDead as Luke. He also spent seven season playing Scotty on the CBS drama Cold Case. During his time on the series he wrote two episodes in 2009 and 2010.
Aaron Tveit could have been on Glee
Aaron Tveit did not get much of a vacation after the cancellation of Graceland as he is now playing Gareth on BrainDead. The actor has an extensive background in musical theater and auditioned for the role of Finn Hudson on Glee in 2009. The part went to Cory Monteith and Tveit would go on to have a recurring role on Gossip Girl as Nate's cousin Tripp.
Tony Shalhoub is an Award-Winning Voice Actor
Most people remember Tony Shalhoub for his work on Wings and Monk. Now the actor is playing Red on BrainDead. Shalhoub has lent his voice as Luigi in Cars and Cars 2 and Splinter in the two most recent Teenage Mutant Ninja Turtles films. Additionally, Shalhoub received a Grammy nomination in the category of Best Spoken Word for Children in 2008 for the book The Cricket in Times Square.
Who is your favorite character on BrainDead? Let us know in the comments section below.
Photo by: CBS