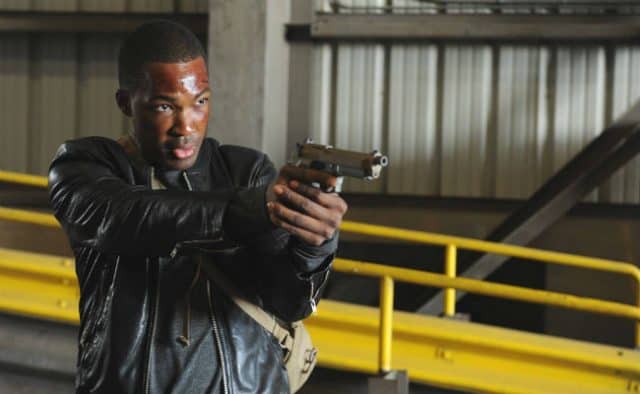 Corey Hawkins has a huge responsibility to the American public tonight. It's not just the character Eric Carter he'll be playing on the premiere of 24:Legacy on FOX, it's that it's all on his shoulders to see if the carry over viewing from the Super Bowl tonight will stick. We're all psyched for 24: Legacy. This much we know. Anyone who ever watched 24 is pumped that something resembling anything that Jack Bauer was involved in is on. Just the potential alone is enough to get people to watch. But again, this is all hinging on Corey Hawkins. Whether the 28-year-old actor likes it or not, Jack Bauer's got some big shoes to fill.
So let's take a look at the actor who landed the starring role on 24: Legacy.
Attended Julliard in NYC
As many of you know, Julliard is about the most prestigious performing arts schools in the entire world. Getting into Julliard doesn't guarantee you a successful role in fine arts but it certainly says a ton on your resume. While many people thank that Hawkins just shot out of the blue and broke out in Straight Outta Compton as Dr. Dre, understand that Corey Hawkins is about as trained an actor as there is.
6 Award Nominations
Hawkins won a Hollywood Breakout Ensemble Award for his role as Dr. Dre in Straight Outta Compton. But he was also nominated for five other awards:
NAACP Image Award for Outstanding Supporting Actor in a Motion Picture
Washington D.C. Area Film Critics Association Award for Best Ensemble
2016 Black Reel Award for Best Supporting Actor
Critics' Choice Movie Award for Best Acting Ensemble
Screen Actors Guild Award for Outstanding Performance by a Cast in a Motion Picture
The Walking Dead
Soon after his success in Straight Outta Compton, Hawkins landed a role on The Walking Dead. From 2015-2016 he played Heath.
Dr Dre Freaked out when he met Hawkins
"I gotta be honest, it freaked me out when I met him," Dre said of meeting Corey Hawkins (the actor who played him in the film), on his Beats 1 radio show, The Pharmacy. "We had a conversation. We went out to dinner at this restaurant over in Hollywood. We sat across the table and he started talking to me and I heard him like, 'What the… is that?' I'm saying this shit internally. It kinda freaked me out. At the same time, it's one of the things that let me know he was the perfect guy for the job."
Upcoming Roles
Hawkins will next be seen in Legendary's Kong: Skull Island. A graduate of Juilliard, Hawkins previously starred on Broadway in Romeo & Juliet. He is repped by ICM Partners and Jackoway Tyerman.
Began Off Broadway with the John Housman Award
Hawkins received the prestigious John Houseman Award for excellence in classical theatre after Julliard. Upon graduation, he began a career starring Off-Broadway and guest starring on television. Hawkins garnered a brief role in Marvel Studios' Iron Man 3 and went on to star opposite Liam Neeson and Julianne Moore in Universal Pictures' action-thriller Non-Stop.
Save