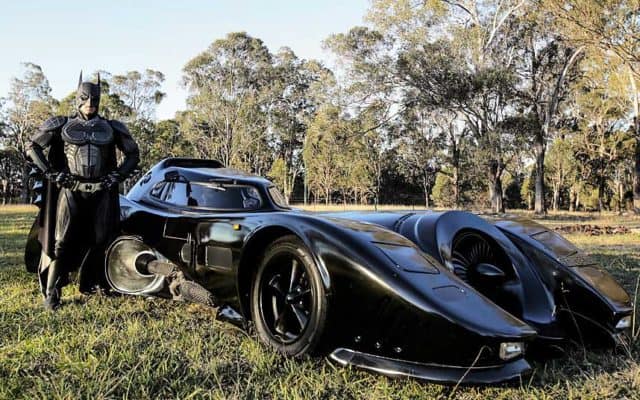 There are a wide variety of items included in the graphic, and some unusual ones like the statue of the Maltese Falcon, the painting of the Sopranos, and the dance floor from Saturday Night Fever, but they're not all equally valuable. Determined more by their cultural associations than their size, age, or purpose, these are the items of memorabilia that sold for the most:
23. A Superman Costume Worn by Christopher Reeve-many fans would have willingly spent more but this item went for $115 thousand.
22. The Duke and Duchess of North Caldwell Soprano's Painting-this is the highest priced piece from the show and it went for $175 thousand.
21. Mankind's First Celestial Measurements While Taken On the Moon-this navigational chart went for $218 thousand.
20. Muhammad Ali's Boxing Gloves from 1965 Against Floyd Patterson-the gloves from Ali's second championship fight went for $1.1 million.
19. Paul Henderson's '72 Summit Series Jersey-the jersey of the legendary Henderson went for $1.2 million.
18. Red-Sequined Showgirl Gown w/Feathered Hat-this saucy number worn by Marilyn Monroe went for $1.2 million.
17. 'A Day In the Life' John Lennon's Hand-Written Lyrics-one of the final songs with Lennon in the band, the lyrics went for $1.2 million.
16. John Travolta Dance Floor from Saturday Night Fever-this colorful floor piece went for about $1.2 million.
15. Sheffield Football Club Rules, Regulations & Laws-the first rules for football ever drafted went for $1.24 million.
14. Do-Re-Mi Outfits from The Sound of Music-these charming outfits went together for a price of $1.56 million.
13. John Lennon's Rolls Royce-this highly coveted car went for $2.229 million.
12. Mark Mcgwire's 70th Home Run Ball-a piece of baseball legend went for roughly $3 million.
11. The Cowardly Lion Costume Worn in the Wizard of Oz-the full body suit went for around $3.08 million.
10. Honus Wagner Baseball Card-the holy grail of baseball cards went for $3.12 million.
9. The Piano Played by Humphrey Bogart in Casablanca-one of the most iconic instruments in all film went for $3.4 million.
8. The Maltese Falcon Statue-one of the two that was actually shown on film, this statue went for $4.1 million.
7. Aston Martin DB5 from both Goldfinger and Thunderball-one of the most popular cars ever made was sold for $4.1 million.
6. James Naismith's Founding Rules of Basketball-a piece of literature that's so simple and yet so vital to the sport sold for $4.3 million.
5. Babe Ruth 1920 Jersey — a piece of memorabilia for sports lovers, this jersey is the oldest-known New York Yankees jersey worn by Babe Ruth. It went for a stunning $4,415,000 in 2012.
4. Audrey Hepburn 'Ascot Dress' — from My Fair Lady, this is the dress Hepburn wore as Eliza Doolittle on visiting Ascot to test her new diction. It sold for $4.5 million in 2011, again to Debbie Reynolds.
3. Batmobile — the 1960s Adam West Batmobile wasn't the first ever physical depiction of the familiar superhero vehicle, but it was the most recognisable one for many years. When it was sold to car designer George Barris as a Lincoln Futura, it was for $1. When he sold it on in 2013, it went for $4.2 million.
2. 'The Girl' Ivory Pleated 'Subway' Dress — anything attached to Marilyn Monroe sells well, as this is the iconic dress Marilyn Monroe wore in 'The Seven Year Itch'. It went for $4.6 million in 2011, to Debbie Reynolds.
1. Marilyn Monroe's "Happy Birthday Mr. President" Dress — worn by Monroe when she famously sang a sultry Happy Birthday to John F. Kennedy, this dress fetched $4.8 million when it went on sale in 2016.

Infographic via Play NJ
Save
Tell us what's wrong with this post? How could we improve it? :)
Let us improve this post!