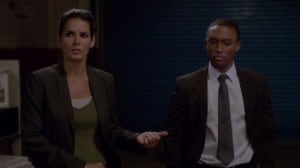 Cute love interests and fast cars, what else do you need?
What Rizzoli & Isles does well, it does really well. The banter and the wit, the strong female relationship between Jane and Maura that could never be described as catty (a huge pet peeve of mine). While I do see the subtext between the two female leads, I also realize that it's more in my head then an actual reality. They just have great chemistry together.
What I take issue with is how thick the show lays it on to inform us under no circumstances are these women ever, ever getting together (That is not a Swift reference). They threw the hot, sweet, super smart bomb tech BT at Maura.
Cute nickname? Seemingly sexy, dangerous, hard core job? A PhD in applied physics? Appropriate use of facial hair and bedroom eyes? Check.
BT is presented to us as pretty well perfect. Let's face it, he starts out as eye candy and that's pretty much all he is. But then he starts popping up with the sexy smile and the super smart observations about the world of bombs, physics and basic electronic facts. And I think he might have saved a bus full of kids as it was about to run over a litter of cats. I may have made that last one up. But this guy was annoyingly perfect.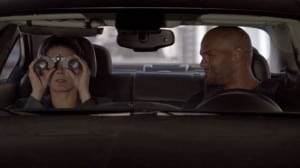 Martinez is another love interest we get to see. Love isn't the right word. He gives Jane the hard core lust eyes. I think it was something like: "You know, me and you were real good back when we did things that didn't require talking." Not a direct quote, but that's the idea. Only imagine it said by a sexy Latino detective who you've already slept with, with a slight accent in a smoky voice while being given *the eyes.* This happens while she's getting ready to talk to the Great American Hero Casey Jones. I missed the part where he was still in the picture, but Jane ends up getting blown off so I fear for that relationship.
Well, not really fear. Casey is another one of those love interests that is just too perfect. I think this is probably opening the door for Martinez to catch her at a weak moment. I don't really have anything invested in either, but Martinez is a very amusing character so he gets my vote in the pole of things no one cares about. He consistently refers to Frankie as "Other Rizzoli" and that makes me laugh every time.

The case was focused on street racing and we get to see Giovanni be the meat head we all find annoying and adorable at the same time. Sweet kid, even if he is 40. I thought it was a bit easily figured out, but it did have me wondering for a second if
Martinez might actually be an issue. It was a good episode, and it's nice to feel like the producers and writers may have gotten their flow back. It will be incredibly interesting to see what happens next with only two episodes left in the series.