Maura Isles is a murderer!!!!!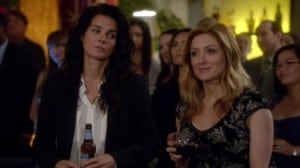 The books portray Dr. Isles as a much darker character than she is on the television show. She's much more morbid than what we get to see, but the sum of both parts is that Dr. Maura Isles is a sweet, naive, awkwardly morbid, genius. She wouldn't hurt a fly. Period. She seeks truth and justice. And great shoes.
So what happens when even Maura Isles starts to believe all the evidence that says she killed a man? The deck is stacked, and while I could argue that it's stacked a little too well, it's not out of the realm of the believable.
Let's look at the evidence, shall we?
She was last seen leaving a gala with the victim, there are fingerprints and hair that matches her in the car, the DNA under her fingernails is a match to the victim, she has bruising on her arms that are more offensive than defensive, she doesn't remember a damn thing but her tox-screen is clear of any of the normal drugs that you might find. And since it's Maura and the evidence doesn't lie, her scientific brain can't find a reason that she DIDN'T do it.
The psychology there is a bit odd, a woman like Maura who wouldn't normally be capable of things, can be seen explaining how in extraordinary circumstances everyone is capable of homicidal rage. I agree, but further investigation shows there was no sexual assault or assault of any kind, so what could have possibly provoked her?
I think we all see flaws in the justice system, but my main problem with the whole investigation is the fact that it's our home team doing the snooping. In no way is it appropriate for Jane to be on the investigation, let alone be interrogating her. Even her Lieutenant makes a comment that she will have to treat Maura like any other suspect. I just don't think that's possible. In a literal life and death situation, you need someone with a clear head. And while as the viewers, we know that she can't possibly be guilty, it would have been far more dramatic to see another team have to come in and make Jane stress it out. Because say what you will about there "are they or aren't they" relationship, their friendship is incredibly strong and there is a LOT of love there.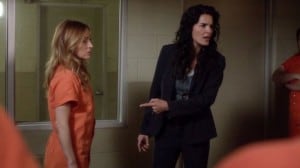 Other than the considerable conflict of interest that I realize makes for great TV, the buildup of this episode completely made up for the filler of last week. There are tidbits of the Paddy case in there, the constant reminder that this huge trial is coming up and that Maura will always be known as a Mob Boss's daughter from now on. Maura gets a bit of a hand while in the slammer because Paddy is her father, and while that was an interesting way of reminding us of what is to come, it felt right. Maura is the daughter of someone who killed 15 people that we know of and it's fascinating how she reconciles that with who she is as well as her job.
We got to see a different side of Maura, one that was vulnerable and scared and unknowing. It was fantastically thought out and portrayed and this reminds me why I love this show. The characters, while sometimes downright out there, speak truth of human nature. This episode gave me that peculiar feeling in the back of my mind: I know she couldn't have done this, but what if?