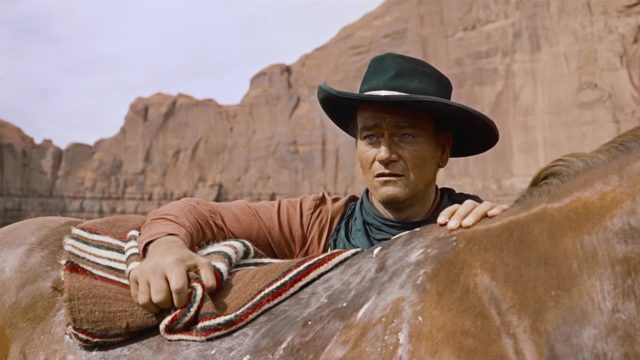 Nothing is more iconic in American film and television than the Western genre. Everything about the American Old West is now considered a classic, and while we no longer see true and new Westerns anymore, our fascination for the genre continues. Westerns have them all–action, drama, strong characters, excellent plot lines, and more. They were the predecessors to some of the most common plots in film altogether. Westerns introduced us all to gang plots and revenge stories. They also featured some of the first stories. They were also the first films to introduce the idea of exploring and conquering frontiers. You may have never thought of it before, being that Westerns are so set in the deep past, but Westerns were actually way ahead of their time.
Today, Westerns may be gone, but the cowboys that told and showed us all the stories then will always live on. Western movie stars are true cowboys of their generation and future generations to come. Time and again through their movies, they've shown us glimpses of what a Western life could've been. They've taught us ideas and representations of a part of American history. But aside from all of that, they've simply entertained us all. There aren't a lot of Westerns out there that are not fun to watch. Cowboys are cowboys. They're the epitome of the protagonist. They're good; they're bad; and they may be ugly, but they're surely entertaining. Out of all the Western movie stars that have graced the silver screen and the small screen, here are 20 of the greatest Western movie stars ever.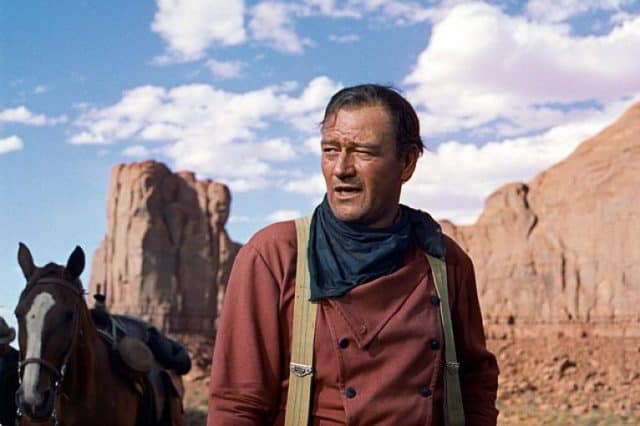 John Wayne
His name is almost synonymous to cowboy. You can even say that for some, his name is synonymous to America itself. For a lot of people from other countries, when they think of America, they think also of John Wayne. John Wayne personified the Western genre. He embodied everything that a cowboy was; he might've even defined the standards. Out of over the 140 films he made throughout his career, 83 were Westerns. He's played every role in the genre as well. He's been the cowboy, the cavalryman, the lone ranger, and more. Some of his most popular movies include Red River, True Grit, Rio Bravo, and The Longest Day. He's the recipient of one Academy Award and over twenty other awards and recognitions for his impressive body of work.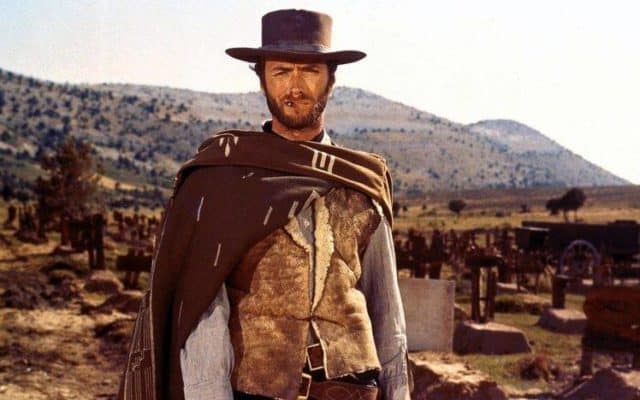 Clint Eastwood
The actor turned director, producer, and composer is probably the most successful Western actor of our generation. Eastwood has defied so many grounds; he's a well-respected contributor to the film arts, and he's also given us some of the best movies of all time. He's an award winning actor and director, and he's still going at it. He's not ready to stop. But before all of these accolades and achievements, Eastwood was a cowboy first. For many of us, Eastwood will always be Joe. He'll always be Monco and Blondie. We've seen Eastwood play some pretty iconic roles in Hollywood, but you can't ever take the Western out of a cowboy. Some of Eastwood's best Western films include his spaghetti Western trilogy: A Fistful Of Dollars; For A Few Dollars More; and The Good, The Bad, And The Ugly.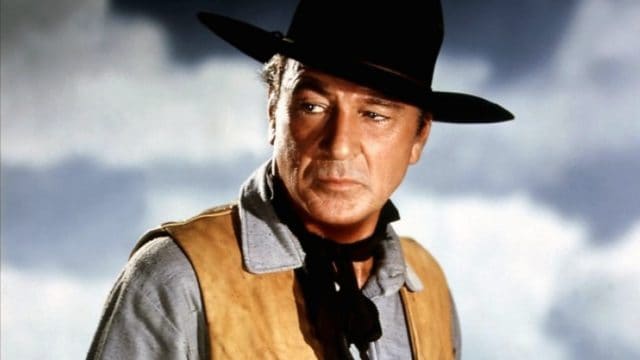 Gary Cooper
Cooper was there during the silent film era. He was also there during the golden age of classical Hollywood. But perhaps, Cooper was best during the high Western era. This talented actor was known for his completely natural and understated acting styles. He had the cowboy appeal that attracted both men and women. In short, women wanted him and men wanted to be like him. This award-winning actor had an impressive list of Western movies under his belt. Cooper's best Western works include the likes of High Noon, The Westerner, and Man Of The West among many others. People say that if you wanted to get to know the real Gary Cooper, all you needed to do was watch his films. In person, he was whom he portrayed in his films. That's how authentic Cooper was.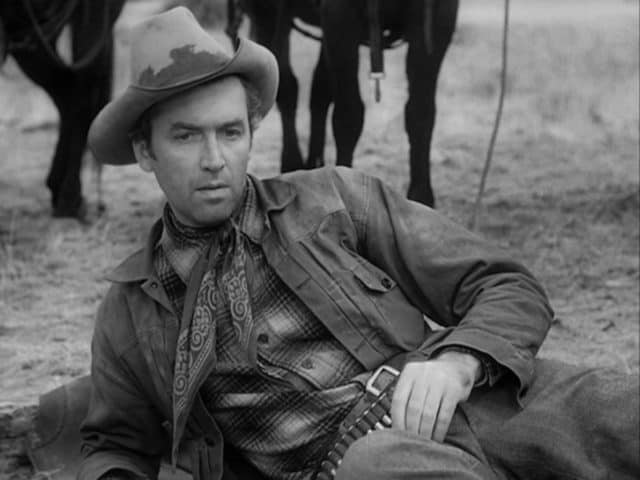 James Stewart
Most honored and most popular in film history–these are just some of the ways Hollywood describes James Stewart. A lot of Stewart's films have gone on to become classics, and some of these include his Western works. This man also happened to be a real-life cowboy in some sense. He had a notable military career, as he was the highest-ranking actor in military history. He starred alongside John Wayne in The Man Who Shot Liberty Vance, but his best Western movies include Bandolero!, Bend Of The River, and Broken Arrow. This true professional will forever be remembered in history for his contributions both in film and the military. It's an unlikely combination, but Stewart somehow managed to live a successful life in both.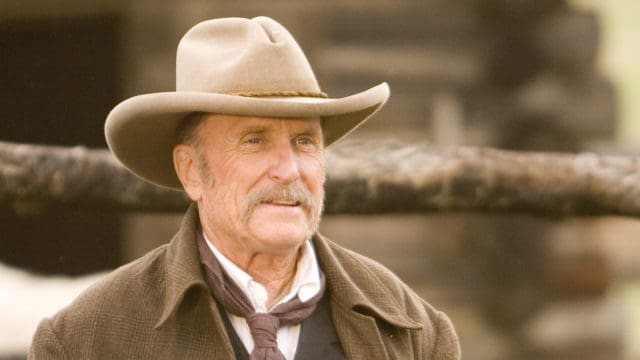 Robert Duvall
He probably has one of the most recognizable faces in Hollywood. We know that if Robert Duvall is listed as cast in any film, the film is going to be good. We've seen Robert Duvall age in our generation, and he's only gotten better over the years. While some of his most popular works were from the last few decades, Duvall will always be remembered for his Western movies as well. He has actually made Western films in more recent times including 2015's Wild Horses, 2006's Broken Trail, and 2003's Open Range. Some of his older Western films include True Grit, Joe Kidd, and Lawman. Duvall is truly one of the most talented actors of our time, and he has certainly brought the cowboy tradition to modern times.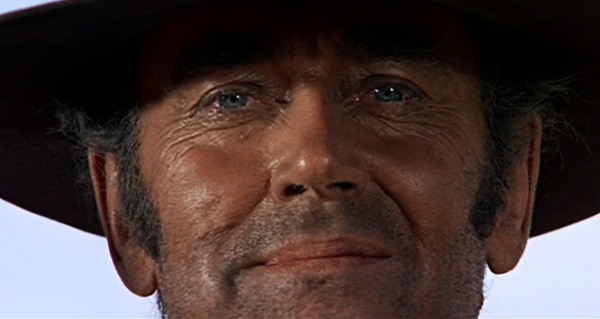 Henry Fonda
Starting off in Broadway, Henry Fonda went from being a stage actor to one of the best Western actors of all time. Throughout his 50-year career in Hollywood, he became part of so many different classics, including Western classics such as Once Upon A Time In The West, The Cheyenne Social Club, and Firecreek. He has made quite a legacy in the industry, and the legacy was enough for his family to pursue. Henry Fonda is the father of famous actors Peter and Jane Fonda, and he is also the grandfather of Bridget Fonda and Troy Garity. Fonda won an Academy Award for the 1981 drama On Golden Pond. While none of his awards and recognitions was for any of his Westerns, we can still attest to how great his Western films were.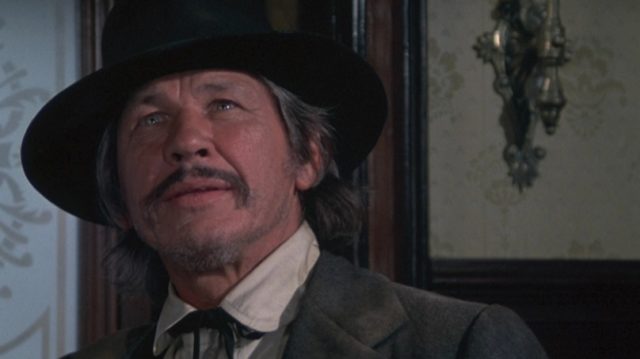 Charles Bronson
Here's another actor that personified the Western genre. It's difficult to imagine Charles Bronson without a cowboy hat and cowboy gear. As a matter of fact, when we think of Bronson, we think of him sitting on a horse while chewing on a long stalk of hay. We know that's the most cliché thing ever, but Bronson is the clichéd cowboy–and that's not necessarily a bad thing. However, it would be wrong to diminish his body of work to just his Westerns because he did so many wonderful films in other genres. We just happen to like Bronson a lot in Western films. Some of his best cowboy work can be seen in The Magnificent Seven, Once Upon A Time In The West, and Apache.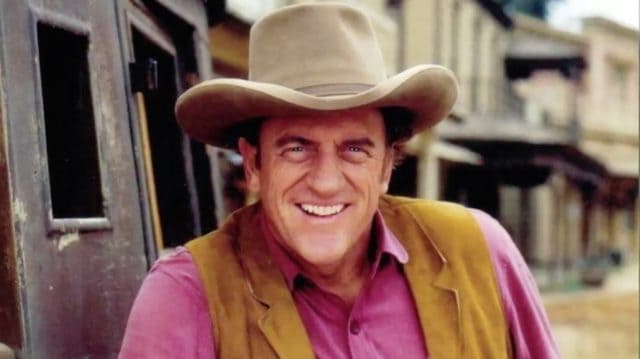 James Arness
James Arness is the first television cowboy on this list. Arness is best known starring in the television series Gunsmoke. He actually played the role of Marshal Matt Dillon for 20 years. That's certainly an impressively long time to be playing one specific character, and Arness did not only do it for that long; he did it with a lot of heart and passion. Aside from Gunsmoke, Arness also played in another famous Western TV series: How The West Was Won. He achieved cult status in the UK for his role as Zeb Macahan for this series. He's also appeared in a few Western films, although none of them were as big as his TV shows. Arness was certainly not the lone ranger type, as he was close friends with another popular Western actor, John Wayne.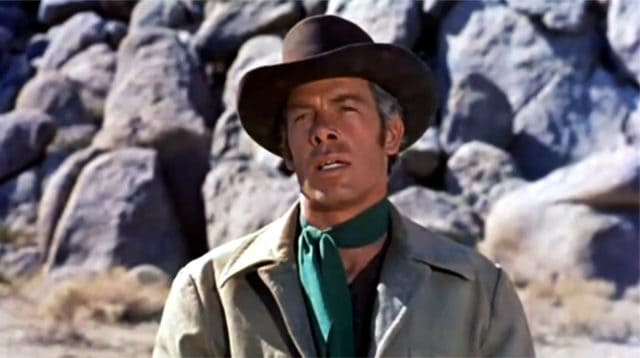 Lee Marvin
Marvin was rocking the premature white hair way before George Clooney did in his time, and he also rocked the Western genre in both film and television. Marvin is known for starring in Cat Ballou, a Western comedy. He won the Academy Award for Best Actor for his dual role as Kid Shelleen and Tim Strawn. In addition, he starred in the film opposite Jane Fonda, the daughter of fellow Western movie actor Henry Fonda. Some of his other Western films include Bad Day at Black Rock, Gun Fury, Hangman's Knot, and The Man Who Shot Liberty Vance. Even though he started with the smallest roles in films, Marvin ended his career being the star of most of his Westerns.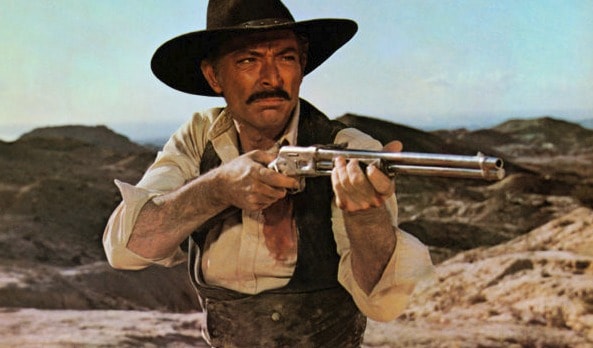 Lee Van Cleef
If you could think of a typecast villain face, it's probably close to how Lee Van Cleef looked like back in his glory days. While his sinister facial features put him initially in the villain role for a while before he hit his break, Van Cleef really did well soon as his talents outshone his looks. His breakthrough role was in the classic Western High Noon opposite Gary Cooper. Not too long after that, Van Cleef was starring in spaghetti Westerns such as For A Few Dollars More and The Good, The Bad, And The Ugly. These movies turned Van Cleef into a box office draw, especially outside the United States. Aside from Western movies, Van Cleef had a prolific television Western career. Some of his television works included The Adventures Of Kit Carson, The Range Rider, and Stories Of The Centuries. He also had minor roles in a couple of other television Westerns including The Rifleman and Brave Eagle.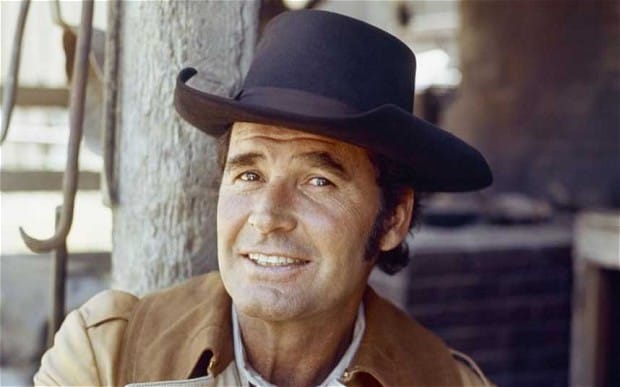 James Garner
Cowboys can be Purple Heart recipients too. That much is true, at least as proven by James Garner. Garner's military career was nothing short of impressive, but it can easily be overshadowed by his acting career, particularly his collection of Western works. He became popular for his title role as Bret Maverick in the 1950s television series Maverick. Maverick was such a successful show that Garner reprised his role a couple of times in movie form, including in 1994's movie of the same title, Maverick, that starred Mel Gibson and Jodie Foster. Some of Garner's other Western works include A Man Called Sledge, The Castaway Cowboy, and Duel At Diablo.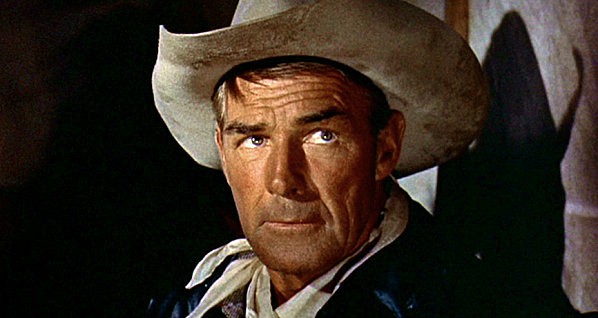 Randolph Scott
Scott was the leading man of all leading men. Throughout his 34-year acting career, he starred as leading man of all his movies except for the ones that came out during the first three years of his career. Scott was famous for playing the Western hero in almost all 60 of his Western films. He worked with some of the best directors in the industry, and he was also the leading man to some of the most famous women in classic Hollywood: Shirley Temple, Mae West, and Irene Dunne among others. Scott's natural charm gave him a different edge compared to other Western actors, and he was easily a box office draw throughout his career. Some of Scott's best Western work included Ride The High Country, Hangman's Knot, Jesse James, and Comanche Station.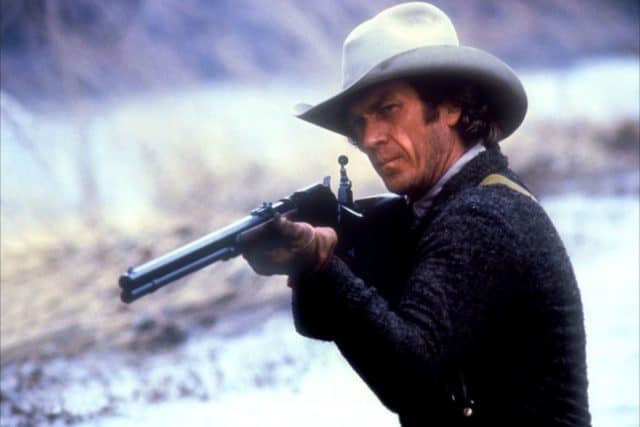 Steve McQueen
"The King of Cool" himself was certainly the coolest cowboy in Hollywood history. McQueen was the ultimate anti-hero; his demeanor and persona made him the highest paid actor at one point. He was the Hollywood bad guy, and while this was not always favorable for directors and producers, it made McQueen a huge box office draw. But before he was making blockbuster movies, McQueen actually started his career on the small screen, starring in a Western series called Tales Of Wells Fargo. He also had a role in the Western TV series Trackdown. After McQueen got his big break in Sinatra's film Never So Few, he got right back into the Western genre with his next big film, The Magnificent Seven. Everything else went up from there.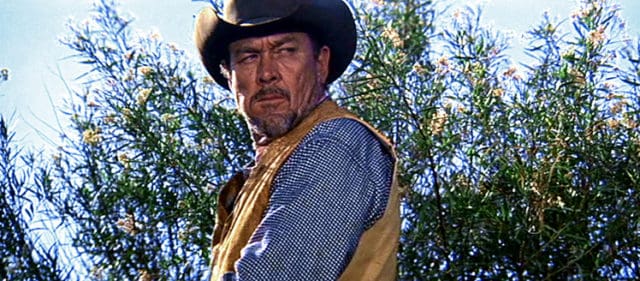 Ben Johnson
If only actors were real cowboys, they wouldn't need to get into character at all. This was Ben Johnson's truth. While Johnson was an actor and stuntman, he also happened to be an actual world champion rodeo cowboy. He was a true Westerner both on screen and off screen, and it certainly helped his career tremendously. Johnson is an Academy Award winning actor, which he won for his supporting role in the film, The Last Picture Show, in which he portrayed a former cowboy. His first role was actually in a Howard Hughes film, The Outlaw. He was only supposed to be wrangling off screen, but he ended up in the movie somehow. Shortly after that, Johnson started doing stunt work all over Hollywood. There was an incident one day on set, which Johnson ended up resolving. He saved the actors' lives that day. This incident led way to a full-blown acting contract.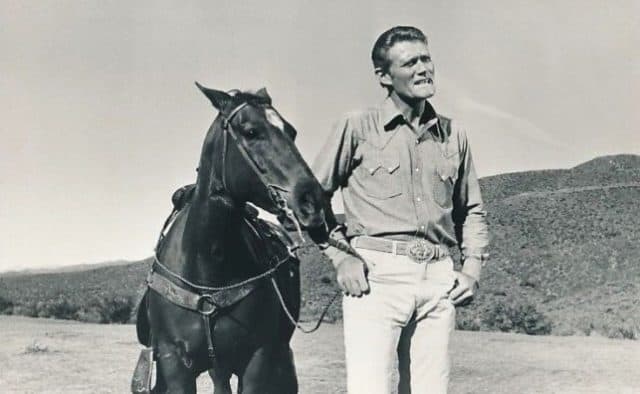 Chuck Connors
Talent was Chuck Connors' middle name. Okay, maybe it wasn't, but it should've been. Chuck Connors was probably one of the most versatile talents in all of Hollywood and its history. Besides his 40-year film and television career, Connors was also a professional basketball and professional baseball player. But focusing more on his acting career, Connors was widely known for his role in the Western television series, The Rifleman. In the show, Connors played the role of Lucas McCain, a rancher and widower skilled in using his rifle to settle scores. Some of Connors' other Western works included other TV shows and movies such as The Big Country, Once Upon A Texas Train, and Pancho Villa.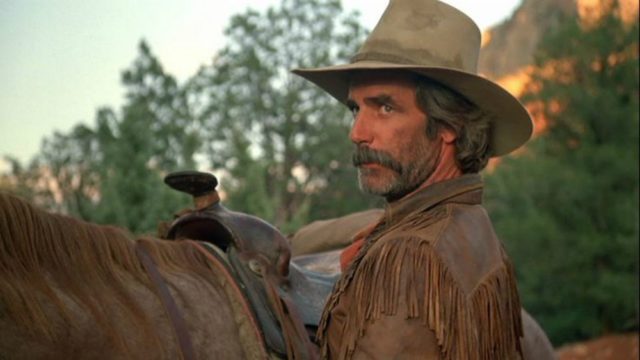 Sam Elliott
Sam Elliott probably had one of the most iconic cowboy looks in all of Hollywood. The thick mustache and the deep voice actually helped Elliott land a lot of Western-type jobs in his career. As a matter of fact, this is exactly how his successful acting career started. He played guest roles and minor roles in a few Western shows before he got a big gig. His first major Western movie was opposite Paul Newman and Robert Redford in Butch Cassidy And The Sundance Kid. Since then, Elliott has starred is some other big time Western movies including The Quick And The Dead, Tombstone, and I Will Fight No More Forever. Elliott has also had a successful career out of the Western genre, and he continues to produce good acting work to this day.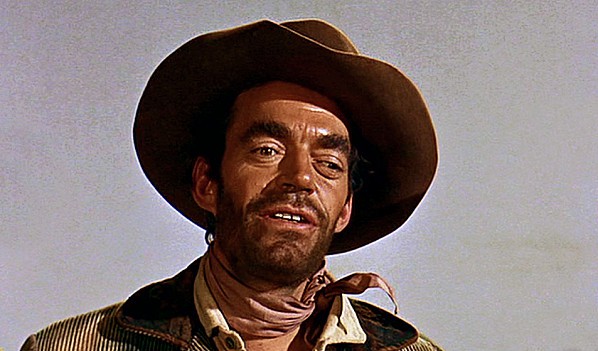 Jack Elam
While we always tend to look at actors and their "hero" roles, we have to remember that there can be no hero without a villain. And there are some actors out there that are just excellent at being villains in shows and movies. Jack Elam was one of those actors. He had just the right look and right skill to play some of the most iconic villains in Western movie history. His body of work is quite prolific, having starred in over 70 movies and over 40 television appearances. During the 50s and 60s, Elam appeared in some of the best Westerns on TV including The Rifleman, Gunsmoke, The Lone Ranger, and Tales of Wells Fargo among many others. Some of his Western film work included Once Upon A Time In The West, The Far Country, and Vera Cruz.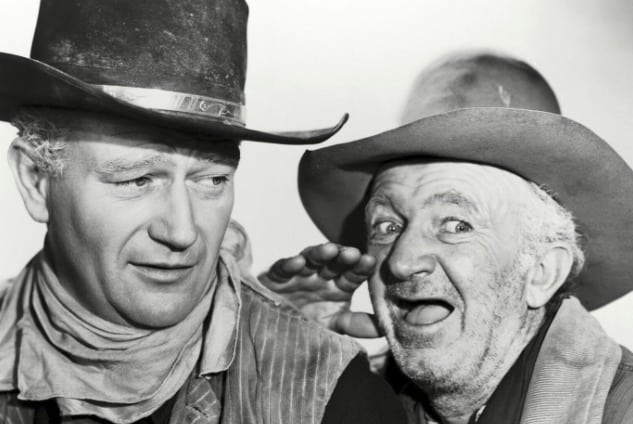 Walter Brennan
Multi-Oscar winning actor Walter Brennan was no joke. He knew early on that he wanted to become an actor. So as a young man, he found his way into the circuit by taking parts as an extra in a lot of films. One of his first films was in the Western movie, The Calgary Stampede. He was an extra in one film after another during that time, and over the next ten years, he had appeared in over a hundred films as an extra or stand in. Brennan's first big break came opposite Gary Cooper in the movie, The Wedding Night. Next thing everyone knew, this actor was starring in films and winning not one, not two, but three Academy Awards.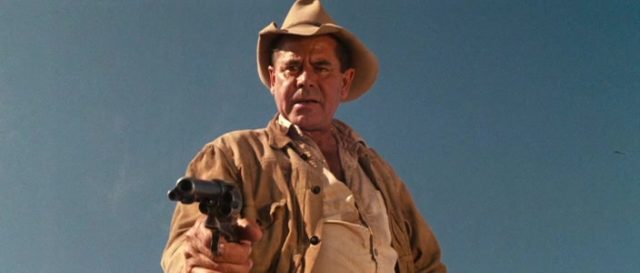 Glenn Ford
Glenn Ford might have been Canadian, but he knew exactly what it meant to be an American cowboy. With an acting career lasting for more than 50 years, Ford was one of the most successful actors of his time. Ford starred in a lot of Blockbuster films throughout his career, but some of his most unforgettable works were Western movies. His best Western film was the original 3:10 To Yuma, but he also starred in other great films such as The Fastest Gun Alive, The Sheepman, The Violent Man, Cowboy, and Cimarron. Besides film, Ford also did television shows and some radio work as well. He also served in the military multiple times, balancing his life and career as an actor with that of being a veteran.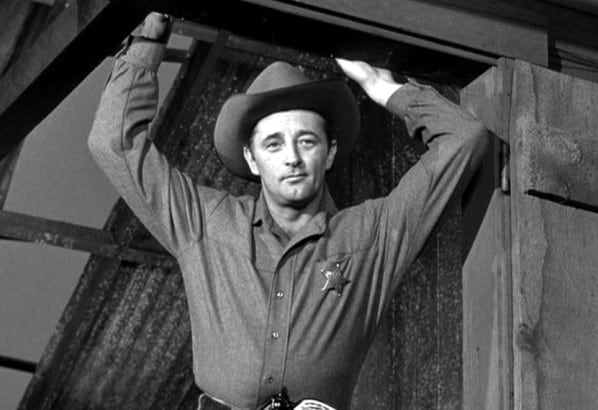 Robert Mitchum
Singer, composer, poet, author, and director–these are just some of what Robert Mitchum did throughout his life. But we all know him best for being a film actor. He started his career by just doing stagehand work for the theater guild his sister was involved in. He was also working as a writer then, but life made a different turn for him career-wise and he ended up in Delaware somehow as a machine operator. After suffering a nervous breakdown due to work stress, Mitchum decided to take it slow and take in jobs as an extra in films. He also began to take small acting jobs. Eventually, he got a minor role in a Paramount Western film called Hopalong Cassidy. He starred in another successful Western, Nevada, shortly after that, and that was when his fruitful career began to take shape. He had several Western films that did well including El Dorado, Tombstone, Blood On The Moon, River Of No Return, and Man With The Gun.
Tell us what's wrong with this post? How could we improve it? :)
Let us improve this post!