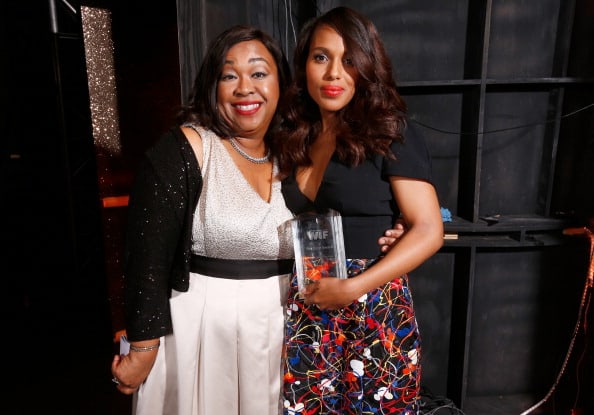 The 2014-2015 Television season is only a month away. Earlier this week, Scandal creator Shonda Rhimes shared a few spoilers that will keep fans on the edge of their seats until the 4th season of the drama premieres on September 25th. Rhimes confirmed in an interview that the show will make a tiny time jump. Rhimes also confirmed that season 4 will be the season of Abby and that Columbus Short, who plays Harrison Wright, will not be a part of the 4th season. Here are fifteen facts you may not know about your favorite ABC series.
Photo by Christopher Polk/Getty Images for Women In Film / MaxMara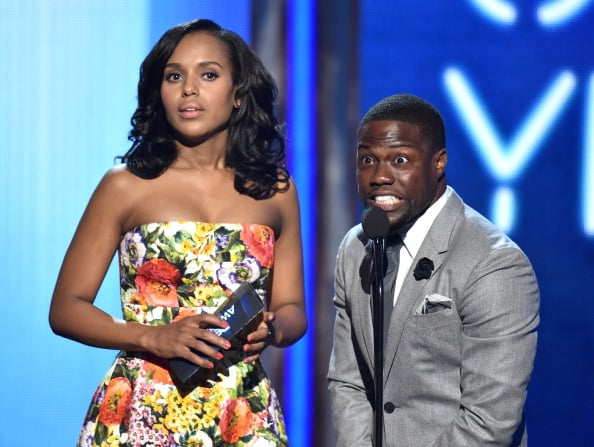 1. Olivia Pope, the character portrayed by the talented Kerry Washington on Scandal, is based on Judy Smith. Smith was the administration press aide for George H.W. Bush during his time as president. She is the founder, president, and CEO of the crisis management firm Smith & Company. On the series, Pope is the founder of the firm Olivia Pope & Associates. Smith received her Bachelor of Science degree in Public Relations from Boston University and would obtain her law degree from American University's Washington College of Law. She serves as a co-executive producer on the show.
Photo by Kevin Winter/Getty Images for BET
2. ABC announced in early 2011 that Grey's Anatomy creator Shonda Rhimes would be developing a new show for the network. In February, Kerry Washington had secured the role of the main character after vying with actress Gabrielle Union for the part. Henry Ian Cusick, who played Stephen Finch during season one, was the next actor to be cast. Tony Goldwyn would also be cast as President Fitzgerald Thomas Grant III later in the month. ABC picked the pilot up in May 2011 and the first episode aired almost a year later on April 5, 2012. The show was renewed for a second season on May 11, 2012.
Photo by David Buchan/Getty Images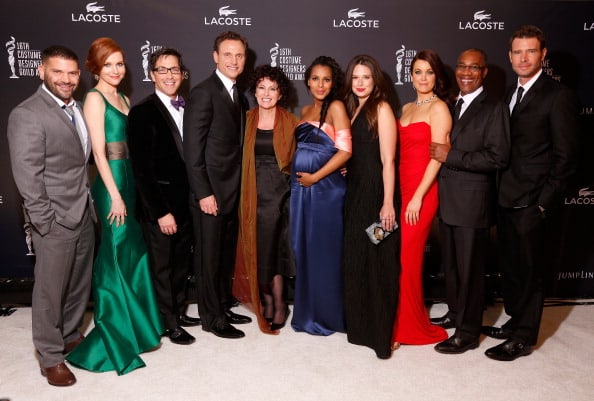 3. Scandal received three 2014 Primetime Emmy Award nominations. Kerry Washington was nominated in the category of Outstanding Lead Actress in a Drama Series and Joe Morton and Kate Burton received nominations in the Outstanding Guest Actor/Actress categories. Washington was also nominated in 2013. Dan Bucatinsky won the Emmy in 2013 for his performance as James Novak. Scandal was named Outstanding Drama Series in both 2013 and 2014 by the NAACP Image Awards. Washington would win in the Outstanding Actress in a Drama Series categories both years as well.
Photo by Christopher Polk/Getty Images for CDG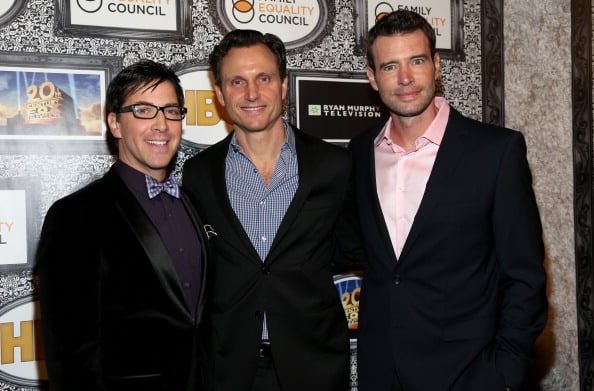 4. BET and ABC announced a syndication agreement for Scandal on July 15, 2013. In August, the network would air a marathon of the first two seasons of the drama. The show would then air on Wednesday nights for two hours before the show returned for a third season on ABC. The syndication agreement also allowed BET to air new episodes only eight days after they aired on ABC. This concept is very similar to what FOX has set up with Adult Swim. New episodes of Family Guy will air on Cartoon Network's Adult Swim two weeks after premiering on FOX.
Photo by Imeh Akpanudosen/Getty Images for Family Equality Council
5. The first season of Scandal averaged 8.21 million viewers for the seven episodes that aired between April 5, 2012 and May 17, 2012. The pilot episode and the season finale were both viewed by 7.33 million viewers. It ranked as the 62nd most watched show of the 2011-2012 television season. The second season of the series saw a small uptick in viewers averaging 8.46 million viewers over the 22 episodes that aired. The show ended up being ranked as the 44th most watched show. The third season was viewed by roughly 9.11 million viewers and cracked the top 20 for most popular shows, ranking in at #16.
Photo by Kevin Winter/Getty Images for Critics' Choice Television Awards
6. President Fitzgerald Grant's favorite past U.S. President is George Washington. It is a tradition for each president to hang up a portrait of the President he most looks up to, was his hero, or is is predecessor. The portrait is hung in the oval office of the White House. In scenes that take place in the oval office on Scandal, you can see the portrait of Washington hanging over the fireplace. When POTUS Barack Obama took office in 2009, he hung a portrait of Abraham Lincoln and one of George Washington in the oval office. There is also a bust of Martin Luther King Jr.
Photo by Angela Weiss/Getty Images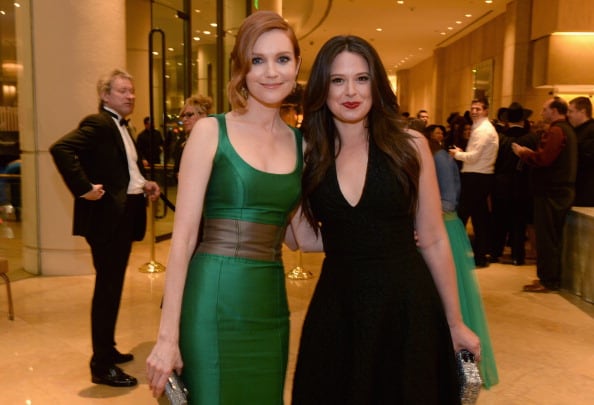 7. Katie Lowes has been playing Quinn Perkins on Scandal since the show began in 2012. The actress has had bit parts for the last ten years, but did not really catch her big break until she began starring on the ABC drama. In order to make ends meet between acting jobs, Lowes would take babysitting jobs. Shonda Rhimes told Lowes she no longer needed to be a babysitter when she cast her as a series regular. Some of the guest spots Lowes has on her resume include: Rescue Me, The Sopranos, Ghost Whisperer, NCIS, Without a Trace, Castle, and Private Practice.
Photo by Jason Kempin/Getty Images for CDG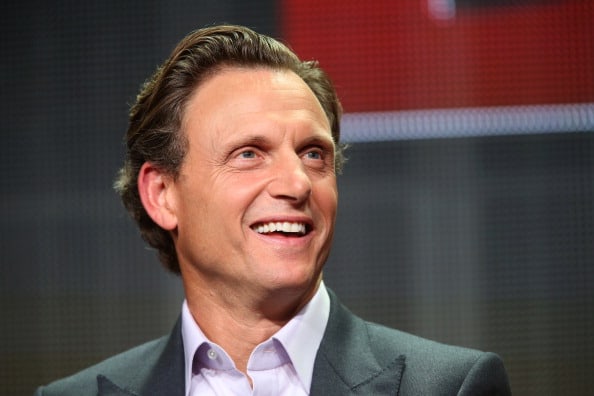 8. Tony Goldwyn, who plays President Fitzgerald Grant on Scandal, has had many other political type roles during his four decade career. He played Jody Powell, who was Jimmy Carter's press secretary, in a 1991 television movie and Harry Truman's adviser Clark Clifford in the 1995 television movie Truman. That same year Goldwyn would play Richard Nixon's brother Harold in the movie Nixon. In 1998, Goldwyn would play another memorable character. He portrayed astronaut Neil Armstrong in the TV mini-series From the Earth to the Moon.
Photo by Frederick M. Brown/Getty Images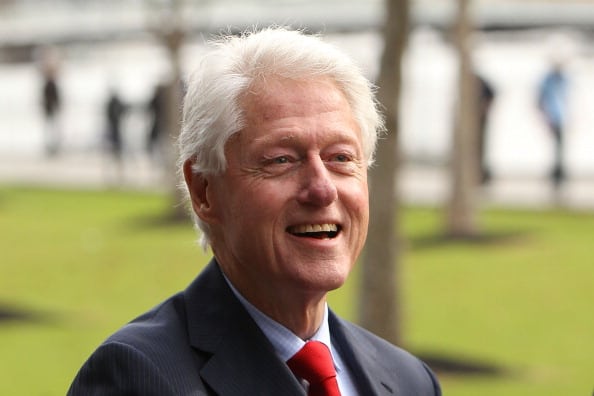 9. There are countless celebrities who have admitted that Scandal is one of their favorite guilty pleasures. Talk Show Queen Oprah Winfrey first heard about the show on Twitter and has been a fan ever since. She even interviewed Kerry Washington, Shonda Rhimes, and Judy Smith ( the real life Olivia Pope). In an interview with Entertainment Weekly, Washington announced, "Bill Clinton was another person where I was like, 'What?! You watch Scanda?!'" Other famous fans include P!nk, Mary J. Blige, Lena Dunham, and Paula Abdul.
Photo by Graham Denholm/Getty Images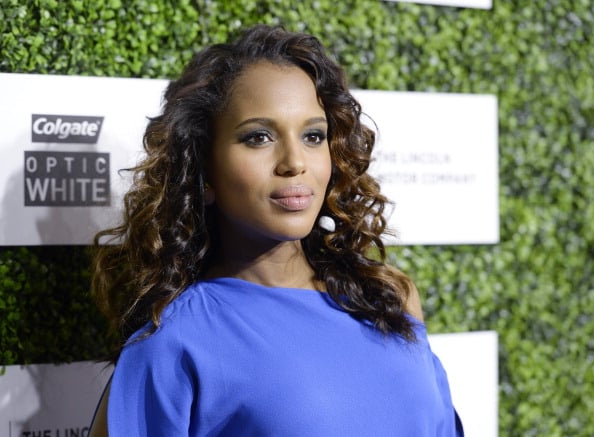 10. Kerry Washington had a political background before she began starring on Scandal. In 2009, the actress was appointed to the President's Committee on the Arts and Humanities by Barack Obama. Other people who became a part of the group that year included Edward Norton, Sarah Jessica Parker, and Alfre Woodard. Washington even delivered a speech to show her support to President Obama. In an interview with Ebony magazine, Washington admitted she would have turned the role of Olivia down if the POTUS had been black because it may have given off the wrong impression of her and Obama's relationship.
Photo by Kevork Djansezian/Getty Images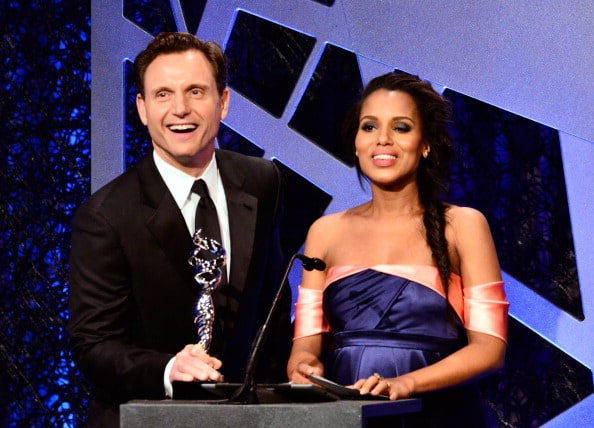 11. Many real life political scandals have been the basis for storylines on Scandal. Early in the show's run there was a story about a former White House aide named Amanda Tanner who has an affair with President Fitzgerald Grant. This story is similar to the affair that former President Bill Clinton had with his intern Monica Lewinsky. In season 3, Olivia takes on Senator Richard Meyers as a new client. He was accused of murdering a woman he had been sexting. New York City mayoral candidate Anthony Weiner was involved in his own sexting scandal.
Photo by Jerod Harris/Getty Images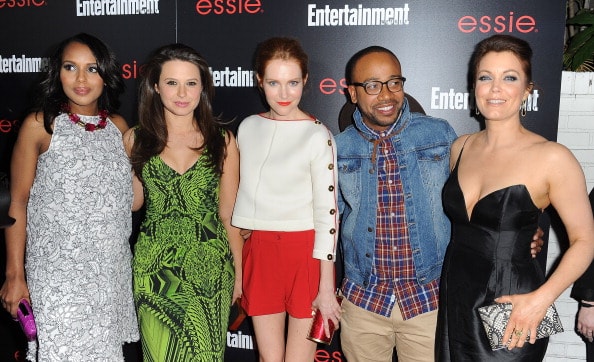 12. Other storylines featured on Scandal that have happened in real life include Olivia's client Sharon Marquette. She was a high class escort that had a client list filled with many important political figures. The story was very similar to the "DC Madame." Her real name is Deborah Jean Palfrey and she was found guilty of money laundering. In a season two episode, Olivia advises a Senate majority leader to resign after sleeping with an intern. California Congressman Gary Condit had an affair with his intern Chandra Levy, who was missing for a year before she was found dead.
Photo by Angela Weiss/Getty Images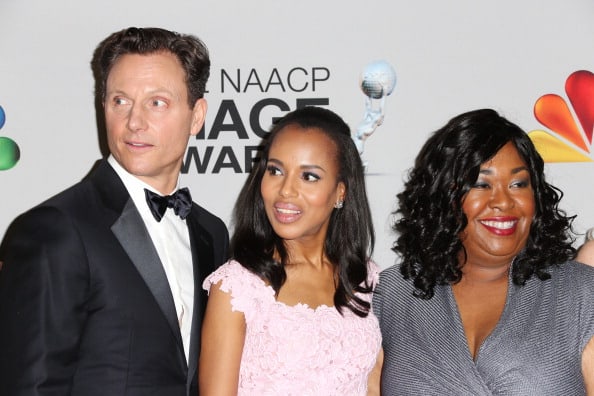 13. Scandal star Tony Goldwyn comes from Hollywood royalty. His grandfather was Samuel Goldwyn, a famous film producer. Some of the films he worked on during his 42-year career include Guys and Dolls in 1955 and Wuthering Heights in 1939. He worked at Paramount and The 'G' in MGM is named after him. Tony's great grandfather Sidney Howard wrote the screenplay for Gone with the Wind. He would win an Oscar for his work. Howard would die at the age of 48 in a farm accident at his home. He was driving his tractor when he fell off and was then ran over by it.
Photo by Frederick M. Brown/Getty Images for NAACP Image Awards
14. In the sixth episode of the second season of Scandal, the location of Olivia Pope's office is given as 1970 K Street NW Washington DC, 20006. If you look that address up, you will find four different businesses nearby. At this location there is a deli, a catering company, a place to frame pictures, and a law firm. The firm is Cahill, Gordon, & Reindel and was founded in New York City in 1919. Olivia's office is less than a mile and a half from the White House. If there is a problem with the President, it would take her about 7 minutes to drive there.
Photo by Frederick M. Brown/Getty Images for NAACP Image Awards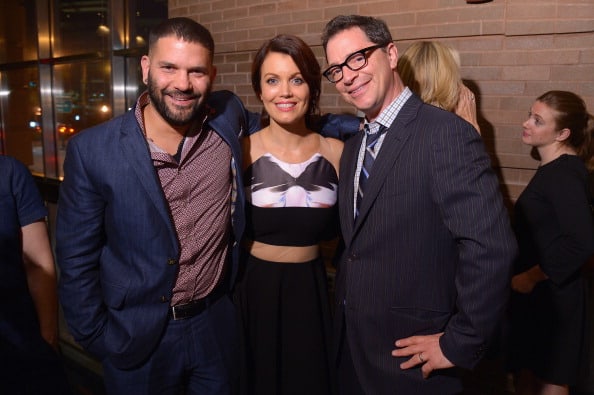 15. Joshua Malina, who plays David Rosen on Scandal, started his career in the entertainment industry by being a production assistant on the awful sequel Fletch Lives in 1989. His first online speaking role came three years later in the move A Few Good Men, which starred Tom Cruise and Jack Nicholson. He also appeared in the television mini-series From the Earth to the Moon, which also starred Scandal co-star Tony Goldwyn. Malina would get his big break in 1998 when he starred in the critically acclaimed comedy Sports Night with Felicity Huffman and Josh Charles.
Tell us what's wrong with this post? How could we improve it? :)
Let us improve this post!