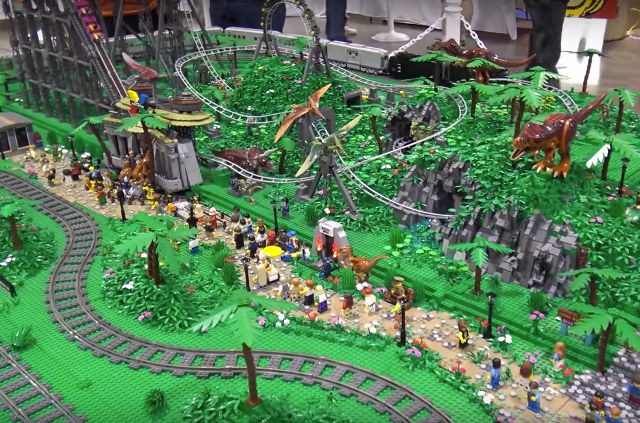 In a moment you're going to see a video of LEGOmaniac James Burrows giving a tour of his 125,000 piece dinosaur themed LEGO park and functional CoasterSaurus II roller coaster.  For the record this isn't the same James Burrows who's produced shows like Cheers and Seinfeld.  Besides, he goes by Jim Burrows.    In any event, Burrows took this project so seriously that he actually took a college course so that he could understand the physics behind Roller Coasters and make the loopty-loop work.
But it's not just about the roller coaster.  This is a fully functioning model of a theme park.  Frankly I think that Jurassic Park has absolutely nothing on this thing.  If JJ Abrams is looking at this, he may want to recruit Burrows to do some miniature work on the Star Wars films.   Seriously, this is the kind of project that could land Burrows a job at a big company. j
You won't see finer LEGO detail than this from an "amateur."  For the record, 125,000 LEGO pieces were made to construct this.   There's no word on the amount of time it took him to complete but this was no walk in the park.  I'm guessing at least 6 months to a year.
Anyway enjoy the full video below.  It's incredible when you get a closer look