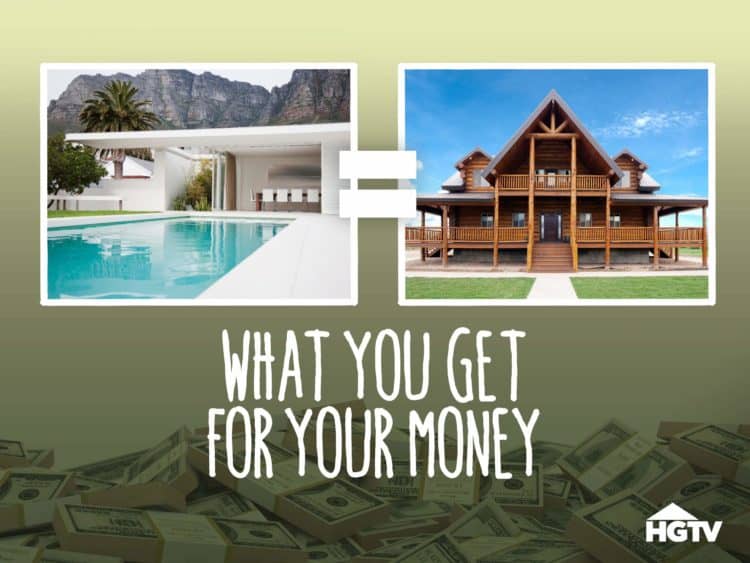 Home and Garden Television (HGTV) has previously teamed up with fixers of old houses to provide its viewers with tips on how to turn low-budget damaged houses into beautiful homes. The cable TV is proving that it does not have a shortage of reality shows to air with its new series titled "What You Get for Your Money." If you are a potential home-buyer and looking to settle in a different location without altering your budget, this is the show you should watch. According to The Simple Dollar, building a house in the U.S is more costly than purchasing an existing home. Let's get into the details of the show that you most probably do not know.
1. Its plot
In every episode, HGTV journeys with potential house buyers and couples to different cities on a house-hunting mission with a fixed amount of money to spend. From couples to young men, they travel to diverse locations to acquire various designs of houses with the same budget. In one episode, a couple from Colorado is searching for a distinctive story house in Denver. In the same episode, a young man is looking to own a beach house in San Clemente, California, with the same amount of money. The show gives viewers a wake-up call that a fixed budget can afford homes in different locations depending on their preferences.
2. Its production house
America's home prices and house listings vary in different states. What you can spend on a mansion in Texas will only afford you a small apartment in Los Angeles. That is the reason why Boy Wonder Productions, through HGTV, is working to produce this show. The company is a media corporation that specializes in creating scripted and unscripted productions. Its notable shows include "Mom's Cooking" which airs on Lifetime Entertainment and "Rescue my Renovations" that you can catch on HGTV.
3. Application procedure
HGTV is a transparent company that allows every interested American to appear on this new show without any favoritism. The firm is currently searching for energetic and interested persons in the U.S to film this show. People interested should send their details to 'casting@boywonderproductions.net.' Their details should include full names, locations, budget and the latest picture of themselves.
4. Its premiere date
Its episodes run for 21 minutes each, and it first showed on October 4th, 2019, at 9 pm in Eastern Time zone and 8 pm in Central Time zone. The first episode, 'Whatever Floats Your Houseboat,' showed two pairs of couples looking for homes in different cities. The first couple is looking for a cheap house that needs repair in Seattle while the other couple is planning to acquire a large-sized compound home in Arkansas. They both have the same budget but end up purchasing homes of different sizes.
5. The show does not have a promo video
Similar to other home programs, "What You Get for Your Money" was expected to have a promotional clip that shows viewers a glimpse of what it will entail. This new show, however, does not currently have a promotional video because its parent producing company pulled it down. According to The Wrap, the corporation had to delete the 30 seconds promotional clip because it had a line joking about the recently deceased "House Hunter" host, Suzanne Whang. The company came out to state that they made the promotional video before Whang's passing and they will be releasing a new promotional video soon.
6. Its episode guide
With the first episode already out, the show is scheduled to run four upcoming episodes between 11th and 25th of October 2019. Each is set to air at 9 pm ET and 8 pm CT, and a repeat the following day at noon ET and 11 am CT. The second episode of season two is called 'Fantastic Finds' and will be airing on October 11th. Episode three of season one is titled 'Crazy about That Creek' and will be showing on Friday, October 18th. The fourth episode of season one is called 'Beachtown vs Motown.' It will air on Saturday 26th of this month and will show people seeking homes in North Carolina and Detroit.
7. It is an adaptation
In the current world, it is not a surprise for companies to create shows based on programs that existed in the past. Several HGTV shows are spin-offs from its other shows. For example, its series "Flip or Flop" and "Fixer Upper" have five and one spin-offs, respectively. This show is, however, not a spin-off of an existing series. It is an improvement of the short running 2009 TLC show, "What You Get for The Money." The latter is about people buying expensive lofts in different locations.
8. Its narrator remains a mystery
HGTV has a tradition of keeping its program narrators in the dark until the show has progressed further into the season. "House Hunter" narrator Andromeda Dunker said the company preferred to keep her a mystery during her ten years as the series' voice. Similarly, HGTV is yet to disclose the name of the narrating voice behind its new series. An anonymous source close to the production house revealed that the hilarious voice behind the new series is a funny New Yorker who has voiced other shows before.
9. Available platforms
Fortunately for HGTV fans, the show will be available on a variety of non-cable platforms that air the companies' programs. For instance, fans can watch it from Hulu Live TV Services, Apple TV, Amazon Prime Video, Sling TV, Fubo TV, Philo TV and PlayStation Vue.
10. What it will cost you to watch it
Like any other product in the market, the series will not be airing for free, and fans can access it by subscribing to HGTV Channel. It can be found online at Amazon for $2.99 per episode and $9.99 per season. Its lowest price is at Philo, where people can watch it at a monthly subscription of $20. On PlayStation Vue, the series is accessible at $49.99 while streaming site Sling TV provides the show for $25 every month.
Tell us what's wrong with this post? How could we improve it? :)
Let us improve this post!