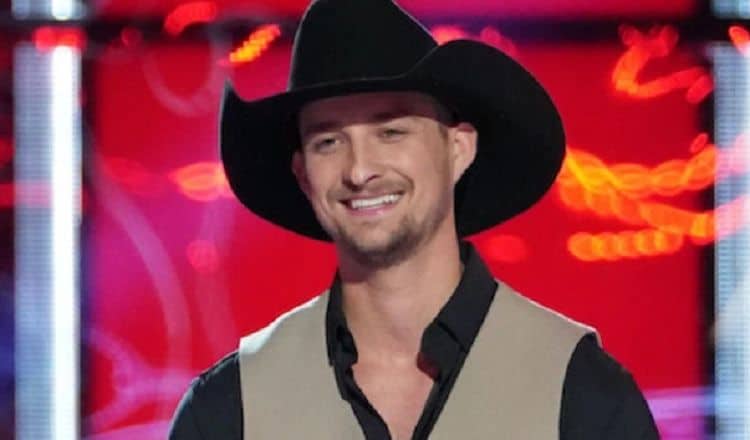 Like most people, Tanner Gomes was full of nerves when he stepped on stage to perform on The Voice for the first time. Quickly, however, it became clear that he had no reason to be nervous. His talents caught the attention of three of the four judges and Tanner had the option to choose which team he wanted to be on. He decided to go with Team Kelly and he's been doing his thing ever since. His unique but familiar sound has proven to be just what people want to hear. Not only have the judges been impressed with what he can do, but the viewers at home have also been loving his performances. Continue reading for 10 things you didn't know about Tanner Gomes from The Voice.
1. Music Has Always Given Him A Sense Of Comfort
Things in life haven't always been easy for Tanner. When he was younger, his mother became addicted to opioids after being involved in a serious car accident. Tanner learned to lean on music as a way to help him copy with the things he was dealing with. Even when things got better for Tanner, music continued to be something he could lean on during the ups and downs.
2. He's An Arizona Native
Tanner was born and raised in Arizona and it was there where he first developed and nurtured his passion for music. Once he decided that he wanted to get serious about pursuing a career in country music, he decided to relocate to the Nashville area where he lives today.
3. He Loves Spending Time Outdoors
The whole cowboy look isn't just an act for Tanner, he is truly a country boy to his core. Needless to say, he loves spending as much time out in nature as he can. Some of his favorite outdoor activities including hiking, fishing, and of course, walking his beloved dog.
4. He's Released Original Music
Tanner has been grinding hard to make a name for himself in the music industry. He released an EP or original music a few years ago, but unfortunately it has since been removed from streaming services. The good news is that he will likely put out more music in the future.
5. He's A Big Garth Brooks Fan
Every creative person has at least one person who has inspired them along the way, and Garth Brooks is one of those people for Tanner. He has looked up to the country legend for years and it's easy to see why. Garth Brooks is one of the the most successful artists of all time and he has played a big role in helping country music become more mainstream.
6. He's A Champion Level Karaoke Performer
Although The Voice may be the first time Tanner is appearing on a big competition show, it certainly isn't his first time being part of a big competition. He has done several karaoke competitions over the years and won the Karaoke World Championship in Las Vegas back in 2012.
7. He's In A Relationship
Now that Tanner has made his way to a major stage, there are probably lots of people are have already given him a spot on their crush list. Tanner, however, is happily spoken for. He has been in a relationship with Boston based news anchor Madeline Hunt for the last several years.
8. He Was In A Band
Tanner's solo career is his main focus at the moment, but there was a time when he performed as a member of a band. Several years ago, he did several performances under the name "The Tanner Gomes Band". Unfortunately, we weren't able to locate much group on the band other than this old performance.
9. He Has A YouTube Channel
When you're an up and coming artist it's important to try to get yourself out there in as many ways as possible. Tanner has worked hard to build a strong social media presence which includes a YouTube channel. He hasn't posted any new content on the channel in in two years. Even though it only has 331 subscribers, his channel has gotten more than 21,000 total views.
10. He Enjoys Interacting With His Supporters
Having a strong relationship with fans is an important component to a successful career as an entertainer. This is something Tanner isn't taking for granted. He is incredibly thankful for all of the people who have shown him love and he likes to use social media to interact with his fans. If you give him a shoutout on Twitter, there's a good chance he will respond.
Tell us what's wrong with this post? How could we improve it? :)
Let us improve this post!