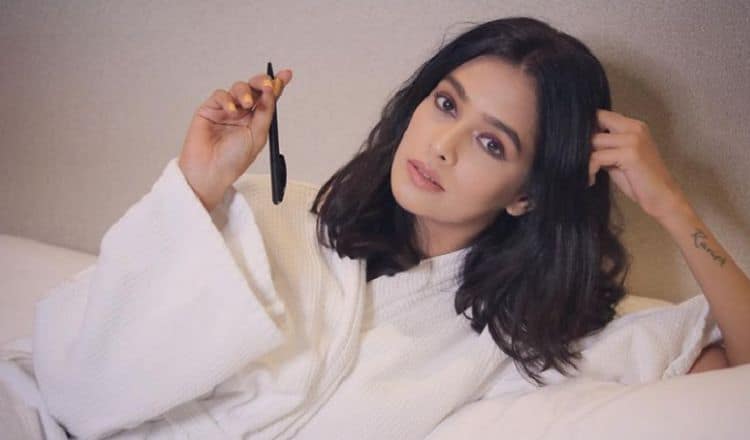 Mugdha Chaphekar may not have the longest acting resume in terms of the number of projects she's done, but she has found a level of consistency that can be difficult to come by. For that reason, she has become a star in her home country of India and other parts of the world. Mugdha is best known for her work in shows like Kumkum Bhagya and Satrangi Sasural. Although she has spent the majority of her career on the small screen, she has also done a few movie roles. Along the way, Mugdha has shown that she is capable of acting in several genres and she's excited to show the world what else she can do. Continue reading to learn 10 things you didn't know about Mugdha Chaphekar.
1. She Started Her Career As A Child
Mugdha was only about eight years old when she made her first on-screen appearance with a small role in a movie called Aazmayish which was released in 1995. After the movie, however, it would be a little more than a decade before she made another on-screen appearance.
2. She Studied English
Mugdha has always been the kind of person who likes to learn new things. She attended D. G. Ruparel College where she earned a bachelor's degree in English. She then went on to earn a master's degree in history. Even though these subjects may not seem like they have much to do with acting, they are more closely connected than many people realize.
3. She Is Thankful for All Of Her Fans
No matter how talented an actor is, a strong fan base is essential to a long and successful career. Mugdha has been fortunate to have lots of fans show her love and support over the years and she is very thankful for all of them. In an interview with The Free Press Journal, she said, "I would take another nice and sweet opportunity to thank them because they have really supported me throughout whatever characters that I chose to play. They really had faith in me that I'll be able to pull it off. It's very important because at the same time if you don't get encouragement and support from your followers I don't think anybody can be in that spirit and work. My fans have really been my support system right from my first show."
4. She's An Award Winner
Winning an award is something that every actor looks forward to, and it's something that Mugdha can proudly say that she's accomplished. She has already won a handful of awards including two Gold Awards, one for Best Actress in Supporting Role. There's no doubt there will be even more awards in her future.
5. She Loves Fashion
No matter what Mugdha is doing, you can bet that she's going to look good while she does it. In addition to acting, fashion is one of her favorite ways to express herself. She has a great eye for putting together stylish outfits and she isn't afraid to get a little creative with her clothes.
6. She's a TikToker
Some people may think that TikTok is only an app for Gen Z, but that isn't the case at all. People of all ages have found success on TikTok and Mugdha is among them. She currently has more than a million followers on the platform and her content has gotten over 19 million likes.
7. She's A Brand Ambassador
The success that Mugdha has achieved on-screen has helped her build a massive following on social media. On top of having over a million followers on TikTok, Mugdha also has over a million followers on Instagram. Thanks to her audience, she has become an attractive partner for companies who are looking to market their products. She is now a brand ambassador for several companies including Mother Sparsh.
8. It's Unclear If She Has Formal Acting Training
While we know that Mugdha studied English and history, we aren't so sure about her acting education. We didn't find any information to suggest that she went to drama school or underwent any other kind of acting training. Regardless, she still found a way to become successful.
9. She Is A Fan of Friends
Even though she has lived in India for her entire life, Mugdha is a fan of American TV shows. When asked if there was any role she wishes she could play, she told The Freedom Press Journal, "I think that would be Rachel from Friends because that is my ultimate favourite show and honestly speaking I do not follow Hindi television shows for that matter. I follow my own shows for sure because one has to keep the track. I am rather a very English series person."
10. People Love Her Feet
The internet can be a very strange place, so you may not be surprised to know that there is an online database called Wikifeet where people post pictures of celebrities' feet and rate them. Mugdha has gotten a lot of love on Wikifeet where her feet have an almost five-star rating.
Tell us what's wrong with this post? How could we improve it? :)
Let us improve this post!