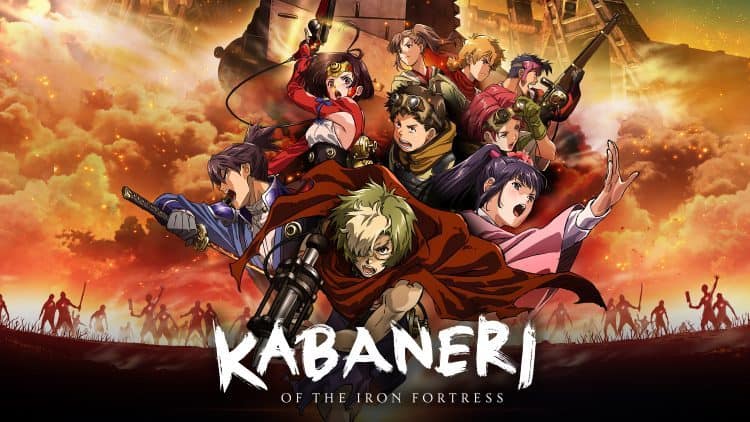 Kabaneri of the Iron Fortress is a rather interesting title that was serialized as manga some time ago. It runs along the same lines as many of the other adventure genres and in some cases, it has elements of the paranormal and maybe even a few elements that you might see in the horror genre, depending on your point of view. If you're not sure about it because you really don't know that much about this particular title, you can correct that by reading 10 things about it that are listed below.
1. It premiered and ended the same year
This is a title that has proven to be extremely popular but you wouldn't know it by the way that it got its start. When it was first adapted for anime, it was released in April of 2016 and by June of that same year, the last episode aired. Many people thought that it just wasn't that well received because it didn't take very long for it to go from beginning to end. Now, it's obvious that that wasn't the case but at the time, fans were concerned.
2. It's available on Amazon Prime
Despite its relatively short run, it managed to stir enough interest that it became available on Amazon Prime, the company's streaming service. It wasn't very long after the last episode aired that you could start streaming it through the service and to this day, it's still available.
3. So far, two films have been released that were based on this story
The relatively short anime series that consisted of only 12 episodes managed to be popular enough that not only did it end up on a streaming service, but two films based on the story have been released since 2016. Clearly, it generated enough interest that a number of projects have been released as a direct result of that initial 12-episode series.
4. It's also been released on DVD and Blu-ray
They don't typically have a habit of releasing titles and aren't very popular on DVD and Blu-ray because there's a certain amount of money involved in doing so. The project has already been released on both DVD and Blu-ray, and it's been made available in the United States and in other parts of the world. Clearly, the initial series had a bigger impact than many thought it would have.
5. It's release has stretched to the United States
As previously mentioned, its release has stretched to the United States. There is a very large interest in anime throughout the United States and it didn't take very long for people to start streaming the show on their Amazon Prime service. After that, fans began demanding that the DVD and Blu-ray be dubbed in English and released throughout the United States. The company responsible for producing the project delivered and fans can now watch it anytime they choose.
6. It's now available as a game
As of this month, it's even available as a game for mobile phones. Whether you have an Android operating system or the iOS operating system, you can enjoy downloading the game and playing it on your smartphone. The best part is that since you always take your phone with you, you have access to the game virtually anywhere you go.
7. Another movie will be released
Another movie will be released based on the original title. Right now, plans are to release it sometime next year. Clearly, this is something that the public wants more of and as long as there is an interest, the company responsible for producing it plans on delivering.
8. You might say it has a zombie scene with a twist
If you're wondering what the story is about, you could definitely call it a zombie story but there's a lot more to it. It's actually set during the Industrial Revolution, so there's a little bit of history involved there as well. While the Industrial Revolution is occurring, something ominous is uncovered and it makes people very sick. The problem is, once they contract this sickness, they basically turn into a corpse walking around on two legs. They don't get better so they must be eradicated.
9. It's all about adventure
So far, all of the titles have actually been classified into the adventure genre. You can definitely call it an adventure if you're out there dealing with corpses that are walking around trying to make you one of them all day long.
10. So far, it's been well received
Obviously, this is a title that is well received. Despite the fact that there are other stories out there that are quite similar in nature, this one seems to resonate with fans and they want more and more material to be released.