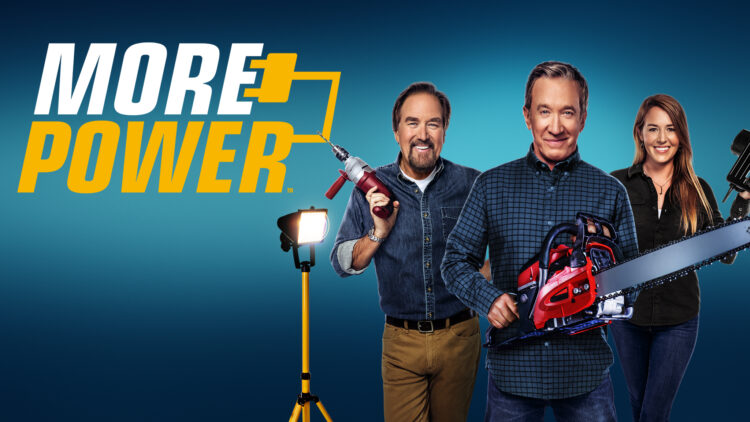 If you were around during the 1990s, then you probably have fond memories of the popular sitcom Home Improvement. The show, which ran from 1991 to 1999, starred Tim Allen as Tim Taylor, a family man who hosted a fictional home improvement show called Tool Time. Although it's been more than 20 years since the show aired its last episode, Home Improvement fans continue to have lots of love for the series. Needless to say, people were very excited when the History Channel announced a new show called More Power which stars Tim Allen and his Home Improvement castmate, Richard Karn. The new series, More Power, discusses the history of different tools and how they have improved over the years. Keep reading to learn 10 things you didn't know about More Power.
1. Tim and Richard Aren't the Only Hosts
If you've already heard of this show, you're probably well aware of the fact that Tim Allen and Richard Karn are the show's hosts. However, they aren't the only two. Woodworker, April Wilkerson, is also joining the duo. Wilkerson has built a large following via her YouTube channel.
2. The Show Features Special Guests
More Power is fortunate to be led by three awesome hosts, but they aren't the only ones who will be bringing something special to the show. Each episode will feature a "skilled expert" who is very familiar with the tools that will be on the show throughout the season.
3. Each Episode Focuses on a Different Tool
If you're someone who really likes to learn new things, you'll be happy to know that each episode of More Power will highlight a different tool. This means that there will be a wide variety of items discussed throughout the season. Even if you think you know the basics about these tools, the show will definitely offer up some additional details. By the end of the season, viewers will probably feel like they've really expanded their knowledge.
4. The Show Explains Complicated Concepts in a Simple Way
Let's face it, sometimes it can be tough to understand the science behind how some tools work. Fortunately, More Power will take the time to explain the history and the science behind all of the tools on the show in a way that is easy for viewers of all ages to understand.
5. Season One Will Have 10 Episodes
As binge watching shows becomes more and more popular, it's always nice to know how many episodes you can expect from a season before getting started. That said, many viewers will be excited about the fact that More Power will have 10 episodes during season one which has become fairly standard.
6. Home Improvement Fans Are Excited About the Show
Even though Home Improvement has been over for more than 20 years, the show has proven that it can withstand the test of time. Many fans have taken to social media to express their excitement about More Power and how much it means to them to see Allen and Karn essentially living out Tool Time in real life.
7. This Isn't The Hosts First Time on The History Channel
The History Channel probably isn't the first network that comes to mind when people think of Tim Allen and Richard Karn, but that might be changing. Allen and Karn previously reunited for another History Channel show called Assembly Required which aired for one season in 2021.
8. The Show Doesn't Have Official Social Media Profiles
If you're the kind of person who enjoys following your favorite shows on social media, you may be bummed about the fact that More Power doesn't have any social media profiles at the moment. This, of course, could change if the show ends up getting renewed for a second season.
9. The Show Also Features Some Appliances/Machines
Even though most of the content surrounding the show only mentions that More Power will be talking about tools, the reality is that it will cover much more than that. Viewers will also get to see Tim and Richard will also be discussing appliances and other machinery. During each episode, they will even get hands-on experience with each item.
10. Each Episode Will Feature a Challenge
Do you like a little competition? More Power has that, too. According to a press release for the show, "Tim invites some of the most skilled makers into his shop from across the country, tasking them to create mind-blowing, specifically tailored innovations to fit his needs — because there is always room for improvement." We weren't able to find any information on whether there is any kind of prize for this contest.