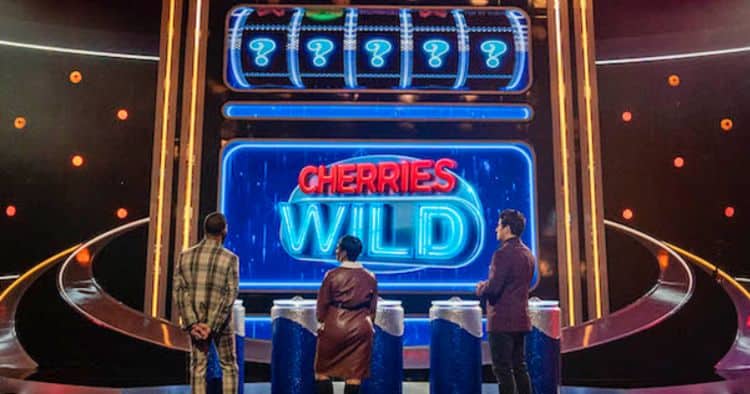 Over the last few years, Fox has built a really strong line up of game shows and they've recently decided to add another one to the mix. The network's latest game show, Cherries Wild, brings all of the excitement you'd expect from a game show along with the suspense of some good ole' fashion competition. The show combines the fun of slot machines with trivia questions which gives the viewers at home the chance to see if they have what it takes to keep up with the contestants. Although the show is still pretty new, it's already attracted a wide audience and people seem to love the game. Keep reading to learn 10 things you didn't know about Cherries Wild.
1. The Show Doesn't Use A Real Slot Machine
One of the coolest things about Cherries Wild is that contestants get the chance to pull the level on a giant slot machine. Unfortunately, however, the slot machines used on the show aren't actually real. While this may be a bummer to some, others may feel like it doesn't take away from the overall excitement of the game.
2. Contestants Are Competing For A Large Cash Prize
We all know that a good prize is one of the most important aspects of any competition. With the right reward on the line, you can bet that people are going to go extra hard for a shot at winning. The good news is that the prize on Cherries Wild is one that most people would definitely consider worth it. Contestants on the show are hoping to go home with a $250,000 prize.
3. Extras And Clips Are Available Online
There are lots of people who love to check out extra from their favorite shows. If you're one of those people, I have some great news for you. Cherries Wild offers plenty of clips and extra footage from the show directly on the Fox website. You can even stream episodes of the show through the site.
4. The Show Was Created By Wes Kauble
Have you ever wondered who comes up with the idea for some of these game shows? In this case, it was Wes Kauble. He has been working in the industry for more than a decade and has a lot of experience with game shows. Wes is also the co-creator of Beat Shazam.
5. The Show Is A Partnership With Pepsi
People don't respond to advertisements the same way they used to, and this is something that all major brands have come to accept. As a result, they've had to get really creative about how they market to people. It appears that Cherries Wild is one of Pepsi's latest attempts to find new ways to reach their customers. The series is a partnership with the popular beverage brand.
6. The Show Hasn't Been Renewed Yet
Cherries Wild is still very early in its first season, but that hasn't stopped people from already wondering whether or not the show will be renewed for a second season. At the moment, there hasn't been an official renewal announcement, but there's a good chance the show will be brought back.
7. Cherries Wild Is Jason Biggs' First Time Hosting A Game Show
Most people are familiar with Jason Biggs for his Jim Levenstein in the American Pie franchise. While acting is still his 'thing', he's decided to branch out off into new ventures. Although he has been a panelist on game shows in the past, Cherries Wild marks his first gig as a game show host. So far, people seem to be impressed with how he's doing.
8. Casting For The Show Has Closed
If you're a fan of Cherries Wild you may have wondered how you could get the opportunity to be on the show. I've got some good news and bad news. The good news is that the application process seems fairly simple and can be done online. The bad news is that the show isn't casting at the moment. Those who are interested may want to check back on the casting page from time to time to see if there are any updates.
9. There Is An App For The Show
Pepsi is definitely going all out to make sure that the series doubles as a great marketing opportunity for them. There is a corresponding mobile app for Cherries Wild which allows viewers to get in on the action. Through the app, fans can participate in a series of activities that could out them in the running to win prizes.
10. The Show Has Official Social Media Pages
If you're someone who likes to keep up with your favorite shows in between episodes, you'll be happy to know that Cherries Wild has verified accounts on Twitter, Instagram, and Facebook. Through social media fans can stay up to date and check out cool show related content.