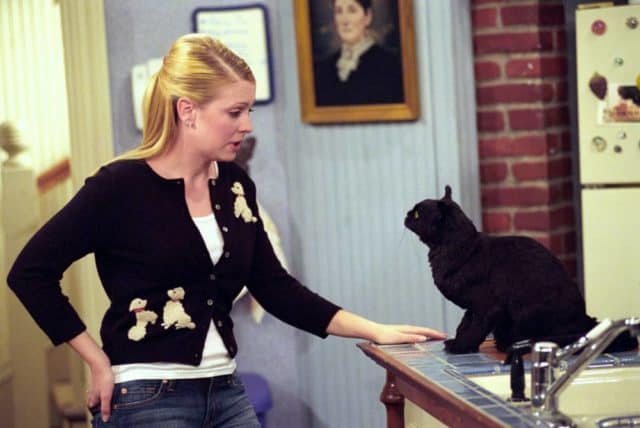 Sabrina the Teenage Witch was something that a lot of kids locked on and became entirely enamored with during its substantial run. It showed a fantastical story of a young woman that was still in high school but had suddenly become aware that she was also a witch that could perform wondrous feats of magic that she didn't fully understand. Along with her two aunts, also witches, and a talking cat named Salem, she did her best to endure her high school years while at the same time learning how to deal with her powers and act like a normal teen. Some kids just have puberty and pimples to deal with, but Sabrina had a lot of other things on her mind at that time, like how to keep weird things from happening and convincing people that she was an ordinary teen.
Until Riverdale came along she was probably the most famous character to ever come out of Archie comics.
10. Melissa's younger sister played her annoying cousin.
Being a TV show it seems that family members are sometimes given more of a chance to star alongside each, if they can act that is.
9. Hart was already 20 years old when the show premiered.
This is a very common practice that happens in TV and in movies, the actors playing certain roles such as high school students will typically be older.
8. There were usually around seven cats on the set.
At least two of them were animatronic so as not to force the real cats to do scenes that might seem inappropriate.
7. Hart's mother was the producer.
I get the feeling this was more of a family project than anything since her sister and her mother were around most times.
6. Penn Jillette has a role in the show.
You know Penn from Penn and Teller, the magic duo that have been around forever. Penn plays the head of the Witch's Council.
5. The cat is named after the Salem witch trials.
The Salem witch trials plays a peripheral part in this show since they were a horrible time for women that were accused of being witches.
4. Salem was originally a warlock that was transformed into a cat.
Apparently he was an evil warlock with the intent to dominate all those within his sight. He was defeated and punished severely as he was transformed into a cat forever.
3. Beth Broderick felt that her character was going nowhere and left.
This created a problem later on in an episode where Sabrina was about to get married and needed her other aunt there. They improvised of course but it was still kind of rough.
2. Hart played Sabrina in the films as well.
There were three that she starred in, those being Sabrina the Teenage Witch, Sabrina in Rome, and Sabrina Down Under.
1. Jason James Richter from Free Willy guest-starred at one time.
There were enough guest stars to keep the show interesting throughout the years but they had to cater to new audiences since those that grew up watching Sabrina usually moved on from the show pretty regularly.
For an Archie character she was a lot of fun while she lasted.
Tell us what's wrong with this post? How could we improve it? :)
Let us improve this post!