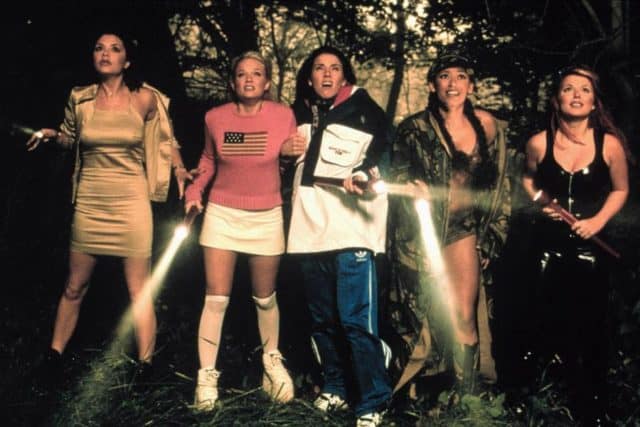 I guess you kind of had to assume that since the Spice Girls got so popular so fast and were on the verge of becoming one of the most popular girl bands ever that they would eventually make a movie. It was the next logical step to someone and for some reason it was seen as the best possible move they could make. The movie didn't exactly flop but it also didn't go much of anywhere after it's opening weekend except straight down as sales plummeted in such a way that the overwhelming popularity of the Spice Girls became a running joke as their fans started drifting off or hiding their enjoyment over the girls' fame as it was kind of embarrassing after such a massive attempt at continued stardom that ended in such a horrible and wasted moment.
Some people liked it, but really they were the minority in this case.
10. It's actually listed as an enjoyably bad movie.
One thing you can say about the movie is that it was upbeat and was supposed to have a positive message that fans could pick up on. But other than that it was horrible.
9. Edits had to be made to the movie because of two real world deaths.
Mentions of Princess Diana and Giani Versace had to be taken out since both individuals passed away before the film was released.
8. Sir Elton John is actually a good friend of the Spice Girls.
He makes an appearance in the movie and even sings a song with the girls. In real life they are quite good friends.
7. The bus used in the movie is on display.
In 2014 it was placed on display at the Isle of Wight in England.
6. Sir Roger Moore had a cameo.
He had no idea who the Spice Girls were until he met them. And even then his cameo took only a day to shoot.
5. The Spice Girls need a lesson in marine biology.
Geri went on to state that the manta ray is the biggest fish in the ocean. Listen to those crickets chirp at that announcement. Back to school Ginger, a whale shark as the manta ray beat by a pretty big margin.
4. John Cleese turned down a cameo in the movie.
Whether he didn't want to be associated with the Spice Girls or had scheduling conflicts is unknown but he turned it down regardless.
3. The film actually made Roger Ebert's "most hated" list.
Now think about this. Ebert made a good living trashing films or talking them up. If he didn't care enough about a film he said his piece and let it be. But the truly good or bad ones were those that he felt that strongly about.
2. A couple of actors wanted to have cameos in the film because their kids were huge fans.
Gary Oldman and Richard E. Grant both wanted to be in the film. Grant did appear in it while Oldman couldn't thanks to scheduling conflicts.
1. There are a few spoofs in the film that have something to do with other pop culture icons.
Speed, Agatha Christie's Hercule Poirot, Hootie and the Blowfish, and several other pop icons were emulated or mentioned in the film.
Unless you were a diehard Spice Girl fan you might have just stayed away from this one.