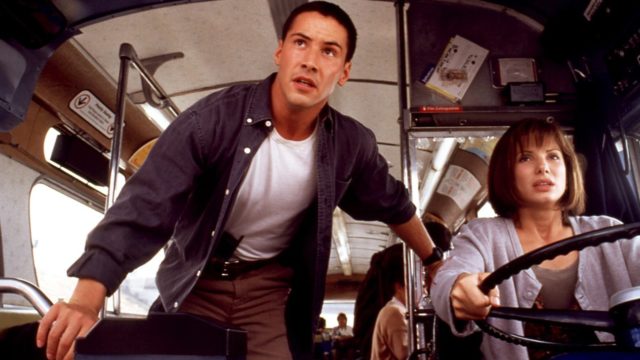 Speed is an action thriller movie that was released in 1994. It tells the story of a bus that is rigged with a bomb that will explode when the bus slows to a certain speed and an LAPD cop is trying to save the civilians on the bus. The movie starred Keanu Reeves, Sandra Bullock, Dennis Hopper, Alan Ruck, Jeff Daniels and Joe Morton. It was Jan de Bont's feature film directorial debut and was a surprise commercial and critical success. In fact, it was so successful that a sequel was made in 1997 called 'Speed 2: Cruise Control' (which wasn't so successful).
While you have probably watched this film or at the very least know what it is about, there are many facts that people are unaware of and here are ten things you might not know about 'Speed'.
1. Graham Yost is credited with writing the script but openly admits that Joss Whedon wrote 98.9% of the dialogue. At that time, Josh Whedon was a script doctor who was responsible for improving scripts without taking credit. He is now a famous screenwriter, producer, director, composer and comic book writer.
2. A ramp was built for the bus jump scene in the movie and the bus had to set off a mile before the ramp to reach a speed of 61 miles per hour in order to launch properly. Also, it was necessary to move the driver's seat back 15 feet to avoid the driver being thrown from the vehicle if things went wrong.
3. Originally, the character of Alan Ruck was written as an abrasive lawyer who dies unexpectedly but in the final version of the script, he was a tourist who was removed from the bus following a heart attack.
4. The bus jump scene wasn't in the original script. The director added it when he noticed a section of an interstate missing one day.
5. A decked-out bus was also used for the scene where the subway crashes into Hollywood Boulevard. The producers ran out of money and used story boards for this section of the movie's preview. The audience thought it was great so they found extra funds to finish the subway carriage.
6. The movie's production designer, Jackson De Govia has a trademark that he likes to use in his movies; vehicles with a themed name. In 'Speed' there is the plane that is destroyed when the bus explodes and it has 'Pacific Courier Freight' written on its side. In 'Die Hard' there is a truck with 'Pacific Courier' on its side and in 'Die Hard: With a Vengeance' there is a van with 'Atlantic Courier'.
7. Keanu Reeves wasn't the first choice for the lead role in this movie. Prior to his casting, the role was turned down by Johnny Depp, George Clooney, Arnold Schwarzenegger, Tom Cruise, Stephen Baldwin, William Baldwin, and Tom Hanks.
8. Annie is played by Sandra Bullock but plenty of others had turned down this role first. 35 actresses had already turned down the role.
9. Although Quentin Tarantino turned down the job of director, he has since said it is in his top favorite films released after 1992.
10. A total of fourteen buses were used to make this movie.
Tell us what's wrong with this post? How could we improve it? :)
Let us improve this post!