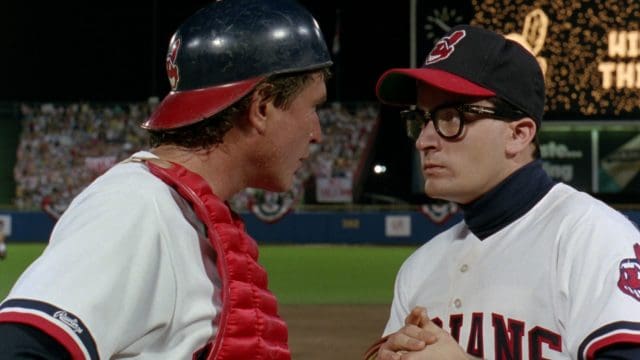 Among all the baseball films ever made this has to be one of the best as well as one of the funniest. Charlie Sheen, Wesley Snipes, Tom Berenger, and the entire cast were so great together that the movie came along without any difficulty it seemed. The punk rookie pitcher and the older but experienced catcher is a classic duo in any baseball movie that's worth watching. Plus, the development of the players throughout the season is fun to watch and seems real enough in some cases to really feel for the characters.
But how much do you really know about the movie?
10. Charlie Sheen could throw in the high 80's at best.
In the film his character is throwing 100 mile an hour fastballs, but in real life, even though he was a high school pitcher, he couldn't even get up to 90.
9. The way the movie was shot makes the players look better than they actually are.
For instance, the mound is closer than standard to make Sheen's pitches look extra fast, and Wesley Snipes is filmed in slow motion to make it look like he's running a lot faster than he is.
8. There were over 20,000 extras in the stands.
I wonder if that affects the budget for a film or if the extras are paid just a few bucks apiece. That would still be a good chunk of change.
7. Bob Uecker did a lot of improvisation in the movie.
A few lines are something that the director didn't expect but considering how funny Uecker can be he just ran with it.
6. Bob Uecker was actually the radio broadcaster for the Brewers at one time.
Uecker got this role based on his Miller Lite commercials, but the director soon found out that he'd been calling games for the Brewers for about two decades.
5. Charlie Sheen actually took steroids for this role.
He admitted this to Sports Illustrated and said that taking steroids was what allowed him to actually pitch an 85 mile an hour fastball.
4. The MLB salary minimum back then was a little over $60,000 a year.
This was double the average household income so it was a good paycheck for just being the minimum as Jake says it is.
3. The home games were shot at Milwaukee's County Stadium, where the Brewers used to play.
Not long after the film was done shooting the stadium was torn down. It's sad to see a piece of history get let go like this but it does happen.
2. It had a different title to begin with.
Dead Last was the working title for a while. It definitely described the team but it has kind of a depressing feel to it that doesn't inspire a lot of hope.
1. A pitching machine was used to simulate Sheen shattering a sign with a pitch.
For someone throwing a 100 mile an hour fastball that might seem possible, but given that Sheen couldn't produce that kind of force a pitching machine had to be brought in to create this effect.
You knew it was coming, right? WILD THING!!!
Tell us what's wrong with this post? How could we improve it? :)
Let us improve this post!