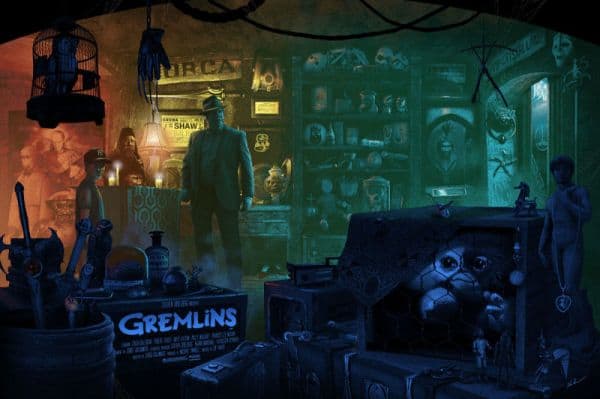 Gremlins had the advantage of being something new and exciting enough that you didn't see it coming. Sure they'd been relegated to legend but the visuals usually given for such things are often taken by Hollywood and turned into something completely different by writers, directors, and artists that want their vision to be something that people have never seen before. This time they managed to at least wow the audience for a little bit, until they came out with a sequel. The first movie however has gone down as a legend simply because it was terrifying to think about those little green creatures that were little more than evil caricatures of their originator, Gizmo.
You would think that Gizmo would be a little more capable of dealing with his darker side.
10. The same theater was used in Back to the Future.
The movie was filmed on the same back lot as Back to the Future which is why the town actually looks kind of familiar in a way.
9. Phoebe Cates screamed for real just once.
It had nothing to do with the gremlins, she saw a cockroach crawl out from under the bar and just lost it.
8. In Cantonese Mogwai means gremlin.
It also means devil or demon. The creatures are aptly named then given their propensity for violence.
7. One of the notes involved the idea that there were too many gremlins.
Steven Spielberg jokingly replied that they should just take out all the gremlins and call the film People. Thankfully he was kidding since this was kind of a ridiculous side note.
6. The movie earned its PG-13 rating honestly.
It was too violent to be PG and yet not violent enough to be R. If you watch there's a lot of implied violence but very little blood in the entire movie.
5. The Time Machine prop makes an appearance.
If you look behind Rand Peltzer when he's calling his wife you can see the Time Machine prop. When the camera cuts away and then comes back it's gone, with a few people milling about as though they don't know where it went.
4. The chainsaw scene between Stripe and Billy wasn't in the script.
This was an homage to the Texas Chainsaw Massacre as it's been said.
3. There was no CGI in the film.
Every last gremlin was animatronic in cost upwards of $30,000-$40,000 dollars. Each night when the crew went home they had to open their trunks for security to make sure that nothing was being stolen. That's a lot of money in just one gremlin.
2. Tim Burton was almost selected to direct.
Spielberg liked his work and almost pulled the trigger on hiring him but realized that Burton hadn't done a full-length feature yet and passed.
1. Monkeys were the original idea to play the gremlins.
This had to be abandoned quickly since every time the crew tried to put a rubber gremlins mask on the monkeys the chimps would simply freak out.
This movie had a great advantage in that it was just scary enough to draw in adolescents and adults but wasn't violent enough that it would cause nightmares in younger kids.