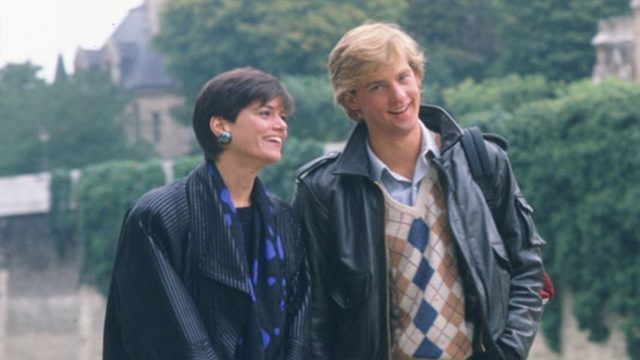 Gotcha! was kind of an oddball movie but it was good for the time in which it was made since it had to do with spies, espionage, and a young man that just picked the wrong person to go with in the wrong moment. Anthony Edwards plays a guy that becomes attracted to a very attractive woman and eventually begins to travel throughout Europe with her on a mission that gets continually more dangerous as her mission is revealed and he finds himself getting into trouble again and again. It's not entirely believable but that's the point since it's just a fun and engaging movie made to entertain the audience.
Some movies are just made for fun, and they work in that capacity.
10. The film makers weren't allowed to enter the border between West and East Germany.
Because of this a replica of the Berlin Wall had to be built close to the West side to get the shot they wanted.
9. Gotcha! is a real game played on college campuses.
It isn't much different from what's shown in the movies though it did eventually fade out slightly as the years went on. Some campuses still allow it.
8. A line of toys was released in accordance with the film.
The toys were inspired by the movie and were kept fairly true to the source. Finding them now however in antique shops would be kind of difficult.
7. There are a few Bond references throughout the movie.
The movie was released after one Bond film and just before another, and was after all a film about espionage.
6. This is the first film to showcase paintball.
Paintball still isn't really prominent in a lot of films but since this movie it's become a little more acceptable and is thrown in occasionally.
5. It's never revealed what was on the roll of film that everyone was after.
This is pretty common in such films since the film maker tends to try and get people to think about everything else that's not entirely pertinent to the film.
4. Gotcha! The Sport became an NES game a few years after the film came out.
It was in fact based on the movie and yet didn't enjoy the popularity of other games that quickly overtook it in sales.
3. The movie depicted more than one government agency.
The government agencies involved in the caper were the FBI, CIA, and KGB. It wasn't revealed until later just who Sasha was really working for.
2. This was Linda Fiorentino's second movie.
She had starred in Vision Quest and After Hours as well. Her career was on a high note during these movies and then kind of dimmed for a while. She's been around Hollywood for a good amount of time.
1. The film also made a Clint Eastwood reference.
The line "Go ahead, make my day." was used during the movie, which is a direct line from Sudden Impact.
As movies go it was fun and entertaining even if it was a bit of a fantasy for adolescent men.