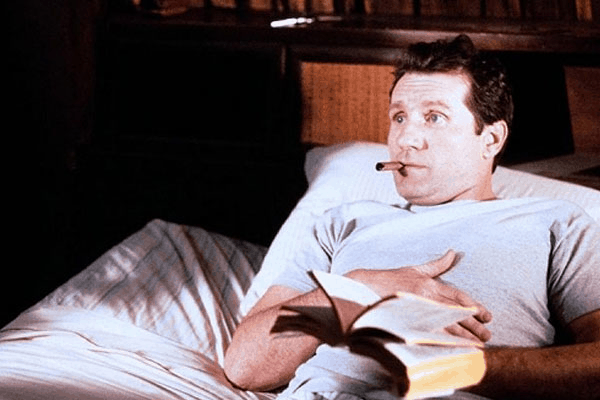 Dutch was one of the better movies made concerning the bond between a child and a soon to be step-parent. Ed O'Neill played Dutch Dooley, a successful contractor with his own business that chose to go and pick up his girlfriend's son, Doyle, so that they could spend Thanksgiving in a family setting. The only problem is that Doyle is a lot like his father, rich, spoiled, and stuck up in ways that would make the Kardashians look like the girls next door. When Dutch and Doyle clash during their road trip back home however it's a true test of wills that eventually becomes a learning experience for the both of them, and ends up forming a stronger bond than Doyle thought he had with his own father.
Plus, it's just fun to watch Ed O'Neill in a role where he actually gets to be a dominant character.
10. The film was mentioned in Married With Children.
It was mentioned in the episode during which the Bundy's were headed to the UK, and the poster was also shown in an episode in which they visit the movie store. O'Neill's eyes are hidden by a FREE VIDEO sign.
9. The bridge that they crossed went quite literally to nowhere.
The bridge was in Chattanooga, Tennessee and was considered to be a nice visual, but the road really went nowhere.
8. Ed O'Neill and Ethan Embry worked together in the remake of Dragnet in 2003.
You can probably guess that the effort didn't really pay off.
7. John Candy was the first choice for the part of Dutch.
Candy might have been a nice addition but he didn't have quite the same working-class look that O'Neill did.
6. The title was changed in the UK and Australia.
It was changed to Driving Me Crazy in both countries. Dutch probably would have been too confusing since it could have been speaking of the country.
5. The dorm that Dutch comes out of is actually the administration hall of Berry College.
The scene occurs when Dutch bursts through the doors carrying Doyle, who is tied to a hockey stick. One of the best lines in the movie is "What do you like to do for fun? Wiggle and grunt? Me too."
4. Doyle has the same last name as a Molly Ringwald character.
Doyle's last name is Standish. In the movie The Breakfast Club this is also the last name of Molly Ringwald's character, Claire.
3. Dutch gets Doyle's name wrong on purpose throughout the movie.
In fact the only time he gets it right is when Doyle stages a car wreck and he's so mad that he gets into a confrontation with Doyle.
2. Dutch admits to being a truck driver at one point in his life.
This is kind of ironic since at one point they have to hitch a ride on a truck carrying concrete pipes so they can get home.
1. O'Neill wasn't the first choice for the role of Dutch.
There were a lot of other actors considered for this part such as Tim Allen, Chevy Chase, and even Robin Williams. Most of them were busy though.
Say what you will about this film, it has its charms.
Tell us what's wrong with this post? How could we improve it? :)
Let us improve this post!