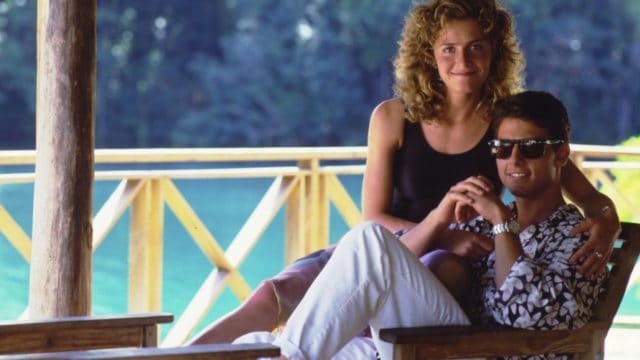 Cocktail is mostly about a young man's ambitions that go awry when he decides to try and partner up with an older man that has a very cagey and suspect attitude towards the whole thing. Doug tends to think that Brian, played by Tom Cruise, is going to steal what little thunder he has left and manipulates his young friend more than once during the movie, to disastrous results each time. Eventually however Brian gets himself under control and for the love of the woman that he wants in his life, and the mother of his eventual children, finds himself starting his own business using the same name that his friend wanted to call his own bar, as a way of respecting the man that taught him so much.
Plus it's a cool movie about tending bar.
10. Gina Gershon was incredibly ticklish.
Tom Cruise knew this and wouldn't relent, which led to them falling off of the bed, which is in turn the take that was used.
9. Flair bartending is a real thing.
It's something that's only done by trained professionals but it's very impressive to watch if a person knows what they're doing.
8. There were a lot of women vying for the part of Jordan.
Jennifer Grey, Ally Sheedy, Demi Moore, and Daryl Hannah were just a few that either wanted the role or were given consideration.
7. Robin Williams was almost considered for the role of Brian.
I could see him playing the part of Doug but not Brian so much. He could have easily pulled off the experienced but bitter mentor.
6. The film was released four years after the book was published.
That's a fairly quick turnaround for a screen adaptation of any book.
5. The film won two Razzies.
This is about the worst award a film can get. Cocktail won for Worst Picture and Worst Screenplay. It took a while to become a cult classic.
4. Tom Cruise and his wife fought off-set constantly.
He was married to Mimi Rogers at the time and apparently their fighting never stopped when the cameras weren't rolling.
3. The book and the film were inspired by the life of a New York bartender.
This seems like a big gimme since few people would write about being a bartender that had never been one before.
2. You'll see that almost every bottle that's handled during the bartending scenes is Bacardi Rum.
This is largely because in flair bartending being able to keep a grip on the bottle is pretty important. If you have a bottle that doesn't offer a sure grip or is shaped oddly like say a bottle of Midori or even a bottle of Vox vodka or Chambord, one little slip is all it takes to lose about $40-$60 worth of alcohol that could bring in about two or three times that much when being poured. Bacardi is also fairly cheap so breaking a bottle wouldn't cost much.
1. The bottle tossing was not scripted.
The actors wanted to feel like real bartenders so they started tossing bottles to one another for authenticity.
As great as it looks, this is not the average bartending experience.
Tell us what's wrong with this post? How could we improve it? :)
Let us improve this post!