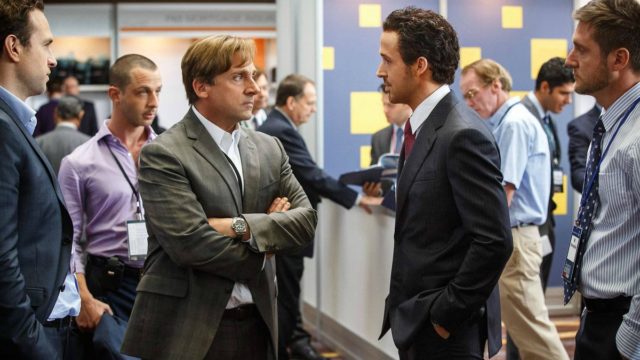 The Big Short, in layman's terms, is about those in the know when it came to the housing bubble, being able to make a profit and still live with themselves in some obscure way. It was based on the very real story of what happened between 2007 and 2008 when the housing bubble was at its most untenable stage, when people were looking left and right and trying to figure out just what was going on. A few people knew what was coming and tried to tel others but then again some that knew were trying to get their payday and simply get out before getting doused when the bubble finally broke.
You know, the old chestnut of getting what you can and letting other people deal with the fallout.
10. Bale wanted the wardrobe of the real Michael Burry.
Bale wanted Burry to make it to the premiere to see what he would think about his performance and if he would punch him in the face for the effort.
9. This film only came about because there was a sequel to Anchorman: The Legend of Ron Burgundy.
That was the stipulation for wanting to do the Big Short. That seems kind of odd but obviously a sequel was made.
8. The characters were based on real people.
While the names of the people involved were obviously changed most of them were based on real people that had something to do with the disaster in 2008.
7. The real Michael Burry has a cameo in the film.
There's a shot of him standing near the front door talking on the phone. He plays the role of a Scion employee for just a brief moment in the film.
6. Every shot with Bale's glass eye had to be perfect.
Since you don't normally know someone has a glass eye until it doesn't turn with the other eye the shots had to be perfect and were continually watched so that there was no discrepancy with the movements.
5. This was Ryan Gosling's first role since 2013.
He'd stepped away from Hollywood for a while apparently but then made his return in this movie. And since then he's been seen in a good number of movies.
4. Bale injured himself before shooting.
Bale hurt his knee but still wanted to keep filming without a body double. This meant that for the swimming scenes and everything else he wanted to be there.
3. The author of the book also wrote two other novels that were turned into films.
The Blind Side and Moneyball were also written by the author and turned out be pretty good films.
2. The original script had different celebrities explaining just what was going on.
Instead of Margot Robbie in a bathtub the original script had Scarlet Johansson under a waterfall, and instead of Selena Gomez there would have been Beyonce and Jay-Z.
1. Christian Bale doesn't share any screen time with the other big name stars.
The part he plays doesn't call for any interaction with the other stars as he's pretty much on his own for much of the movie.
It wasn't a bad movie but it's the type that a person needs to be able to sit through.
Tell us what's wrong with this post? How could we improve it? :)
Let us improve this post!