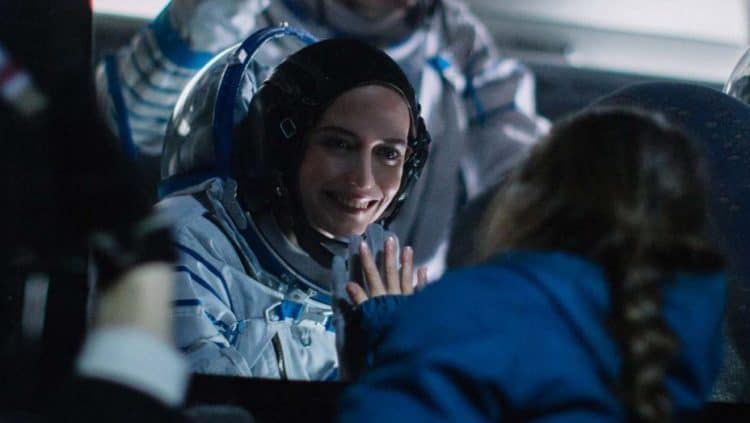 Despite global fears about large events being cancelled in the wake of the coronavirus crisis, the Vilnius Film Festival is still standing strong. While the industry event, "Meeting Point – Vilnius" has been shuttered, the main event is still going as planned. One can see why the producers of the festival want to keep it going. As the biggest film event in Lithuania, it represents a crucial touch point for the country's film industry every single year.
Starting in 1995, the film festival has grown every year, selling over 125,000 tickets last year alone. With over 150 films playing at the festival this year, not only across Vilnius but several other cities in the country, it is one of the major events not only in Lithuania but across the entire Baltics. With both debuts and a pretty comprehensive overview of some of the biggest films to previously play at Cannes, Berlinale, Locarno, Karlovy Vary and more, Vilnius is perfect both as a catch-up festival and to enjoy international and Lithuanian debuts.
To help you get a deeper understanding of what is playing, we have created a list of ten films for you to check out below. Spanning from fiery lesbian romances to classic Korean films to new forms of documentary filmmaking, the curation at Vilnius is alive and exciting.
Read on to see what we picked. Think we missed something particularly important? Let us know in the comment section below!
Proxima
The opening film of the festival, Proxima stars Eva Green as Sarah, an astrophysicist chosen to travel to space for a year. Balancing preparation for her work with caring for her eight-year-old daughter, it offers a unique perspective on the mostly male-dominated genre of space exploration. To add to the film's authenticity, it was even shot on location at the European Space Agency.
Fire Will Come
A slow-burn Galician thriller, Fire Will Come boasts gorgeous scenery courtesy of its North Spanish landscape. It tells the story of a man recently released from prison, slowly battling his worst desires. While a quiet and slow film, it offers rewards in spades thanks to its beautiful cinematography. It premiered last year in Cannes as part of Un Certain Regard, where it won the Best Jury prize.
Tremors
A rare gay drama from Guatemala, Tremors investigates the insidious nature of homophobia when an unhappily married man comes out. A slowly heartbreaking work, it shows in great detail the various ways he has been shut out from the rest of society due to his sexuality, opening up a necessary conversation about the power the Catholic Church has over the country.
The Metamorphosis of Birds
A unique kind of documentary, The Metamorphosis of Birds invites you in with its careful portraiture, keen eye for detail and fascinating family history. A documentary that uses plenty of overlapping voiceover and fictional recreations, it shows a different way of telling stories that is at once intimate and deeply satisfying. It was the closing film at the newly created Encounters section of the Berlinale, a fitting competition strand invented to celebrate new forms of filmmaking.
The Climb
A Cannes debutante and a Sundance sensation, The Climb is a bittersweet comic portrait of a friendship through the years starring Michael Angelo Covino and Kyle Marvin. It starts when their fast friendship comes under fire after one of them sleeps with the other's fiancé, starting a deep exploration into what friendship really entails. It will be fascinating to see how well this comedy does once its released in the United States.
Portrait of a Lady on Fire
If you have been living under a rock and haven't heard of this film before, Portrait of a Lady on Fire has caught cinephile's imaginations worldwide. Taking place on a remote island off the coast of France, it tells the story of two women: one is to be married to a man, the other is tasked with painting her. With shades of La Belle Noiseuse, this painting-as-lovemaking tale is a gorgeous, rapturous exploration of lesbian desire that deserves every plaudit it gets.
A Demonstration
An innovative part of Vilnius' Discoveries segment is the way that they place short films and features side-by-side. One short that you definitely can't miss is the uniquely bizarre A Demonstration, which offers a strange exploration of how Early Modern Science classified the concept of the monster. It's hard to explain this one; you simply have to see it for yourself.
The Host
Bong Joon-ho fans rejoice! Five of his films, including his debut Barking Dogs Never Bite and his Best Picture winning Parasite, will be at the festival as part of a career retrospective. My personal favourite is The Host, a creature-feature with a difference; using the concept of an evil CGI monster ravaging the city of Seoul to explore the nature of family under adverse circumstances. Displaying Bong Joon-ho's unique ability to meld comedy with tragedy to create his own Bongian perspective, its one of those films that looks even better up on the big screen.
Malmkrog
An epic 200 minute exploration of life, death, war, god and the anti-christ, Cristi Piui's exacting Malmkrog – based off the work of Russian philosopher Vladimir Solovyov – brilliantly imagines Russian aristocratic life at the turn of the twentieth century. Filled with some of the best repartee ever committed to film, Malmkrog's pleasures still often lie in what is not said, creating an implicit critique of bourgeoisie assumptions. Another entry in the Berlinale's encounters strand, it is likely to impress Lithuanian viewers too!
Matthias & Maxime
When Xavier Dolan releases a new film, the world of cinema stands up. Matthias & Maxime, the closing entry of the festival, tells the story of two ostensibly men who, upon kissing as part of a short film, find themselves unusually attracted to each other. Charting this desire in his uniquely stylish way, it shows Dolan regaining some of the footing and respect lost since the disastrous response to The Death & Life of John F. Donovan.
Tell us what's wrong with this post? How could we improve it? :)
Let us improve this post!