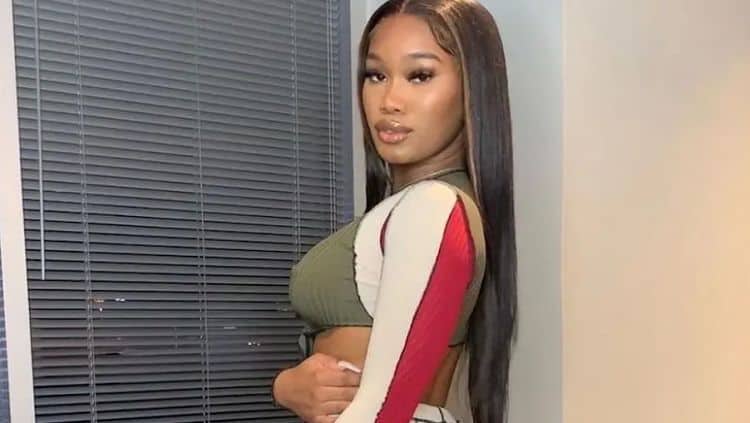 Any time a person enters into a relationship with a celebrity, they have to accept that they will also probably be dragged into spotlight. This is something Zelie Timothy has been dealing with ever since her relationship with Tyrese Gibson was made public. The announcement comes not long after Tyrese and his wife, Samantha, announced their separation. As a social media influencer, Zelie isn't exactly a stranger to attention, but now there are more eyes on her than ever before. In addition to wanting to know more about her relationship with Tyrese, people are also interested in learning more about Zelie as an individual. Here are 10 things you didn't know about Zelie Timothy.
1. She Is Dominican
Zelie Timothy is a proud Latina and she is originally from Dominican Republic. During an interview with Southside Dash Radio she shared that she also lived in Jacksonville, FL before relocating to Atlanta. During the interview she mentioned that she just moved to Atlanta around the end of 2019.
2. She Has An Only Fans
Zelie has definitely found her lane when it comes to marketing herself on the internet. In addition to having a very large following on Instagram, Zelie also offers premium content through her OnlyFans page. Fans can subscribe for $28.99 per month to gain access to exclusive content that isn't available on any other platform.
3. She Is A YouTuber
Like most other influencers, Zelie has become quite skilled at creating content. She has a YouTube channel where she posts vlogs and other behind the scenes looks into her life. Although she has less than 4,000 subscribers at the moment, her channel has gotten nearly 200,000 total views.
4. She Is A Private Person
I know, you're probably wondering how it's possible for a person who shares so much online to be private, but Zelie Timothy is a prime example of how following someone on social media doesn't necessarily mean you know them. Despite posting regularly, Zelie has never shared any detailed information about her personal life. For example, there's a good chance that Zelie Timothy isn't her real name although no other name has ever been mentioned.
5. She Is Bisexual
While talking to Southside Dash Radio, Zelie shared that not only is she bisexual, but she prefers women. She added that it's important for any man she's with to understand this about her. Zelie also alluded to the fact that she's open to have have threesomes while in a relationship.
6. She May Have Recently Gone Through A Break Up
Apparently, Tyrese isn't the only one who got into a new relationship after just getting out of an old one. When Zelie originally moved to Atlanta in 2019, she was in a relationship with a rapper named Trap Beckham who she was living with at the time. After Trap learned about Zelie's relationship with Tyrese, he recorded himself kicking her out of their apartment on Instagram life. As of now, Zelie hasn't publicaly addressed her breakup with Trap Beckham.
7. She Is A Brand Ambassador
With close to 370,000 followers on Instagram, Zelie has become an ideal partner for companies who are looking to market their products and services. She is currently a brand ambassador for a company called Boom Bod and she has also worked with the Flat Tummy App.
8. She's Had Plastic Surgery
Zelie has gotten a lot of attention on social media for her body and there's no denying the fact that she's put a lot of work into keeping herself beach ready at all times. That being said, however, what you see isn't entirely natural. She underwent breast augmentation surgery in the beginning of 2020. Some also believe that she may have gotten a fat transfer to her butt.
9. She Loves Fashion
No matter what Zelie is doing, she's going to make sure she looks her best while doing it. She loves fashion and she enjoys sharing her sense of style with others. Whether she's getting ready for a day at the beach or a night on the town, Zelie knows exactly how to put an outfit together for any occasion.
10. She Is An Entrepreneur
If you thought her beauty was the only thing she had to offer, you might want to think again. Zelie is also the kind of woman who is all about her business. She started a business called The Lash Mansion in 2020. In a video on her YouTube channel she explained the details of the different lash styles she was offering. Unfortunately, however, the business doesn't seem to be active at the moment.