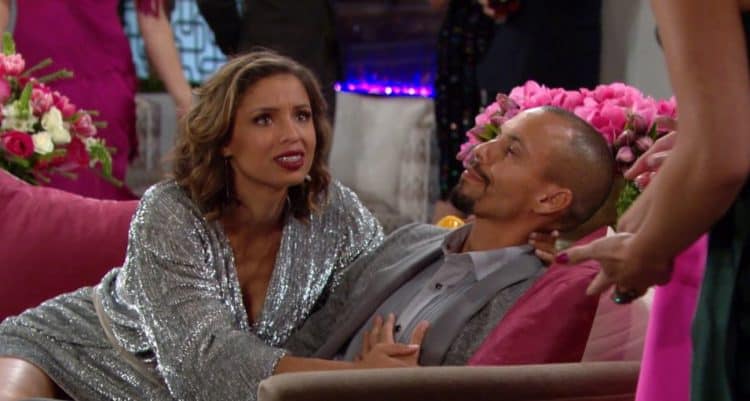 Young and the Restless fans were not sure that Elena would make the most wonderful person on the show, and it looks like we were right. She's not awful, but she's going to end up hurting someone, and that someone is definitely Devon. He cannot afford this kind of hurt right now, either. He lost his baby, his wife, and his father within months of one another, and that's not something he can handle right now in terms of losing other people. She made an admission that shocked everyone around her, and that's not something she can take back. She cannot take that back. She cannot make that better. She cannot handle what is going on in her life. She's got some stuff to work through, and that's her life right now. She's got to get it together to help those who love her the most.
And, that's not all; we get to see things unfold for Paul as he is following a lead that might take him to a new place. He might not be able to figure out what things mean without a little more information, but he's close. He's got things working for him, and he's not going to give up. Will someone force him to do that, though? He's not the kind who will let this go without a fight, but we have a feeling that the people involved in what he is looking into might just want a fight. They might want to see things take a turn for the worse, and they might want to see him fall apart and make changes that people cannot handle. It's not good, but it's possible. Will he get ahead of this before that is what happens, or will he end up in a situation that doesn't mean more?
What's Happening on Young and the Restless
Can you spot the difference? 😂 #YR pic.twitter.com/C3U2QVw96e

— Young and Restless (@YandR_CBS) September 10, 2019
It is a tough one to spot….
What's Next on Young and the Restless
It's the party of the year with a wicked twist. ✨ Things get out of control this week on #YR! pic.twitter.com/RTASMRsqm5

— Young and Restless (@YandR_CBS) September 8, 2019
There's so much happening here right now, but Victor has a secret — and he wants his wife to keep it. Will Nikki want to take part in anything else that he is doing? Will she want to be part of what is going on in his life, and is there something else that will make them fall apart or closer together? We cannot decide until we hear what the secret is and how it will affect them as a couple. There's so much we don't know about them at this point. Meanwhile, there is more to this. Phyllis is going to come to the rescue when something goes down, and it might not be something she thought she might be involved in. There's so much happening here, and there is so much we cannot handle or figure for ourselves. But, for now, we can see things unfold.
Billy is going to continue to see if there is anything that will serve him. He's in a place he never thought he would be, doing things he never thought he would do, and he's not sure how to handle it. When you take on an alternate personality, you don't know it. And that personality can take over and leave you gone and over with. We think it's happening right now, and we think that he's going to fall a little bit in love with the horrible side of life and all that it means for him. It's not good news for anyone, really, but it would be something else entirely if he had a choice.
Stay tuned for more Young and the Restless and be sure to check out TVOvermind daily for the latest Young and the Restless spoilers, news, and updates.