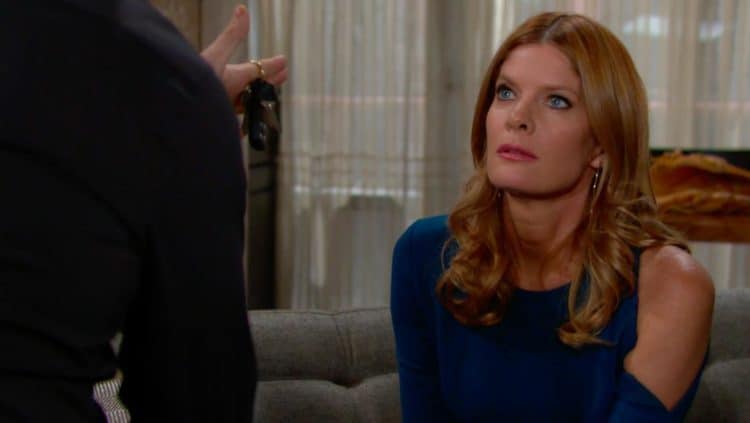 Young and the Restless fans aren't sure how to focus on anything other than the fact that Nikki's life is slowly falling apart. Her life is a mess, and she's struggling to even keep a plan in place. She's not a person who can do anything else other than focus on things that are working for her, but they are not working for her. In fact, they are currently working well against her. She's got a lot happening in her world, and in her life, and she's got to get this under control. Paul is doing all he can to help her, but her plan falling out of place. She's not sure she can handle it, but Paul will be there to help her out the best that he can without doing as much as he can for her otherwise. There's a lot here.
We also know that there is nothing going on that will make anyone feel happy. Michael has been in a mood for a while now, and he's sharing some of his issues with Lauren. He needs for her to know that there is more going on than meets the eye, and that's all she can handle and do. She's got her own life to live, but she does know that he is upset and there are things happening in her life that aren't going to make her happy or make that much sense. For now, though, we can see that we have to focus on thing as they are happening. We just can't help him help her or vice versa until there is nothing else going on. There's too much to this. Meanwhile, Devon wants answers, and he's hounding Amanda for them. Whether she's being truthful, though, is not something we know for certain.
What's Happening on Young and the Restless
She's back. 👏 Learn more about Genoa City's newest addition, Amanda Sinclair, from the one and only @MishaelMorgan1! #YR pic.twitter.com/zWhbk2qdnz

— Young and Restless (@YandR_CBS) September 20, 2019
We love that she is back and that she is a new girl!
What's Next on Young and the Restless
You won't believe what happens next on #YR. 💥 Make sure to tune in this week! pic.twitter.com/VcRPDYDG0y

— Young and Restless (@YandR_CBS) September 22, 2019
There's a lot happening around here, and one of the major things happening is the fact that Jack needs some help. He is a man who wants to see things work for him, and he wants to see things in his favor. But he also wants to see people figure it out the best way they can. We know he is going to reach out to Traci, and we think it's because he needs some help with something. He needs to find a way to make sure he can get what he wants from her while he is going on about his life. He is a man who is good at doing things on his own accord, but he is also a man who is not happy with the way other things are going. Sharon is going to stand up for Adam, but who is shocked by that one? She cannot get enough of him. She has got to let this go, if you ask us.
On the other hand, Victoria is caught in the middle of what feels like everything in her life. She's a mess on so many levels, and we do get that. She's got things falling apart on both ends of the spectrum, with her family and with the man she loves. He is pushing her away with his other personality, and he cannot do anything about that, and there is only so much she can do about that. It's all sad and ugly.
Stay tuned for more Young and the Restless and be sure to check out TVOvermind daily for the latest Young and the Restless spoilers, news, and updates.