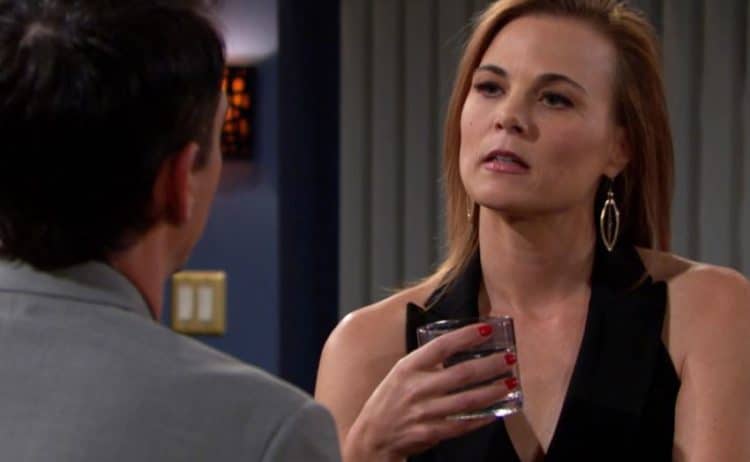 Young and the Restless fans are not surprised that Victor wanted to speak to his daughter about the many things going on in her life right now, and we are not surprised that she was not as into that conversation as he might want her to be. She's confused about her life at the moment. She's been making it hard on everyone for a long while now. She's been working so hard on making things right in her life, but she's the reason her mother killed a man. And she's the reason her mother almost lost her life, and the reason that her father was arrested, and the reason that a woman in prison is more than a little unhappy, and the reason that a family might end up divorced and things might not end up well for her or anyone she loves. Yet, she will not change her behavior or her ways.
And then there is Jack, who is not really sure he can come to any sort of agreement with Kerry about things. They're trying to come up with some sort of agreement, but things are not working in his favor. She's not as into him as he is into her, and she's definitely living a life that he is not proud of. She's not sure what is going on with him, but he has no idea at all what is going on with her. She's living a lie, and he cannot pinpoint what it is that is making her like this. He's into her, but he's into this more than he should be. Summer is also with Fen, and they are reconnecting, and that might mean that Lola and Kyle get to have a little bit more of their own time before she tries to crash them and their relationship.
What's Happening on Young and the Restless
Mia's toast was everything 😂😂 #YR

— Gregory Lewis🇹🇹🇧🇧🇬🇩 (@Gregpuna) January 28, 2019
It was more than we could have hoped for, and we do appreciate that in every which way!
What's Next on Young and the Restless
Will couples crumble this week on #YR? Don't miss that and Billy and Victoria's search for Katie coming up on The Young and the Restless. pic.twitter.com/WNzSwvDbYW

— Young and Restless (@YandR_CBS) January 27, 2019
Nikki is making mistakes left and right lately, and they are proving to be very dangerous for her. She might not be able to make sense of things happening in her life at the moment, but she's not making sense of things she should be doing, either. She is making mistake after mistake, and we cannot help but wonder how much longer it will be until those mistakes catch up to her and make her life a living nightmare — which we feel is saying something since she's already living a basic nightmare. But, for now, there is nothing that will work for her if she doesn't come clean and be honest about what is going on. Kyle is being tested by Lauren, too. And she is not sure he can handle the pressure.
But, for now, we have to be sure there is nothing else going on with them. He might be looking at being with Lola more than anything, but he's got to get through the many situations being thrown at him in the meantime. Additionally, we know that Nick is struggling. He is not in the middle of a good time in his own life with his relationships, his family, and with anything else. He's struggling to keep cool, and he's not doing a very good job of it. It's only a matter of time before he loses his mind, and we cannot wait to see that happen — mostly because of who it will happen in front of.
Stay tuned for more Young and the Restless and be sure to check out TVOvermind daily for the latest Young and the Restless spoilers, news, and updates.