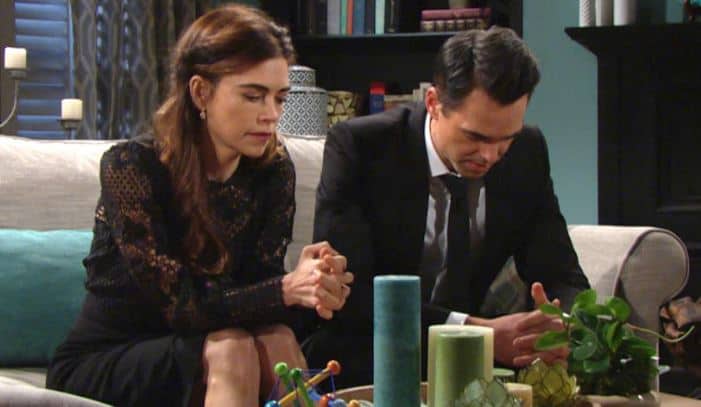 Young and the Restless fans are not surprised to see that Victor is looking to make peace with things. So many things have gone wrong in his life the past few months, and he's making peace with the fact that he will probably spend the rest of his life in prison for murdering a man he did not actually murder. We all know that he is not the man who killed JT. His wife did it to protect their daughter after she found out that he was abusing her. But Victor will not allow her to confess, so he's made it clear that he will do anything and everything in his power to go to jail to protect the women in his family. He's made peace with this decision, and we think that he is okay with it. We also think that this peace will be short-lived. There is not even one small chance that this entire situation will not blow up, and everyone will find out the truth.
And then there is the fact that we all saw as Devon decided that he would see Ana in a new light. He will do anything he can to change his life and make better decisions, and this might be one of them. He might not see her as someone who is trying to further ruin his life but as someone who is there to help him get through this very dark phase that he is in. We don't know for certain, but we imagine that this might be something he can overcome in his own time. Jack, on the other hand, isn't sure what to think about Kerry and her situation. She's sending him all the mixed signals, and he's not sure what to think of that. Will this work for him?
What's Happening on Young and the Restless
We heard it's #NationalHatDay and couldn't not post this picture. 🎩 Can you blame us? #YR pic.twitter.com/NLC3HU9gLR

— Young and Restless (@YandR_CBS) January 15, 2019
Here's more of the national hat day stuff that we are loving every moment of at this point in our lives. We are down with it, and we think that we should all put on our hats and work it out.
What's Next on Young and the Restless
This week on #YR, you'll be on the edge of your seat 'til the very end. 💥 You do NOT want to miss this! pic.twitter.com/k2mS4azwq7

— Young and Restless (@YandR_CBS) January 13, 2019
Nick has changed his mind about something, but we cannot figure out what he's changed his mind about. Has he changed his mind about the fact that he wants to be with his ex again? Has he changed his mind about Phyllis and their situation? Has he changed his mind about being the peacemaker with his family and doing things the way he feels they need to be done? We aren't entirely certain what has changed his mind or where he is going with any of this, but we do assume that this is about to turn into a rather big deal in some way, and that is not a good thing. But, for now, we will just assume that things will work in some way for him. Cane is going to visit his wife after that letter he received.
We do not think that this visit will make him feel any better about their marriage. The changes he sees in her are just too much for him, and he cannot handle what that means for their marriage and their future. The only thing we do know for certain is that there is not a chance he will make it a point to tell her that he's been making out with Vickie the past week or so. But will he tell her about what their son did? We aren't sure, but we do think that this will be a visit that makes a big change in their marriage and in their future together.
Stay tuned for more Young and the Restless and be sure to check out TVOvermind daily for the latest Young and the Restless spoilers, news, and updates.