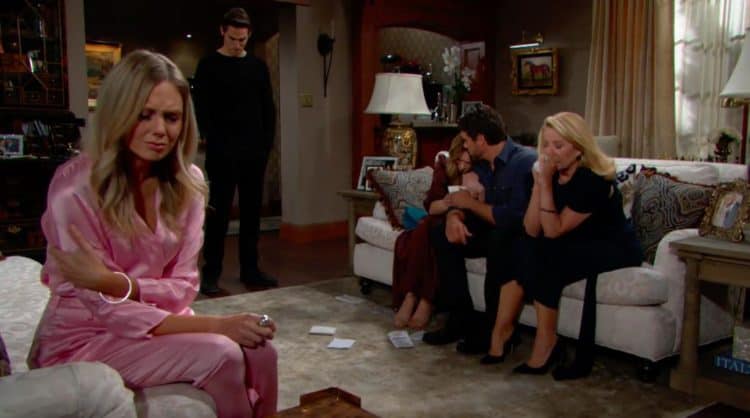 Young and the Restless fans are so worried for Billy. He is not in control of himself, and he will never find that control if someone cannot help him. The problem right now is that he cannot even help himself. The alternate personality that has taken over his mind has taken over to the point that he is finding it more and more difficult to escape from the horrible situation he is in. In his mind, he can hear himself and he knows he is in there and everything is wrong, but he cannot get out enough to make it stop. The entire show was dedicated to him and his problem, and there is so very little we can do that will change this, stop this, or make it right. He will never get the help he needs if he cannot get out long enough and stay in control long enough to make it happen. It's a mess, and he knows that it is a mess.
Things are taking a very interesting turn for everyone, too, when it comes to what is going on in other lives, but that will have to wait. This was all about Billy. It's not often this show takes it upon themselves to dedicate an entire hour to one character. There are so many, and there are times when it's not even easy to get many of them on the screen in that amount of time. To put one man on the screen at a time is almost unprecedented, and we do get that. But, we also know there is more to this than meets the eye. It's paramount that we saw this to help us understand what is going on, how it is all working, and what is happening with everyone as the world changes so much around here. It's important we focus on that.
What's Happening on Young and the Restless
🚨 Calling all Young and Restless fans 🚨 @MyJasonThompson will be live tweeting tomorrow's episode at 12:30 pm ET/9:30 am PT. Tweet along with him using #YR! pic.twitter.com/O5fiUYwick

— Young and Restless (@YandR_CBS) September 17, 2019
We love him so.
What's Next on Young and the Restless
A legend falls, and Billy battles his inner demons. You won't want to miss a minute of #YR this week. ❤️ pic.twitter.com/pufypg1Gdr

— Young and Restless (@YandR_CBS) September 15, 2019
We don't know how we feel about Billy right now other than sad and heartbroken for him. And for Victoria, who has no idea what is going on or how she can help. He's good at not revealing the truth about what is happening in his life, which makes things very difficult on her. She is going through so much, and she has no idea how to help. That's not helping him at all, but we are still shaken after watching what happened to him in his mind yesterday. However, we have to focus on more things. Adam is doing all he can to make sure that Michael knows he is in charge, but that is not about to stop Michael from making sure he accuses Adam of something huge. We doubt he's wrong about it, either. But, that is just what it is.
Then there is the fact that we have to focus on things like the fact that Adam will probably do what he can to destroy Michael now, and that's not good news. There's nothing more horrifying than this in his life, and we have no way of figuring out how it will all work or what it will all mean for them. He will make some accusations, Adam will not be happy about it, people will be upset, and everything will go awry for them. It's how it will go, and it's how it will play out. This is not going to end well for Michael.
Stay tuned for more Young and the Restless and be sure to check out TVOvermind daily for the latest Young and the Restless spoilers, news, and updates.